Kitchen is a place in home, office and in restaurants that must be kept up to date so that everyone is comfortable working there. Everyone prefers to update the kitchen according to the present trend. Being tired from old designs, one can always redesign their kitchen.
The top five kitchen design trends of the year 2013 are as follows-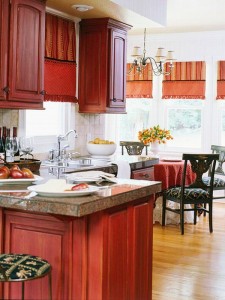 Changing the kitchen cabinet look- refacing the kitchen cabinet is the latest trend in the 2013 year. Refacing does not mean refacing the cabinets. It means simply changing the doors of the cabinet. In this way there will be new look in the kitchen and the cost of changing will not be as expensive as changing the whole cabinet. Hence its pocket friendly cabinet refacing trend. When the cabinets are refaced, they have simple, clean and contemporary look. Refacing makes cabinet look sleek. It also removes the unnecessary clatter and picky details which has to be maintained a lot.
The hard floor trend- the linoleum in the kitchen are now being changed with hard wood floors. This is because the linoleum wears out very easily. Hence most of the population is choosing hard wood. This has become a hot trend. Lighter shades of wood are being again seen in the market for kitchen floor because of these new kitchen wood trends.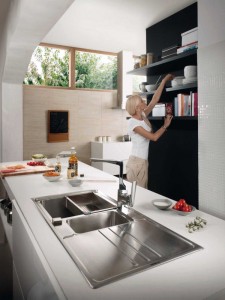 Stylish and chic Sink trends- usually kitchen sink simple and plain. People do not realize that trendy and chic sinks can change the outlook of the kitchen. Henceforth, in 2013 this has also become the latest trend to have fashionable sink. However trendy the sink is, people wants large and deep sink so that the pots and pans can easily fit in the sink. In this case deep bowl sink s the best. It looks stylish and is very trendy giving out chic look.
The appliance trend- commercial stove and stainless steel appliances are still in demand also the kitchen trend these appliances saves both time and space, hence preferred by all. The appliance such as microwave acts as double user and thus saves space.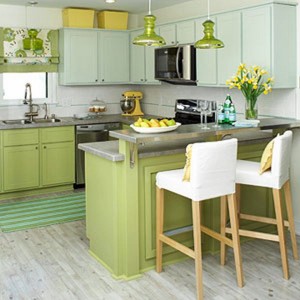 Mixing Cabinet Colors trend- before one had to choose any particular for cabinets. But at the present 2013 cabinet trend, there is color mixture. One will not have to choose between white, black or any medium color. This makes the kitchen look more bright and attractive. This gives the kitchen a modern and updated look.
The entire above mentioned kitchen design trend is the best for having a fashionable and chic kitchen in the year2013.