The economy is in a turbulent state with real estate prices fluctuating from very high to dirt cheap. People have difficulty in finding a large enough house for themselves and their family to live comfortably in. The limited space of an apartment does not allow the luxury of a large kitchen with all manners of gadgets and accessories. There is barely enough space to store the necessary kitchen utensils. This space crunch can be met and solved by the use of modular kitchens and the use of microwave ovens for cooking. A vertical modular kitchen has several advantages over a traditional cooking place.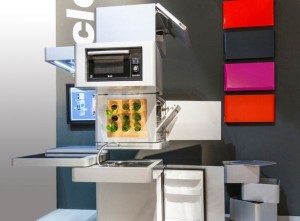 Instead of spreading out the gadgets over a large area, manufactures of kitchen appliances have come up with the idea of vertical modular kitchens. This is constructed of lightweight materials and hidden hinges that swing out at need. A modular kitchen is very organized and precise. The cutlery is kept in separate trays that can be pulled out with ease at need. A chopping board can swing out from within a shelf and the tray below it can contain the knives and cleavers that are required to do the chopping. The whole setup appears extremely modern, and some may even call it futuristic and trendy.
In another astonishing development kitchen appliances can be moulded with the modular kitchen, eliminating the need to have a separate place for those articles. The new generation of vertical modular kitchen are furnished with a microwave oven on the top shelf and crowned by a mini-refrigerator that eliminates the need to construct a pantry for storing food. All things that are used in cooking are brought to the same place, within easy reach of the chef. The spices for seasoning, the knives for chopping, the blender for creating gravy, the sink for washing hands, the flame for cooking food, the microwave oven for warming food or baking cakes and pastries are all to be found in the same place making the apparatus a chefs delight and a notable addition to the status and taste of the owner.
A vertical kitchen ascends upwards toward the ceiling instead of expanding sideways. Several environment friendly devices can also be easily attached to the modular kitchen such a solar panel for generating electricity for the hot plates and the microwaves and a dishwasher that recycles the water poured down the sink and uses it efficiently for washing dishes.