The dishes extract their flavours not only from the spices and veggies used in up boosting the ingredient list but also from the mood and intentions of the cook, making it important for the cook to have a happy frame of mind while cooking and the atmosphere around, especially in the kitchen has a huge role to play. The paint and texture add up to the ambience and yellow is among the most desired kitchen colours due to its sunny nature.
Bring the sunny side of your kitchen up by broiling the yellow kitchen with the latest trended decors. Going novelty with ideas is a little different when the backgrounds are chirpy and the fore-ground can just not manage d to be side lined.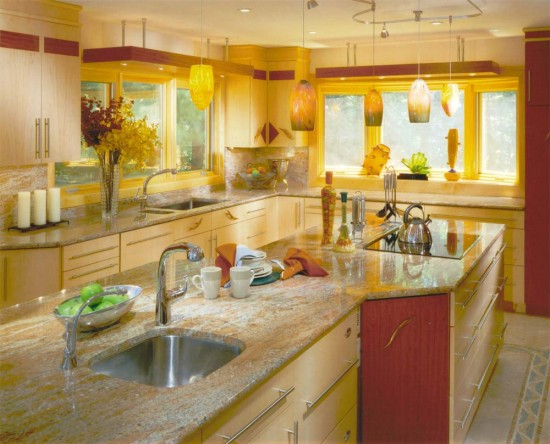 [box_dark]TONE UP[/box_dark]
yellow is a warm and uplifting colour. It has different effects depending on what tone you choose to paint in. From glittering gold touch to a slight tangy lemon, yellow has spectrum spread wide open with choices as per the taste. One can keep it an all yellow kitchen by portraying different shades of it all at once which would make the interiors go ethical. Also, teaming it up with different colours add up new life. White and yellow are the most refreshing and preferred chiefly for the kitchen.  Black and yellow on the other hand add class and the lemon and/or green when mingled with yellow make it all vibrant.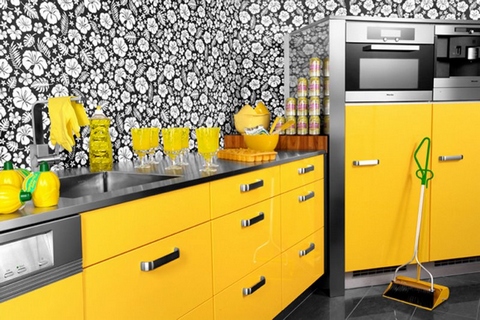 [box_dark]BACK OR FORTH[/box_dark]
Yellow is a great choice for kitchen but one has to make sure about the usage of the colour too. It can be used both as a background colour and even as the foreground if one is not willing to make it all yellow experimenting with all the shades of it. Background yellows add warmth and glory as mentioned above, the call of the hour is yellow accessories. One can add a smiling yellow table to a modest looking kitchen and make it flaunt with some yellow kitchen used items like utensils etc.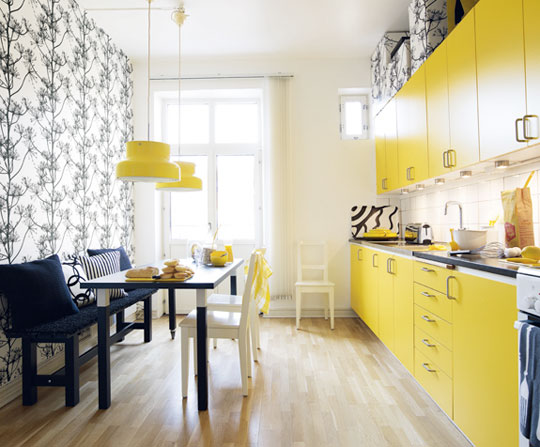 [box_dark]PLANTING AROUND[/box_dark]
Being a sunny colour it would support kitchen-window garden and small plants inside the cooking room with great grace which would make it all healthy as well as refreshing.   This plantation scheme goes good with all colours and also adds a whole new environmental or cooking with the nature feel and keep the air around fresh as well.
Go out of box and splash a refreshing yellow all over the kitchen and make it look sunny with a tint.