Kitchen is an imperative part of every home and with the concept of outdoor kitchen catching up, outdoor kitchen designs are in much demand. Below are listed some of the outdoor kitchen designing ideas that you need to keep in mind before planning an outdoor kitchen.
Light and air
You might not consider this imperative, but having adequate light and air in an outdoor kitchen is equally important as in an indoor kitchen. You might be spending valuable time with friends and family in your outdoor kitchen and you would not want to make the experience uncomfortable for everyone around. Plan for varying levels of light that can be adjusted as per the availability of natural light.
Outdoor ceiling fans also need to be installed in your outdoor kitchen so that everyone around feels comfortable with changing weather.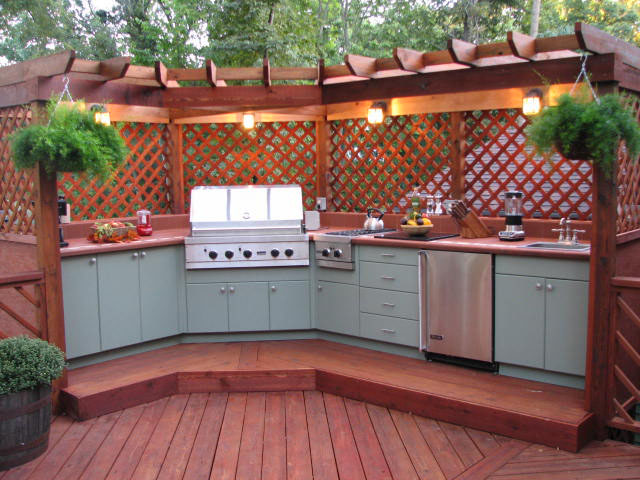 Mini appliances and flooring
An outdoor kitchen need not hold essentials for a week. Ensure that the kitchen draws are designed in such a way that these hold essentials for a day. This will make the outdoor kitchen look elegant and you can locate things with ease.
The flooring needs to be such so that it is easier to clean. Resilient tile is the best option as it is easier to clean.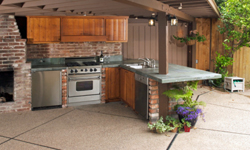 Overhead shelter
This might be the last thing on your mind but an overhead shelter is essential when you plan for an outdoor kitchen. You will not want wind, rain and heat to spoil the experience of having a lunch and an overhead shelter is the best protection. Ensure that the grilling and dining area is amply covered with the overhead shelter.
Partial roof, outdoor umbrella and pergola can also be considered in case you do not want to cover the entire area with an overhead shelter.
Pay attention to these details when planning for an outdoor kitchen and enjoy your meal!