It goes without saying that kitchen is the most used space in the home. The space is used for food preparation, cooking and other essential activities. The type of lighting will actually depend on the needs and the design of the kitchen. Task illumination is an important aspect in the kitchen space as it centralizes the light on a specific work area only. The Pendant Lighting system is a great example of task lighting and is extensively used in kitchen nowadays.
Pendant lighting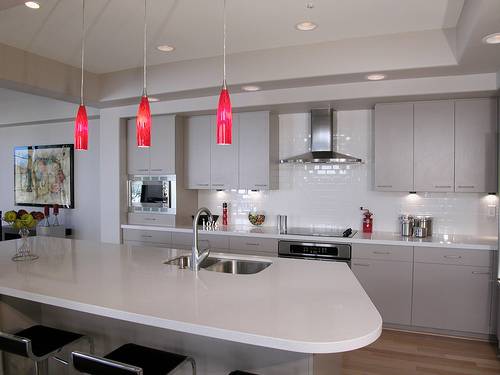 Pendant lighting can make a kitchen look really beautiful and practical. They come in a variety of shapes, styles and colors and this makes your kitchen look stylish and contemporary. You will often find several lights hanging over countertops and this provides enough lighting during meals. You can choose lighting with stainless steel accents or settle for a design which radiates orange glow throughout the kitchen. The soft glow in the kitchen imparts a romantic feeling in the kitchen. If you have a traditional kitchen then you may settle for a single pendant light. The pendant light will be a perfect finishing touch to a kitchen which has all the modern appliances and boasts of sleek wooden flooring.
Chandeliers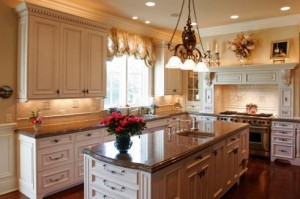 Many will scoff at the idea of a chandelier in a kitchen but you will be surprised to know that this is a recent trend which shows no downward slide. The chandeliers are a luxurious statement in the kitchen and looks beautiful in the middle of the room or over the breakfast table. very often families prefer to hang a chandelier in the kitchen as a general source of overhead lighting. But you must make sure that it is hung at least 7 feet from the ground so that family members can walk in the kitchen without a fear of their head getting hit by the chandelier. Needless to say, chandeliers look good in those kitchens which have high ceilings. You need to understand the design of your kitchen along with the height of ceiling before finalizing on a chandelier or a pendant light. There is no doubt that chandeliers impart a different classy touch to the kitchen but practicality should rule your decisions.