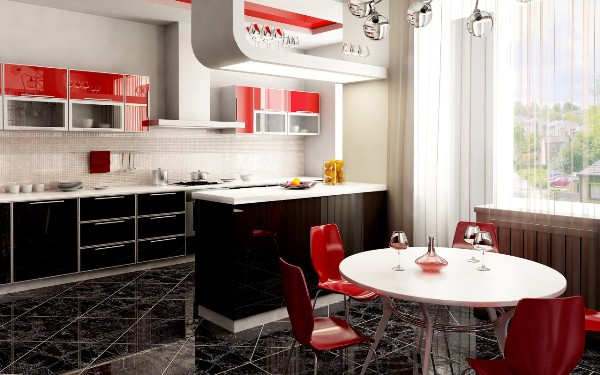 A kitchen is an important room of a home, and hence its interiors are as important as other rooms. The most important thing that needs your immediate attention is the lightening in your kitchen. It is always advisable to have proper lightening as it provides a pleasant visual environment. You can always keep the lightening that is flexible and can be altered according to your choice. Correct lightening can keep you in a great mood and ambience. Make sure that you make natural lightening arrangements as they will act as a great source and the also at a reasonable price.
Here are the perfect lightening techniques for your kitchen:
1. Natural light
It is the most convenient and healthy source of lightening. Many times you may not find it convenient to add a source of natural light in your kitchen, as your kitchen may be located at a very dark location. Try to look for ways that would open doors for natural light to enter, or else you can go for artificial lightening.
2. Under cabinet lightning
It is a very cool option to install lights directly under the top cabinets. This will be a great option to give your countertop an excellent task lightening effect and a unique look to your kitchen.
3. Chandeliers in your kitchen
You can develop an elegant ambience in your kitchen by introducing chandeliers. This is a great way to convert your kitchen into an upscale room that is marvelous for dining as well as entertainment. Chandeliers are worth your investments as they will give provide a truly special atmosphere.
4. Combination of chandeliers and a modern LED ceiling system
It is a unique and sophisticated way to ensure inflow of proper lightening in your kitchen and by adopting a combination of both ceiling system and the chandeliers. This will give a luxurious look to your kitchen. You definitely can't resist staying in your kitchen for long with this special lightening effect.
5. Choose a ceiling light for now and later
A ceiling mount fixture is a great option for long term investments. It gives your kitchen a nice finishing along with a soothing lightening effect. You need to ensure that it goes well with both a contemporary and a traditional décor.
6. Decorate impersonally
Decorative lights can give a stylish touch to your kitchen. For example you can opt for hand blown fixtures. These are a great option to give a luxurious touch to your kitchen.
7. Stick to a particular look
It is important that you stick to a single look. Don't do the blunder of making a mix and match effect for your kitchen lightening. Just make sure that you stick to your kitchen theme. You can always make creative changes in your kitchen, but don't ever opt for a completely different theme.
Precaution to keep while adopting a lightening technique:
You should make sure that you completely avoid using the shadow trap in your kitchen. The shadow trap is basically a large ceiling fixture that is well equipped with energy efficient fluorescent tubes, but will end up in you working with your own shadow may be on the sinks, or the countertops.