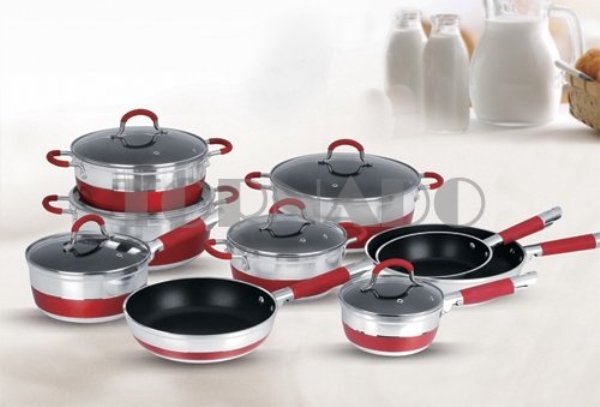 Cooking can be a great fun if you add fancy cookware to your kitchen. Cookwares are available in a huge variety, and with many unique features that contribute to a happy cooking experience. An amazing option to grab kitchenware is to get online. Kitchen tools are available in a wide variety and it is a very convenient option to purchase online. Ask around before you select your online store. It is important to chose the one that is reliable, and don't compromise with the quality. One major factor that needs your attention is the price offered by various online stores.
Here are top nine places to buy online kitchenware:
1. Cooking sites
Cooking sites offer a huge selection of kitchen tools. This website is a great option as it makes available a completely handy selection guide that will make your selection simpler. The range of cookware that this provides is cutlery sets, cook books, and even the appliances. This website has managed to maintain a hundred percent satisfactory image among its customers.
2. Williams-Sonoma
The main focus of William-Sonoma is to make your cooking experience entertaining. Here is a great selection of dinnerware's, serving platters, and many cool utensils. You can also find some specialty food items here but you will have to lose your pocket a little more for it. They are well known for a variety of stores in different parts of the country.
3. Sur la table
It offers a complete package of everything that you would look for. They offer the best brands and have an amazing collection of glassware's and dinnerwares. They have around sixty stores, so it's quite easy to look for the one for you.
4. J.B. prince
This is a specialized store to shop the knives and tools for your kitchen. If you are unable to find a product here, then probably it is not available anywhere. You should know that the most cookware available here are extremely costly. You can always look for this as an option to buy gift items as they offer a unique and fantastically designed products.
5. Chef's catalog
They provide a wide range of kitchen tools and the bake ware. They are a great option to look for smaller appliances.
6. A cook's wares
They offer unique products that won't be available in the entire market. Best feature of these stores is that it offers its products at a very reasonable price and also with a great customer service. It is highly recommended as it enables cooking to become a great fun.
7. The baker's catalogue
As the name signifies, it makes available baking tools. They are known for selling superior quality products and that also with an amazing personal service.
8. Cutlery and more
Cutlery and more offers a huge selection of tools, the kitchen appliances, the cookware and the bake ware. An amazing feature of this is that they possess a great selection within each of its categories. For example while looking for whisk; you can choose from about 50 different whisks.
These places are a great option to buy online kitchenware for your kitchen. Ask around and then make a final decision regarding the store that fits well with your budget and requirements.