Introduction:

The first thing that is given on your wedding day is a dinnerware set. With a new beginning on cards it is common for the dinnerware sets to take a top spot on registry items list. It would be every family's wish that they serve their guests in the most elegant dinnerware sets. Most of the couples prefer fine Chinaware as it adds a class to their household. Dinnerware that you display would speak volumes of the hospitality that you intend to shower your guests with. Though there are numerous high ticket dinnerware sets that would be very expensive, there are equally good dinnerware sets that you can get for a little less than $100. This would definitely fit your budget. There are a lot of good brands that offer dinnerware sets in reasonable rates.
Choosing dinnerware is an art. It is not always necessary that you pick the most expensively available products to flaunt class. There could be many other products in the market that would be much lighter on your pocket and at the same time gives you more or less the same kind of look. How you decorate and set your table talks volumes of your taste and liking. All you need to be aware of what you want. What is your style of displaying your dinnerware? Decide on the colors of your dinnerware and the number of pieces that you may require on regular basis. Once this is derived, look for dinnerware sets that fit in your budget. If you are keen to own a dinnerware set, and if your budget is not more than $100, read on to find the top 10 best dinnerware sets under $100. Hope this would help make up your mind.
1. Mikasa Gourmet Basics – Sarafin 16 Piece Dinnerware Sets – Serves 4 people
Price: $100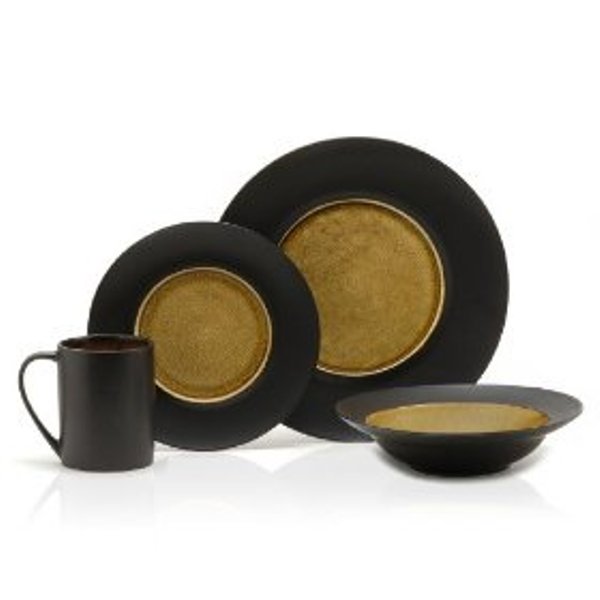 Product description:
This elegant black beauty can very elegantly serve four of your guests in style. This set comprises of 4 pieces each of salad plates, dinner plates, soup bowls and mugs. This dinner set from Mikasa is complete stone ware. The centers of the dinner plates have a little crackled golden finish and also come with smooth matte black edges which look very elegant. They come with a combination of black and brown which are deep rich colors and are total dishwasher and micro oven safe. Buy this dinnerware set if you want all your guests go in awe of your style and taste. As they come in a reasonable price, there is no harm if you wish to have an extra set in your cupboard. You will definitely not regret this decision of yours the day it comes in handy.
Product USP:
Very fine dinnerware set for a very reasonable price.
Pros:
The color combination is a beauty and would definitely add a class on your table.
2. Pfaltzgraff "Plymouth" dinnerware set of 16 pieces
Price: $99.99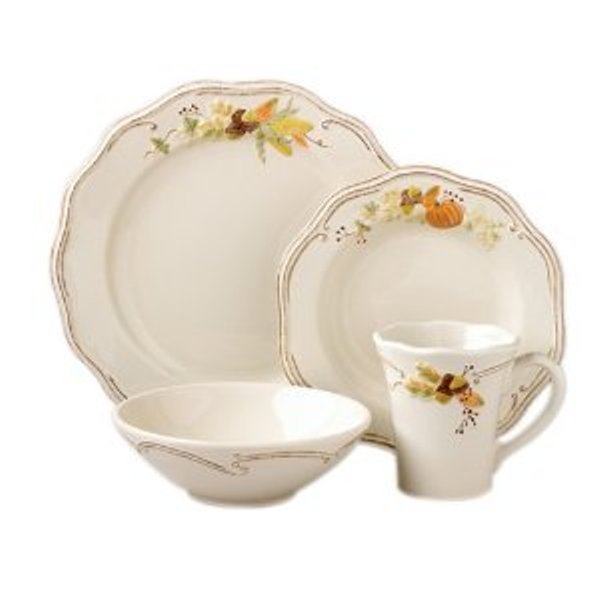 Product description:
The "Plymouth" dinner set has a very beautiful design on their dinnerware sets. The sets are embossed with acorns, pumpkins, corn ears on warm and creamy white background surface making it perfect for Thanksgiving dinner or any other occasion. Plates and Platters feature scalloped rim that are accented with gentle flow, weathered lines. Whenever the family reunion for celebrations or if you have your friends over at dinner, you can use few more place settings. The dinnerware set includes 4 pieces each of: salad plates, dinner plates, soup/cereal bowls & mugs which can be used in microwave as well as dishwasher safe pieces. These dinnerware sets are very sturdy and reliable. If you can take proper care, you could also use it for daily use. With good maintenance you are sure to cherish this dinnerware set for years to come.
Product USP:
They have elegant design making it perfect for any special occasion that you are celebrating.
Pros:
Beautifully designed, it spreads a pleasant feeling for those around the table using this dinnerware set.
3. Johnson Bros. Devon Cottage Four 4 pieces Place Setting
Price: $93.99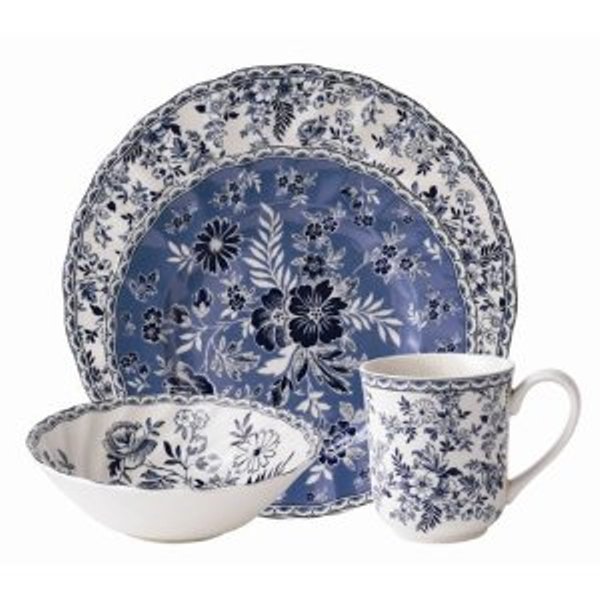 Product description:
Johnson Brothers in this dinnerware and whimsical mugs collections looks to celebrates chic country living. The dinnerware has 4 Piece Place Setting definitely brings a sense of country and home living to any dinner setting. "Devon Cottage" is an upbeat classic design which makes way from the famous 'Johnson Brothers' archive, reinterpreted for this day. This set will definitely be a head turner on your dining table. The dinnerware set will surely be center of attraction when laid on for special dinner celebrations. Owing to the beautiful design, you will never have a feeling of being away from home.
Product USP:
It brings an environment of "Chic County Living" on the table.
Pros:
It is a very upbeat design that makes any dinner event a family affair.
4. Gibson Montorio 16-Piece Square Reactive Glaze Stoneware Dinnerware Set, Jade
Price: $99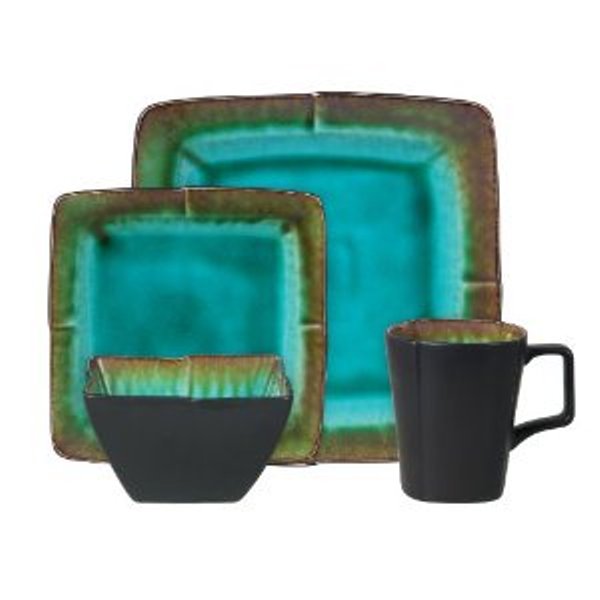 Product description:
This everyday Gibson Jade dinnerware set will definitely bound to create reaction. They are so beautiful that your guests will fall in love with this dining set after they see the Lacerta 2 tone dishes. This dinnerware creates a beautiful ambiance in your dining area. The earthen stoneware designs are so warm that you get a sense of pleasant feeling throughout your course of dinner. Your guests would cherish tasting your delicacies in these wonderful pieces of dinnerware. This would be a good choice as it is reasonably priced and at the same time very elegant. They definitely bring in a touch of home coming for all your family members and guests. If you would want to gift someone this could be a perfect choice too. It would surely be appreciated and cherished by the receiver of this dinnerware set.
Product USP:
The square designs with the jade color are a very classy combination and is too good to give a miss.
Pros:
This dinnerware set will definitely be a center of attraction on your table.
5. Corelle: "Impressions Shadow Iris" a 30 Piece Dinnerware, Serves 6 people
Price: $99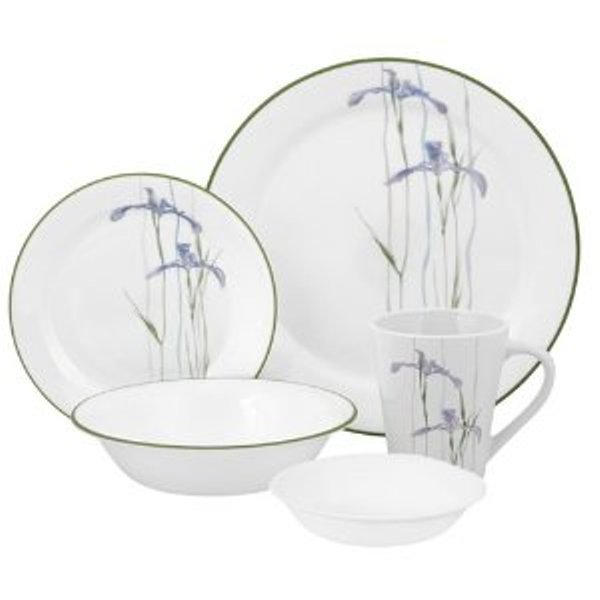 Product description:
This dinnerware set is definitely sophisticated and understated. The impressive Shadow Iris collection is seen depicting tall purple wisps of irises which brings a subtle, Eastern inspired element on any dinner table setting. This dinnerware set includes 30 pieces that serves 6. They come in 6 pieces each of dinner plates, luncheon plates, soup/cereal bowls, dessert bowls and stoneware mugs. They are dishwasher and microwave safe for long lasting patterns. The patterns will not scratch or wash off with the wear and tear. The set is chip and break resistance thus ensuring carefree durability. The dinnerware is easy to stack up in cupboards. You also get a 3 year warranty from the manufacturer.
Product USP:
The dinnerware set is completely sophisticated.
Pros:
It is a very sturdy set that can surely last for ages to come.
6. Nautica Sloane Square Floral 16-Piece Dinnerware Set – Serves 4 people
Price: $99.85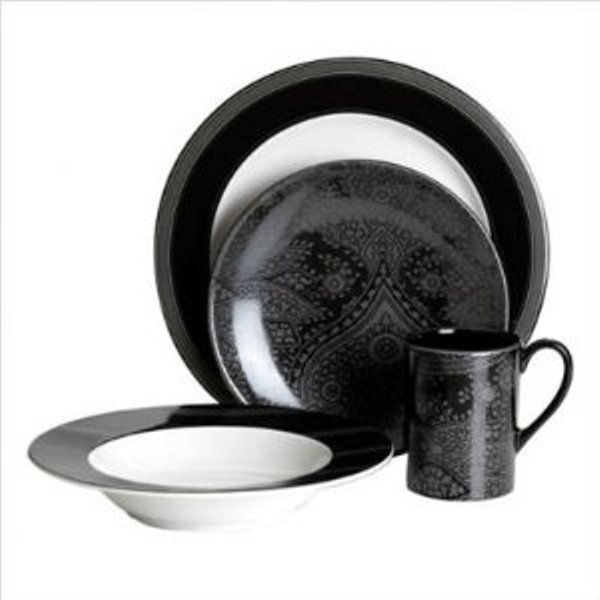 Product description:
Sure to give a clean look on your dinner table is this dinnerware set that caters to 4 people. Sloane square comes with clean and elegant shapes that seem to devote on any dinner table. Coming in lovely iridescent gray, silver and black along with gloss and satin finish, this dinnerware collection definitely enhances a dinner table's elegance. The dinnerware set also combines some classic patterns such as herringbone, floral and stripes swirl motifs which is derived from silk scarf. The combinations are so attractive that if given a chance you would want to pick up all of them. This will be a good idea as you can also mix and match these pieces and your dinner table will be huge hit, owing to the lovely colorful spread of fantastic dinnerware sets.
Product USP:
It comes with clean elegant shapes that add a touch of class to your dinner set.
Pros:
You have good color combinations to choose from.
7. Churchill China Churchill Blue Willow Dinner Set, 20 Piece
Price: $98.98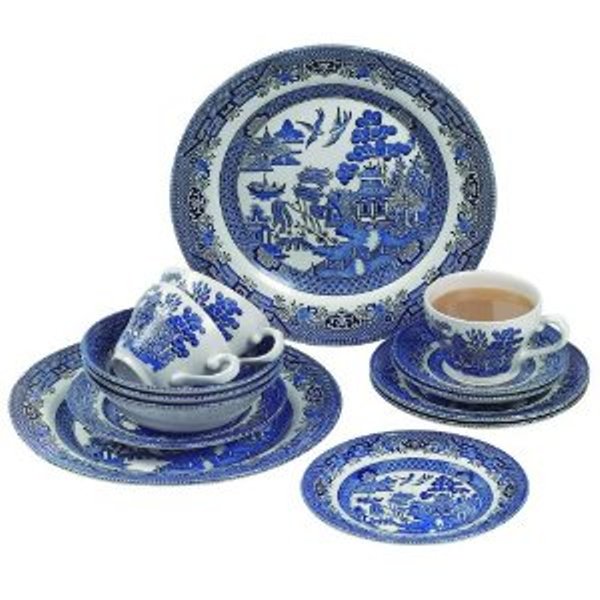 Product description:
Churchill China is an earthenware dinner set made in England and consists of 20 pieces tableware set. The most popular set is that of Blue Willow designs. The dinnerware box set consists of 4 pieces each of Dinner Plates, Side Plates, Soup/Cereal Bowls and Teacup & Saucer. Once you own these wonderful designed pieces, you will be a completely happy host. This would make you ever ready to throw in some amazing parties that your guest would love to be invited for.
Product USP:
It is one of the sophisticated designs made in England
Pros:
These designs will be an instant hit with your guests.
8. Red Vanilla Black Rice 16-Piece Dinnerware Set
Price: $98.90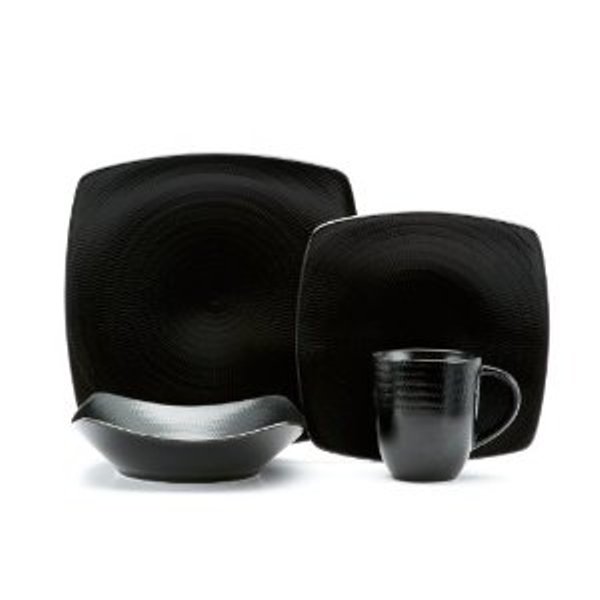 Product description:

This elegant Black Rice 16 pieces dinnerware set from Red Vanilla has an eye soothing matte black finish. Black Rice definitely highlights the rice like texture on every piece of the dinnerware. Giving a modern look these sets that come in square shapes will be perfect for cuisines from all over the world. You could also mix and match the sets to create a contemporary setting by using the White Rice. The dinnerware comes with 4 pieces each of Dinner plates, Salad plates, mugs and soup bowls. These sets are made in Indonesia and look very contemporarily designed. The sets can be used as everyday China ware which is also complete stoneware. This dinnerware sets are dishwasher and microwave safe. These dinnerware sets are so pleasing to the eye that it would get approved glances from all your guests. Keep your dinner table simple and just see how the dinnerware set by it does the trick. Go grab one from the store and do not wait for someone to gift this beautiful dinnerware set to you.
Product USP:
Black Rice definitely highlights the rice like texture on every piece of the dinnerware
Pros:
You have an option to mix and match the sets to create a contemporary setting by using the White Rice dinnerware set.
9. American Atelier Yardley Red 16 piece Dinnerware Set
Price: $69.94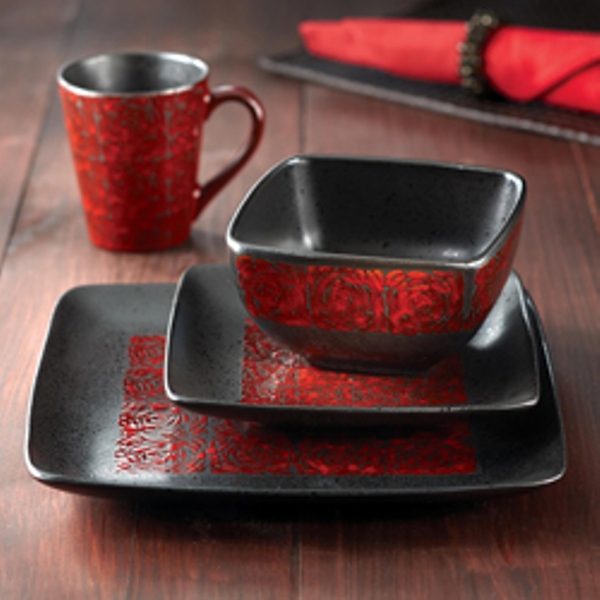 Product description:
The fine earthenware American Atelier 16 piece dinnerware set has a Yardley pattern comprising of floral red abstract on a background of black dish. This dinnerware set has square dishes that come along with elegant mug which caters to 4 guests. The dinner ware is completely microwave and dishwasher safe. The dinnerware comprises of 4 pieces each of dinner plates, salad plates, soup bowls and mugs. The subtle designs that show on the dinner ware would get approving smiles from all your guests. Though not too showy these fine dinnerware pieces would add their own touch on your table. Go for these if you are the one to not boast by your words but would want your taste in cutlery to do the talking. This will definitely go as a priceless possession for generations to come. The amazing color combinations will be appreciated by one and all.
Product USP:
The floral abstracts in red are hot selling pieces from this brand.
Pros:
The dinnerware in red definitely is very attractive.
10. Villeroy & Boch Flow 5-Piece Place Setting
Price: $69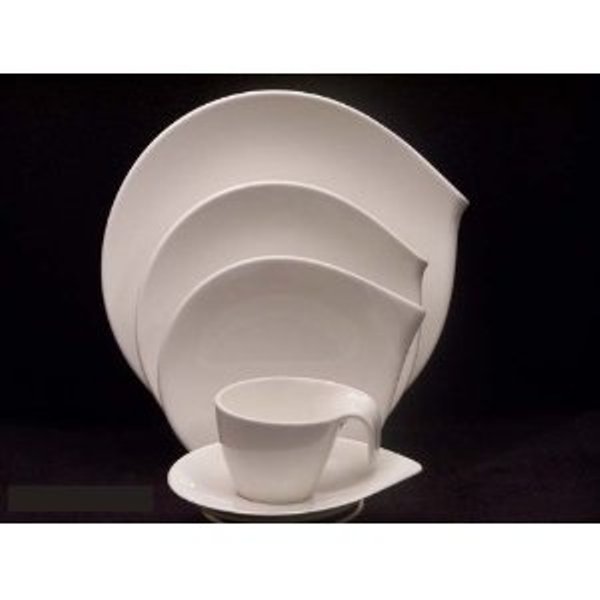 Product description:
This bone China classic dinnerware set from Villeroy & Boch comes in plain white color that no doubt adds sophistication on your table. The 5 pieces table setting contains of a cup and saucer, dinner plate, salad plate and also bread and butter plate. Your table setting for one will be well appreciated if you use these fine pieces of dinnerware. Keep them for special occasions and let the magic work. So if you want to treat your special one, now you know what cutlery to use. Serve your dishes on this dinnerware and experience the beautiful feeling that it creates around you. White is a symbolism of peace and you can be sure that while you dine in this beautiful pieces of dinnerware you will be imbibed with peace and tranquility vibes all around you.
Product USP:
Very sophisticated fine pieces of dinnerware made in Germany.
Pros:
Elegant white surely brings on magic to the dinner table.