For all you ladies out there, since most of your time is spend in the kitchen, it is very important for you to understand the need of your kitchen. In the recent times, there are a variety of kitchen designs that will enhance the look of your kitchen. But before you undergo any change keep in mind certain tips. The most important tip is that the kitchen area should not be too large that you find it difficult to move around when you want to grab things from the other corner. In addition to this, check the size of the cabinets. Choose the one that best suits the kitchen. Whether you are planning to design your new house or renovating your existing kitchen, choose the best range of kitchen designs available with latest trends and technology as an ill planned kitchen can be a big failure.
Futuristic Kitchen design Ideas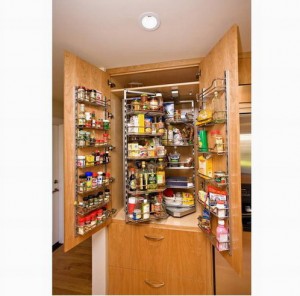 To make your kitchen looks trendy, all you need to do is follow these ideas that will help you make a better workplace.
Emphasis on the storage space. Allow a corner cabinet to store utensils, pans and pots etc. that should not grab extra space in the kitchen. Stack the utensils properly by keeping them inside the bigger ones and storing them in the cabinet. It would be a better idea if you install kitchen cupboards on top of the cabinet to give extra storage space to store other utensils that are not to be used daily.
Nowadays people are following a technique of keeping their machinery mobile. Attach a trolley at some corner of your kitchen to keep microwave on it so that it can be used both inside and outside the kitchen. Isn't it a great yet innovative idea? This will not only make your kitchen looks big but also will save a lot of space for your workspace.
Drop down tables are seeking attention with their capability to attach to a wall with hinges. The free end of the table can be dropped off which will serve as a dining table. It can be laid back to the wall once again if it not to be used.
Usual fixed shelves are now out of the fashion. It is the time of pull-out drawers and baskets that can be easily pulled out allowing you to easily reach the items kept inside at the back.
To save you from the above mentioned ideas, the better way is to go for a modular kitchen. Modular kitchens are the built-in kitchens that give it a perfect look. All the cabinets are built into the kitchen walls to save floor space.