Browns, pastels, naturals, blacks… the trend is now is evergreen and will never be out of fashion, when it comes to kitchen interior trends. But a dash color is always refreshing. Too much of color may look like a neon poster, but a combination of neutrals with a color highlight is all about understated elegance and style sensibilities. A Kitchen is undoubtly the most important area of a house, and doing a kitchen surely deserves all the attention that it gets.
Colors: Yes indeed, color is the major big time trend in the year 2013. But for people who are not so much of a color person when it comes to their kitchen, can still stick to the neutral color palate of whites, creams, black, biege and browns. One thing is for sure, that neutral is here to stay no matter whatever the trend. It will never be out of fashion. But, how about adding a little bit of color and bring in a little peppiness into the kitchen. The color green combined with neutrals is a big trend, if you are not too much of a color person in the kitchen. Too enhance the classiness you can put in plants in and around the open areas of the kitchen.
Shades of lime & green, really compliment black, dark browns, whites & beige. Green is a good option because it blends in really well with most of the neutral shades. In a way, designers suggest that green can also be part of the neutral color palate. The color has an intense character of its own. It beautifully keeps the neutral concept at it's place and understatedly adds a dash of color and liveliness to the area. It's a quick fix solution for not so color savvy genre, but still makes the kitchen fall in with the trend.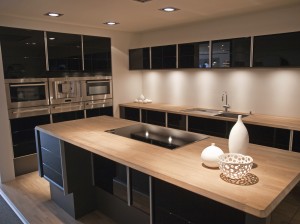 Open Kitchens: The concept of open kitchen's is becoming a huge rage worldwide, and the trend is forecast to continue in 2013. In case, if you do not wish to play around with the wood work in terms of colors and would like to stick to neutrals like black & white, having your walls painted in shades of green will be a great idea. Open kitchens, with colored walls are a good idea to do up your kitchen. Kitchen's these days are almost like a part of your living area.
Before one realizes, there is no place better than your kitchen to lend your imagination.