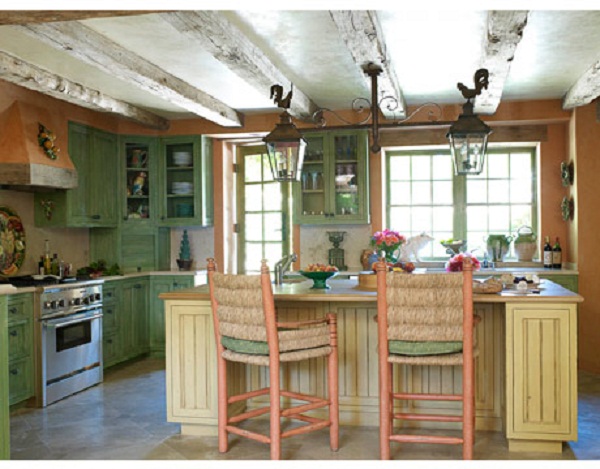 Kitchens with a simple and clean façade decorated to beget a charming old world feel have been a trademark of Provence, a place nestled in the south of France. These kitchens are simple and elegant with clean lines. Although fresh and airy, a French country kitchen always models a faded shadowy touch. These kitchens go well in contemporary, vintage, or country homes. It is easy to do up your kitchen space in this style which is rustic, cozy and still extremely charismatic.
1. Use provencal colors with a worn out look around the place to give it a vintage touch. Sage green, mustard yellow, terra-cotta, honey-brown and copper create an earthy feel. While lavender, light green, cobalt blue, and antique white are great if you prefer a soothing effect. But the highlight of the paint should be its distressed or tatty appearance to bring about an old world feel. The walls can be plastered or of stucco. Even if you are glazing the walls ensure that it has a weathered look.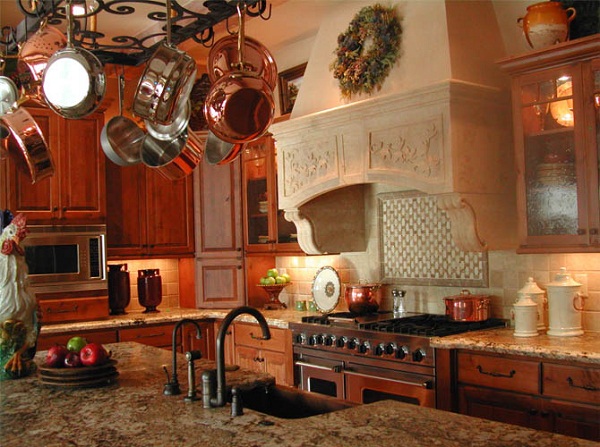 2. Do up the rest of the kitchen in mostly wood and stone. These materials have sublime hues and add a light and subtle air to the room.
3. Beauharnais limestone is a clever choice for the countertops and backsplash. A big plus with this material is that it can be cleaned and waxed easily.
4. Any appliance like dishwasher, refrigerator, or microwave can give the kitchen an industrial feel. So try to stash these away in cabinets. Set up an old age stove or cooktop along with cutlery like pots, pans, pitchers in shapes of animals, plates hung up on walls, flower bouquets, wine racks, etc.
5. Trinkets and baubles to make the space look filled up and busy is a good idea. However, do not cram in too many curio items making the place appear disorderly. Some good knick knacks are plates hung on the hearth or a hanging pots over the sink. Create displays with fabrics, woven baskets, flowers, fruits, and breads. Antiques in metals like iron or brass are great to create a vintage ambience in the kitchen – look for spiral iron knobs, lanterns, etc.
6. The sink and garbage bins should also go with the interiors. Choose a sink with a flat bottom so that utensils and glasses put away here do not fall over when they are resting. Also, installing two sinks makes the space quite functional. You can stash dirty dishes in one and use the other to wash and clean the produce for your meals. Gear up the structure with open shelves mostly of wood, racks, and cabinets.
7. The dining table and chairs are mostly wooden with hints of weaves. If you want to accommodate more people, you can add a bench to your dining furniture. Set up the table with fresh flowers, vases, show pieces that catch attention – motifs bearing wheat, flowers and fruits are delightful. A tablecloth or runner on the table set up with silverware, wineglasses, china, ceramics, old age French dinnerware is absolutely captivating.