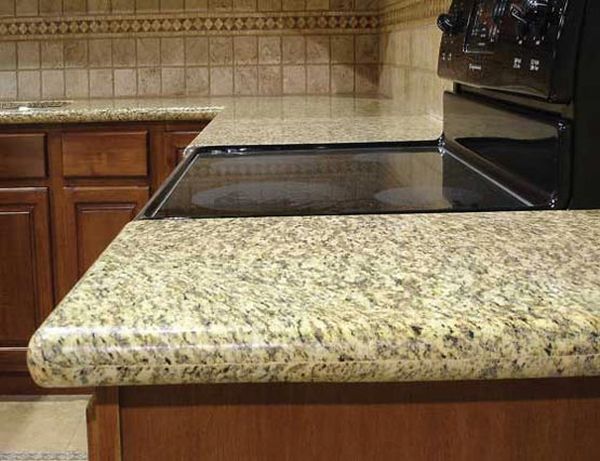 Your kitchen is an exclusive and vital area of your house. You can give it uniqueness by furnishing a suitable counter top, which is both useful and appealing. Counter tops come in a wide range, from natural to man-made, differing in functionality and durability. The most vital consideration which you can make while selecting your counter top is with respect to its durability and style. Installing one for your kitchen invites considerable effort and expense. You would not want to waste substantial resources to get one which does not suit you.
While making a decision, you would want to keep in mind the interiors of your house. Choosing an odd one can obstruct the beauty of your house. If you wish, you may combine multiple patterns to get an innovative, fresh look. You can be better paid for your money when you opt for a counter top which is durable and low on maintenance.
Considering style, economy, efficiency, and usefulness, five functional counter tops have been discussed under. You may want to consider one when selecting yours.
1). Silestone – These man-made counter tops are made from quartz, one of the hardest substances to choose from. A combination of attractiveness and durability, these counter tops are low on maintenance as well. The counter tops are non-porous, heat and stain resistant. You should not use a harsh chemical on such counter tops to maintain their efficiency. These counter tops are made to resist scratches and cuts.
You can use simple soap solution to clean these counter tops. Although man-made, they are as appealing as any natural stone. Furthermore, these counter tops score over the natural by not depicting any discoloration or color variations, a typical feature found in real stones. They are priced on a higher side.
2). Terrazzo – If you have an inclination to reveal your nature-loving spirit, these are the ones. A terrazzo counter top can be made with left over marble, and some other materials mixed with cement. They have been around since long. History dates back to the 1920s, when the Venetian workers used marble chips accompanied by clay and a goat milk sealer. Since time, many advances have been made.
Terrazzo counter tops are more resistant to scratching and etching than marble or other stone counter top materials. Lately, it has gained popularity over granite due to its earthy and soothing looks. Terrazzo offers the flexibility of designing a personalized counter top, owing to the different types of aggregate materials used. There is a wide range of colors to choose from. For maintenance, use a pH neutral cleaning product. Alkaline based cleaning products can break down the resins in terrazzo counter top material.
3). Formica – These were very popular during the 1950s. The Formica counter top can sustain heat and spills, making it a durable material for in the kitchen. Remodeling is easy and inexpensive because Formica counter top is a type of laminate counter top. It was originally meant to replace the mineral mica for electrical insulation (in 1912). It derives its name "for mica" from there. It may be surprising to know that the Formica laminate is made out of high quality paper. But the durability is worth considering, owing to its manufacturing technique. It can be made numerous patterns and colors.
4). Corian – The American chemical company DuPont produces Corian. It consists of acrylic polymer and alumina trihydrate. This substance has its uniqueness in gaining exclusive shapes. The numerous colors and patterns which can be had provide diverse benefits to the users. It is non-porous, scoring over the stone surfaces which are apparently dense but can allow microscopic organisms to hide out. The versatility of Corian allows easy attachment and re-shaping to a wide variety of products
5). Swanstone – Swanstone is a plastic-based man-made composite. These acrylic counter tops have been since 1964. Swanstone has the credential of being the only acrylic counter top manufacturer that uses a modified acrylic compound to increase the strength and durability of counter tops. The counter tops are non-porous and low on maintenance. The usual commercial cleaners can not damage them. The compression molding makes the counter tops extremely strong and heat resistant. The non porous nature prevents germs, stains, mildew and bacteria from hiding inside. The stains or scratches can be easily polished and buffed out. These counter tops come in many simple designs and functionality.
The eco- friendly manufacturing process used reduces the scope for replacement or maintenance for many years to come.
There are a diverse range of products to choose from. When selecting one, be careful about your specific need(s). Individual requirements are different, and this is why we have a diverse range of products in the market. Irrespective of the choice, it would be beneficial to engage a skilled entity when installing one in your kitchen.