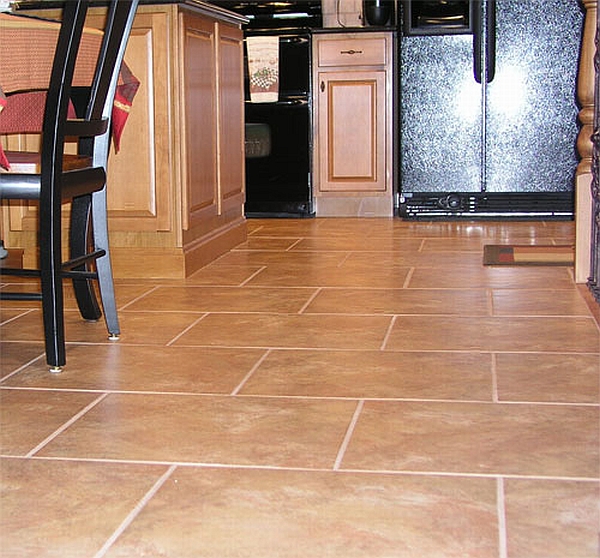 The modern homemakers have started paying more attention to kitchen design than ever before. The heart of a home, in the true sense of the word, is the kitchen, and this growing attention is an indicator of this realization. There are several considerations that one must look into when considering the different aspects of kitchen design. Apart from the technical aspect of the material to be used and structural factors, one must also keep in mind the utility of the design.
Flooring is an essential aspect of a well-designed kitchen, both from the aesthetic and the technical perspective. Flooring is usually a one time job that you will not be re-doing in the short term. Familiarize yourself with the principles for choosing the right kind of kitchen flooring for you, the emerging trends in style and design, and the options available. Here are some kitchen flooring pointers that will set you off in the right direction.
The main factors that you have to keep in mind when choosing kitchen flooring are ease of use and maintenance, durability, cost and of course, design aspect like patterns and colors. Other factors will include whether you have the option to lay the floor from scratch or build it up on top of an existing flooring.
The choices you have are wide, ranging from wood and cork to vinyl and ceramic tiles. Most of them have their own advantages and drawbacks, and it is up to you to choose the one that is most suited to your needs.
1. Vinyl
Vinyl tops the list as it is the most cost effective and popular flooring solution for kitchens. Available in both tile form and in sheet rolls in a variety of designs, they are easy and quick to install. They stand up to water, foot traffic and cleaning very well. However, the downside is that they can tear with the repeated movement of heavy items like refrigerators and washing machines. They do not lend to repair easily, and the only choice you might have with a damaged vinyl floor is to re-do it. Thanks to the low cost of vinyl, many homemakers find this to work out cheaper than other costlier and more durable flooring options. If you are choosing vinyl, make sure that you don't lay seams down in a high-traffic part of the floor. You will also do well to stay away from designs that use a lot of embossing as these become very difficult to clean with time.
2. Ceramic Tiles
Like vinyl, these too come in a wide variety of colors and designs. You can get them in different varieties too, such as glazed or vitrified, quarry, or traditional varieties like terra cotta. This type of flooring requires a concrete substrate, and takes a while to install, and it may be upwards of a day before you can use the kitchen after laying the tile flooring. If you choose to go with ceramic tiles, you will want to ensure that they offer you sufficient grip, as some glazed tiles can be extremely smooth, leading to slippage and kitchen accidents. Some quarry tiles are extremely absorbent and may pick up blemishes from spilled items easily and refuse to yield to your cleaning attempts. Ceramic tiles also come with the disadvantage of cracking or breaking if heavy objects fall on them. In addition, improper laying of tiles can cause not only uneven floor, but also stress points where normal traffic can end up cracking them. You would be well advised to buy slightly larger number of tiles than you need for two reasons. Firstly, there might be some breakage in the process of laying the floor. Secondly, you will be hard pressed to buy small quantities of the tile from your supplier later if you need to replace some of them.
3. Stone slabs
You can get a variety of natural stone flooring solutions such as granite, marble, limestone, and even slate. These look very beautiful and elegant, and the newer textured and matt finsihed stone slabs ensure that they are relatively skid-proof. The natural veining and mottling that comes with the stone can look very attractive. Their availability in larger slabs reduces the amount of grouting needed and subsequently its maintenance. The downside of stone flooring is that most stones are porous and stain very easily, such as marble and granite. In addition, the weight of stone demands a supportive substrate, and is not advisable for homes that are not built with a concrete or other reinforced substrate.
4. Wood Flooring
Wood flooring is the most beautiful flooring option for regions where moisture and humidity are not high. They are long-lasting and bring a natural elegance and warmth to the kitchen. They are also softer The design factor is offset though by the cost and the complexity of maintenance. Specialized waxing solutions have to be used so that they do not whiten with contact with water and cleaning agents. Wood floors tend to dent easily, and they will darken with age. In addition, in humid regions, wood tends to expand and contract with the weather, leading to more problems.
With a wide array of styles and materials available, you can choose the one that is most suitable for your kitchen decor, style and budget. The modern trend is to go with vinyl or laminated tiles since they offer you a wide range of colors and designs, as well as cost efficiency. They are also easy to maintain and repair or replace. However, all these options of materials are attractive and elegant, and what you choose to use will be dictated by your design sensibilities and your imagination alone.