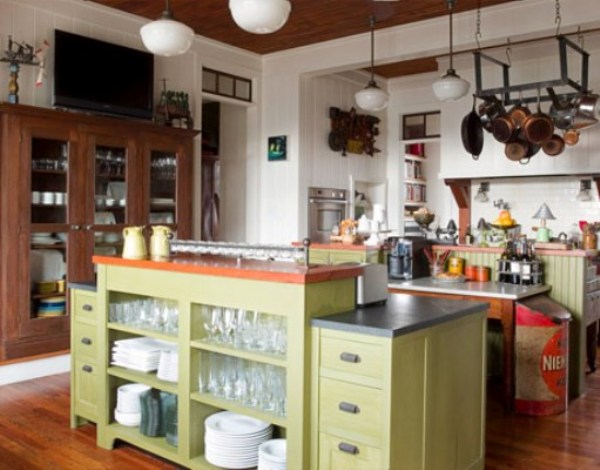 It's a personal choice to have a countryside appeal to your rooms, especially the kitchen. Achieving it is done through a lot of research, discussion and hard work. In addition to seeking professional help with setting up an old-fashioned kitchen, you can implement some do-it-yourself tips to complete the look. But, here are a few things to remember while designing a country style kitchen.
While designing an old-fashioned kitchen, a lot of factors come to play like the kitchen paint, cabinets, back splash, counter top, floor, furniture, window treatments, plumbing fixtures, lighting fixtures and even the appliances in use.
Designing Cabinets and Cupboards: Cabinets made of cedar and oak wood are ideal. China cabinets are appealing too. Knotty pine cabinets are other options for a country look. Those interested can get faux paints for the cabinets that give that perfect antique appeal. A true old-fashioned kitchen will have open or free-standing cupboards. This will let you keep everything exposed, including the crockery and spices, and this makes it easier for even the guests to find what they want without having to scour through a lot of cabinets.Ceramic or wooden knobs can be used for the cabinets and cupboards along with cup-shaped handles.
The Countertops and the Back Splashes: When it comes to countertops, soapstone looks the best, as they are easy to maintain and that you just need to oil it once a while. It is optional to have a kitchen island. If extra working space is required, island kitchens are the best, which will let you and your partner work without troubling the other. Marbles are ideal for the island countertops. Do not forget to get matching back splashes. A butcher's block is inevitable to accomplish that old-fashioned look.
Getting the Right Furniture ad Furnishings: For furniture, round or oval tables are the most sought after, coupled with wooden chairs and soft cushions for extra comfort. For tables, use crocheted doilies. For window treatments, use valances or simple cotton curtains. You must ensure that the kitchen gets plenty of light often. Curtains with lace works can be used as well. To create the warmth of an old-fashioned kitchen, use rustic lighting designs and fixtures that are easily available in the market.
Matching Floors for the Rustic Appearance: Wooden and stone-flagged floors score the best for a dramatic country kitchen look.
Crockery and Appliances: Go for copper pots and pans, or utensils with a complete rustic appearance. While investing in home appliances, opt for those with a timeless appeal. Buy accessories and tableware with pretty colors and patterns. A ceramic or enamelled sink would do the trick. Go for traditional or enamelled range cookers and use hooks and hanging racks for pots and pans.
While ensuring the old-fashioned comfort, also make sure the kitchen is built for keeps and you have made it as cozy and welcoming as your require. Ensure importance is given to every detail from food storage to preparation and that the charm of the countryside kitchen is not missed out in any of the selections. Have a centerpiece like a stone fireplace and use indoor plants, wooden clocks and vases with bright flowers to complete the look of a soulful kitchen.