Family Fun with Cooking and Bowling: Creation of a Combination Kitchen
Kitchens have always been traditionally associated with the preparation of food. But, in recent times, multipurpose kitchens have come into fashion. Modern design ideas for the home can range from the creative to the wacky, classic to neo-gothic. So, it was only a matter of time before one of you combined man's two favourite indulgences – food and cooking – into one amazing kitchen theme.
The brainchild of Jim and Amy Trussell, the innovative kitchen has incorporated bowling lanes into the framework of the kitchen. As soon as you step into the couple's kitchen and look at the brand new countertops, you will notice that they once used to be lanes at Town & Country Lanes. Jim admits that they were faced with several ideas and suggestions. Among them were included a hollowed-out bowling ball to be used as a vase, wallpaper borders consisting of bowling shoes and pins, and a centerpiece consisting of bowling pins and shoes on the counter.
First Impressions
Once you enter the room, the first thing your eyes will automatically be drawn to are the wooden inserts on the kitchen island which were once used to mark the spots for the position of the pins on the real bowling lane. The foul line is present across the way in front of the sink. The bowling area which was once the gutter has now been modified into the space lying between the wall counter and the island. But no one should even think about rolling a 300 game at dinner time!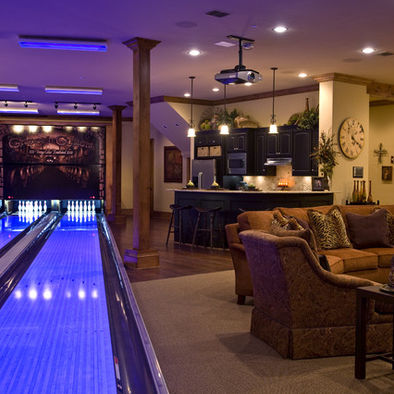 It is the amount of attention paid to the details in the room where the kitchen exceeds the expectations of the guests with the lining up of the foul line and the pins as well as the matching of the maple lanes with the ones present across the way. All the hard work to convert the lanes into usable countertops for the home environment was undertaken by Trussell and he received assistance from some of his friends. The sheer size of the project made it difficult but highly rewarding.
Bowling Design Details
The maple strips have been stuck together with a row of nails which have been spaced around the board's center. During the time when they functioned as bowling lines, it was necessary to assemble them right from the center since rough use and time meant that they needed to be refinished on a regular basis. The nails located at the edges of the board soon would soon become exposed and cause damage to sanders and oiling machines. Therefore, to tackle this problem, the assemblers began by applying the nails right at the center. When he began to repurpose the wood, Trussell was able to realize the position of the nails only when he ran across them with his saw.