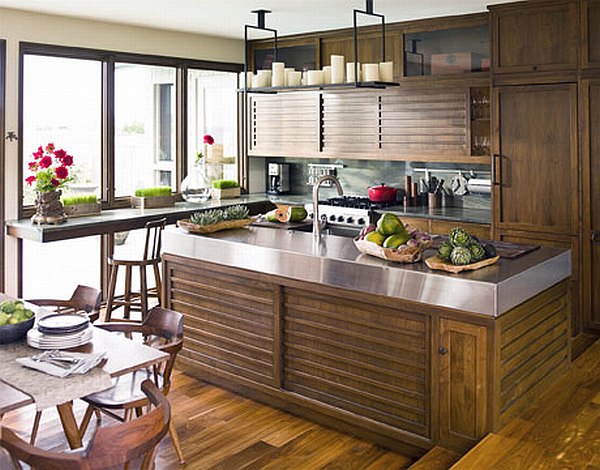 Zen kitchens are a beautiful gift from Japan to the western world. These types of kitchen look compact and efficient with traditional Japanese storage pieces acting as inspiration for kitchen furnishing. Many of them display handcrafted wood cabinets and watery green marble counters. The whole kitchen exudes a calm and serene ambience which makes working comfortable and peaceful. If you too want to revamp your kitchen and turn it into a Zen wonder, our simple and useful guide will teach you how to do that in simple steps:
Cooking, dining and living: All in one
You can start with merging your kitchen, dining and living rooms all into one. The islands and cabinets can be designed in a way that looks more like furniture. This can be done by modeling them on Japanese "tansu" (a storage chest comprising planked doors which slide open). This has an added advantage too. If two people are cooking simultaneously, one will not have to move every time the other opens the cupboard. Also, the dining table can be in "Nakashima" style and of walnut wood. The chairs too can be of the same wood to reflect unison.
You can do away with seats at the island. Reason: it looks too kitchen'ish'. It also limits the chef's work and reach. Instead, you can put a slim counter against kitchen window (yes! you ought to have one for this or you can put it at any corner where it is not obstructing the workflow of the kitchen). You can take breaks while cooking and enjoy a cup of coffee sitting on your counter and enjoying the view outside. Apart from all the work benefits, this setup also makes the space seem wider than it actually is.
The counter can be of granite and watery green in color to emphasize a link with the nature. You can sandblast your granite counter and then acid wash it to give it a little texture.
Island top with a twist
To give your Zen kitchen a contemporary modern twist, you can opt for a stainless steel island top. Make sure that your sink too has been molded out of the same stainless steel and complements the island top. The combination will look very pure and well coordinated. Another benefit of a steel top is that it is easier to clean with no cervices to collect dirt. Blanco is one such company which makes perfectly square cornered steel sinks.
If you want to bring up your island to a height which is fit for chopping, you can make the island a bit thick. You can also customize the height of your dining table (or the steel island top) so that a consistent line is achieved.
Care for your Zen kitchen
Regularly wipe your kitchen sink to avoid the drainy look. Use special liquid cleaners like Mrs. Meyer's, Miele or 3M, made especially for stainless steel.
The walnut furniture should be finished with polyurethane varnish. This varnish ensures a long lasting finish and minimal care. You can also opt for oiling, waxing or hand rubbed resin finish.