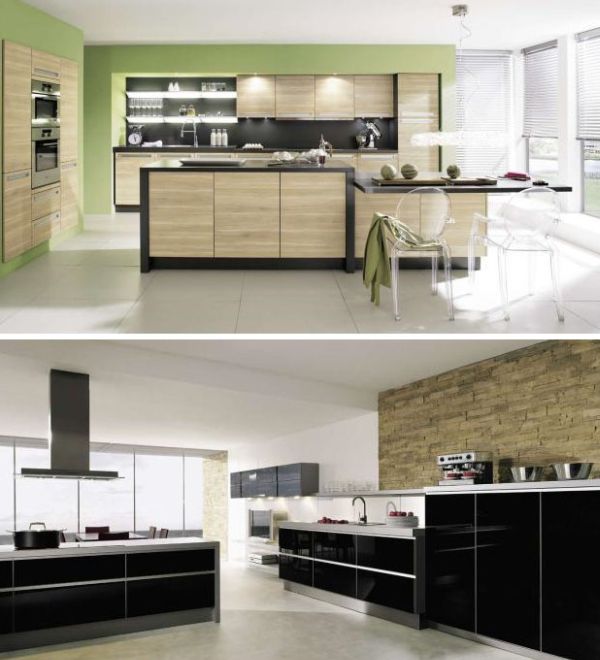 A house is unimaginable without a kitchen. It is used for preparation and cooking of food but it may also be used for dining. Most modern kitchens are equipped with a refrigerator, stove, sink, dishwasher, microwave, mixer-juicer-grinder, other electronic appliances and cabinets. Kitchens of modern times are mostly of modular design. The idea behind modular kitchens is mostly the organization of the kitchen and management of space.
There are three modern ways of classifying a kitchen – One walled kitchen, L-shaped kitchen, and U-shaped kitchen or gallery. While designing a kitchen, it should be wise to keep in mind the Classic Design that is, the 'Triangle Kitchen' which allows the cook to move between the stove, sink and refrigerator
Here are ten modern kitchen ideas:
1. An open kitchen is placed in the heart of the house. It is considered a place where the family can eat, drink and interact with each other. While on the other hand, an enclosed kitchen is away and mostly used by the cook. It keeps the food and the mess away out of sight.
2. The atmosphere in the kitchen is also of vital importance because it reflects one's personality. Bold colors depict bubbly and jovial personality. Earthy tones create a very homely and comfortable feeling where stainless steel represents a commercial look.
3. If you have children who do their homework in the kitchen, go for a breakfast bar of a lower height or you may opt for a L- shaped kitchen island.
4. Mix-and-match in the kitchen leads to exciting results. Glass doors and stainless steel doors may be contrasted with plain white kitchens. Different colors and materials can even be applied to make a kitchen attractive. Darker shades of colors should be avoided even in large kitchens.
5. Light: There should be enough natural light in the kitchen. The kitchen should be designed with big windows that allow ample light. Big windows make the kitchen look bigger and user friendly.
6. Counter arrangements: It is vital to note the height of the counters if more than one person works in the kitchen. The best counter height allows the hand to be rested at an angle of 45 degrees. One should be able to cook, wash and clean without bending or stretching.
7. Kitchen Surfaces: should be durable and easy to clean. Granite is used because it is easy to clean and long lasting.
8. Faucet sprout is an essential part of the kitchen and even adds aesthetic beauty to the kitchen. High arched faucets make the kitchen look classy. High arch faucets accompanied by deep sinks made cleaning of pots and pans easier.
9. Cabinets: The organization of cabinets is very essential. An unorganized kitchen is difficult to handle and messy. Maintaining cabinets makes a kitchen clean, convenient and easy to handle. Cabinets can be of different colors which enhance the beauty of the kitchen.
10. Chimney: A chimney maintains cleanliness of the kitchen from smoke, burnt particles and soot and keeps away odors.