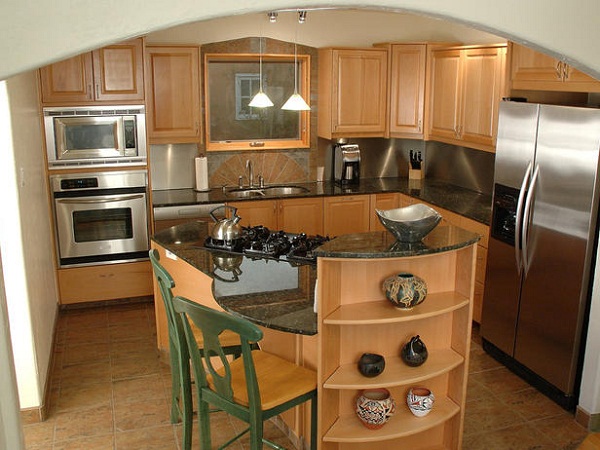 Compact homes, apartments in the city and condos are not very roomy. They usually have kitchen that are small sized. You will have to fit in all your utilities and thing you require inside this small space. But you have still keep the kitchen functional. Also, it must not look very crammed, moving about and working in it should be easy. There are lots of ideas to make small kitchens more spacious and easy to use. A few of them have been listed below.
1. Space saving fittings
Apply designs that make the kitchen look spacious. Fit in only one sink, kitchen island, and go for a poured concrete countertop. A high ceiling, mirrored blacksplash and large windows will make the compact space seem airy. Choose a small sink and then affix a goose neck faucet with which you can fill up large vessels even in the limited space.
2. Light hues
Paint kitchen in muted shades like white, ivory, cream and pastels which make it look more commodious. The color of cabinetry and tiles should be similar. The walls, flooring and the cabinetry should be in light mutes tints. A few bright colored tiles or fixtures with a light colored backdrop make the small area more interesting.
3. Storage space
Shelves that open help to create an airy feel and will make the kitchen appear spacious. Mount racks or pegboards with hooks on which you are hang your vehicles. Mugs and pans can be suspended from nails also. Suspend baskets to store items. If you have too many utilities to stock in your kitchen, then try installing elongated cabinets that reach till the ceiling. Cabinets for storage below the countertop are also a great idea.
4. Appliances
Use small sized appliances and keep only those you use daily on the countertop or within reach. Stash them in cabinets built on walls and below the countertop to make space. Buy a small sized refrigerator and dishwasher that can be shut away in kitchen cabinets. Purchase a cooktop that can be converted into a countertop after use. To cozy up the kitchen, opt for space saving underfloor heating or a wall mounted radiator.
5. Plan out the space
While planning out a compact space, make sure you don't miss out on nay vital area in the kitchen. There should be space for cooking, food preparation and washing. Apart from that, try to fit in place for serving and dining also.
6. Compact furniture
Fit in a tiny dining set with a small table and chair without arms. You can go for a folding dining table also which can serve as the second island sometimes. Instead of chairs, use backless stools or a bench.
7. Lighting fixtures
A well lit kitchen looks roomy. Fix more lights in the small space. Have some near the cabinets, countertop, above the sink and cooktop.
8. Organize
Avoid storing anything over the countertops. Objects and gadgets strewn across the kitchem make it look cluttered. Discard anything you don't use and things used on rare occasions should be stashed inside cabinets.