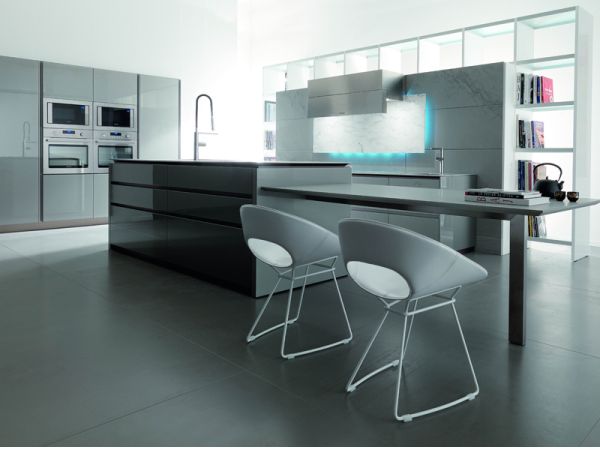 Kitchen is, of course, the most significant concern especially for those who possess an extreme passion for cookery. A kitchen should mean convenience and requires certain essential features so that cooking becomes fun rather than just a part of the daily work schedule. There is a surprising range of new kitchen designs you can have a go at and come across some of the most amazing and inspirational kitchens. In the following, some of the kitchen designs are discussed.
1. Minimalist kitchen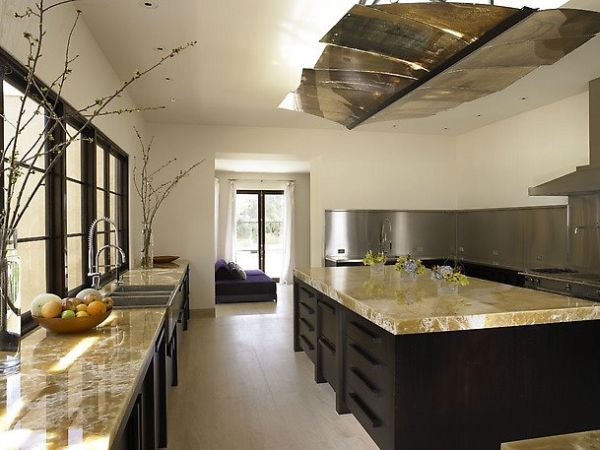 Designed by Amy Finley this kitchen is just about common sense. It is spacious and most appropriately designed for weekly dinners with extended family. The ceiling centerpiece is the artwork of a famous artist from Italy and is designed specifically to disperse the sunlight from the skylight. The radiant heated limestone floors, hidden warming drawers, stainless steel meat counter and the custom La Cornue appliances keep things hot in this minimalist kitchen.
2. Futuristic kitchen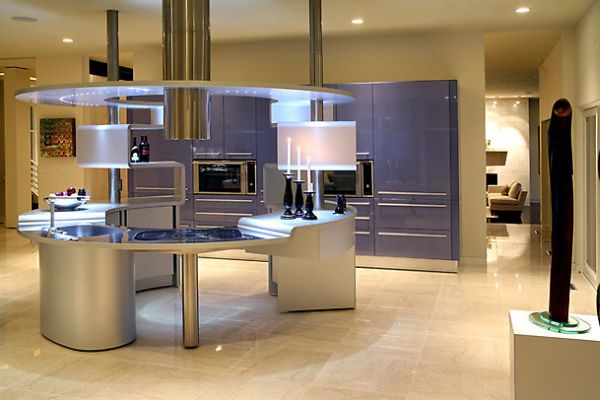 The main attractions of this Pininfarina designed kitchen are the Acropolis which is inspired by aviation work space, made from stainless steel and recycled aircraft aluminum and the metallic finished high gloss cabinets. The features of Acropolis include a four-burner electric Foster cook top, large Foster sink, knife and bottle holders and ample of cooking and storage space. This elegant and admirably designed kitchen has two dishwashers, refrigerators, ovens and freezer cabinets. The audio and visual mechanism for the entire house is controlled by the control panel in the Acropolis.
3. Modern kitchen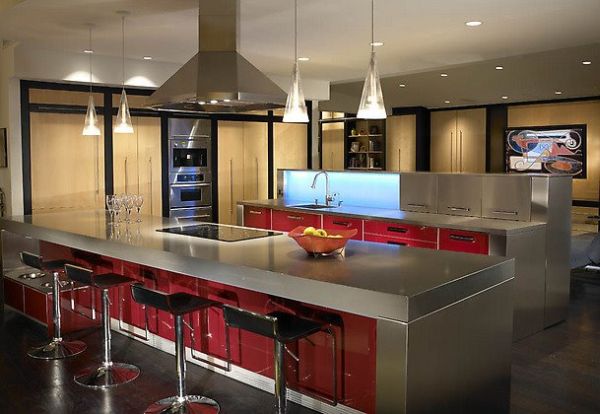 The basic feature of this modern kitchen is the top priority given to built-in conveniences. All the food can easily be stored in those maple cabinets, which include a second oven, microwave and a coffee maker as well. This kitchen is complete with plenty of built-in storage space. Coming on to gadgets it is a high tech kitchen.
4. Rustic kitchen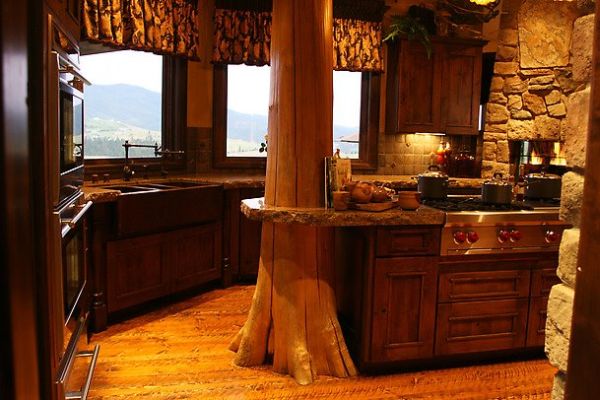 Along with many amazing features the greatest attention seeker in this kitchen is the apple tree right in the middle of it with lights hanging on its branches. It has an exhaust panel and various electrical outlets which are impressively hidden and appear at the push of a button. It has plenty of built-in storage area.
5. Victorian kitchen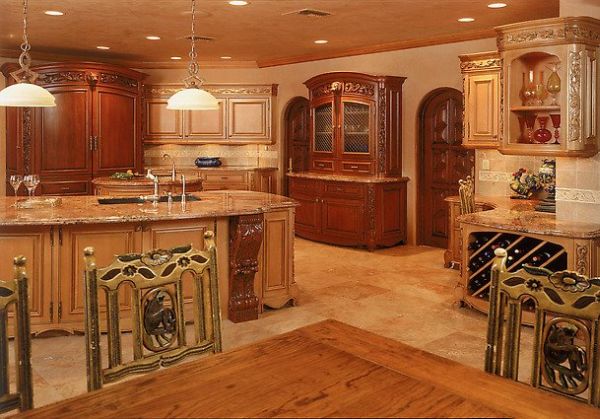 This kitchen takes you back to the times of spherical cabinets and curvaceous island prepared for cooking. This kitchen has a traditional look with grapes and leaves on cherry wood surfaces and carved lions. The look of this kitchen is evocative of 19th-century craftsmanship.
6. French kitchen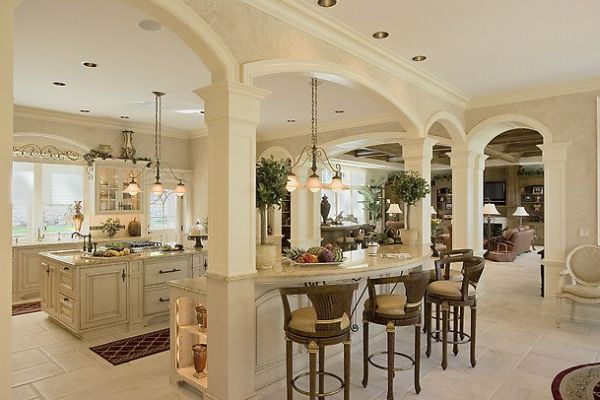 This kitchen evokes the French colonial period. This spacious and large kitchen is designed with the perspective of efficient cooking. Its 10-foot ceilings, intricate woodwork and emblematic arch are incredible. The construction is such that it beautifully hides the refrigerator. The kitchen features seating arrangements perfect for gatherings.
7. Green kitchen
This is an earth friendly Asian inspired kitchen with lava and granite stone counters which do not emit toxins. It gives an eco chic look with the bamboo flooring, low VOC paint and stainless steel appliances.
8. Kitchen and family room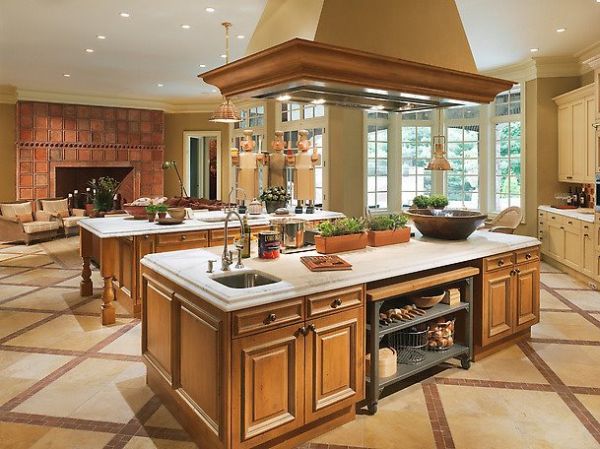 This is an open kitchen with enough space for over 100 guests. This open kitchen has limestone floors and 12-foot marble islands which gives it a luxurious look. It has enough appliance storage.
9. Southern traditional kitchen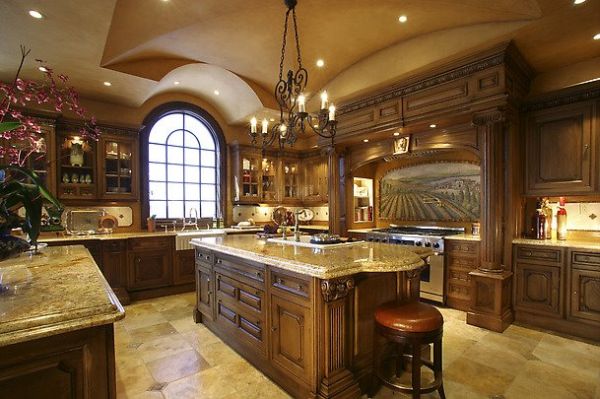 This kitchen is constructed in complete traditional style and does not spare a single traditional feature. The beautiful cabinets and drawers are lined with leather. A rich oak cabinetry covers four freezer drawers, sub zero refrigerators and two dishwashers. This elegant kitchen adjoins the living and dining areas.
10. Tuscan kitchen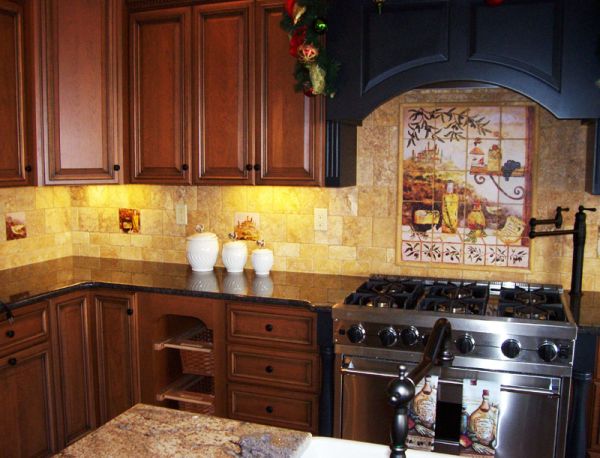 This kitchen is of Italian style. Terra cotta tiles from Italy, wooden beams and hand painted frescoes of Italian vineyards give the Italian touch from floor to ceiling. It has a wine cellar that can store nearly 1800 bottles. The appliances include a vegetable steamer, two dishwashers, a five burner stove and a built-in espresso machine.