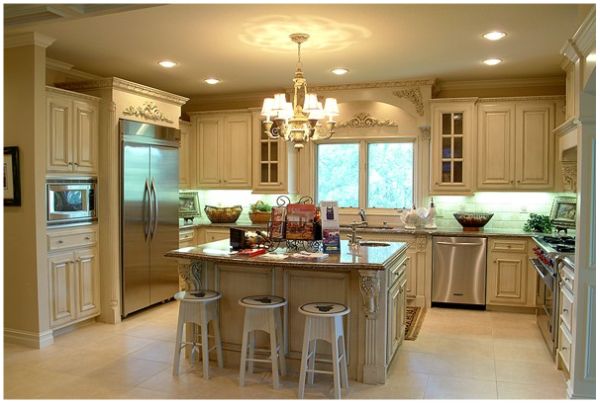 The kitchen is the favorite place for any woman in the world, who believes in the idiom, 'the way to a man's heart is through his stomach'. Naturally, this place needs to look and feel beautiful. Most modern luxury houses boast of kitchens that are just as lovely as a furnished bedroom or a living room. But what about those who wish to possess an exact comparative of such havens at a lower rate, almost a fraction of the original? Well, ideas are many. There are hoards of practical options that companies involved in home decor have to offer to their customers to make their kitchens a perfect marvel, and the best revelation is that they have measures to make it possible for all bands of pockets. Further, we take a look at how a normal regular looking kitchen can be converted into a piece of breath-taking interior miracle.
1. Use polymer that resemble granite for counter-tops
A solid granite overlay, though provides an elegant look to the countertop, costs a good fortune. The way out is to substitute the granite with polymer shells. The arrangement gives the look of a sleek counter-top without a burden on your pocket.
2. Use ceramic tiles for the floor
Marble is often expensive to include on floors. Besides, they are tough to maintain if they present the lighter shades. Ceramic tiles are definite options worth considering. They shower an aura equivalent to marble flooring.
3. Use high end laminates in place of hardwood
If you have a taste for wood, you do not necessarily have to spend immensely for pacifying your eyes. An easy replacement is the choice of high end laminates. While these laminates cost you almost a fraction of real hardwood, the effect is nevertheless same. Besides, unlike wood, laminates would be in a better position to resist water and other kinds of external pressures. Thus maintenance would not be an issue.
4. Stainless steel compartmentalized sinks are a good choice
Stainless steel is always a better option for sinks. A multi compartment stainless steel sink would solve your purpose of trendiness and also serve as a better container due to its multi-compartment nature. The benefit is apparent, you would save hugely on costs.
5. Go for common manufacturers
Customised fixtures no doubt align with your desires, but what if the same looks can be reaped out by opting for common home improvement companies rather than going for antique designers? The cost would be far less and the effect would be the same.
6. Use laminates for renovating wooden cabinets
If you already have wooden cabinets in your kitchen and are opting for a renovation, remember one thing, the effect of using would be the same once again. Next year, your kitchen would need another renovation exercise. The better option is to go for laminates.
7. Stainless steel finish appliances are worth trying
Many-a-times, fingerprints are an issue and need frequent dealing with. Now, stainless steel finish appliances are available that evade out the chances of undergoing the process of cleaning fingerprints.