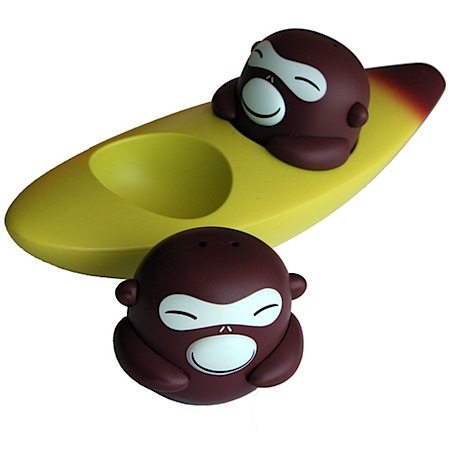 To make your dream home you consider many things. Each and every corner is beautified through innovations, ideas, and need. Whether it's a drawing room, a bedroom or a kitchen. Kitchen is the place where maximum innovations are done. It is a place where one can combine both cooking and art. If some cute kitchen accessories is added it will double the interest of cooking.
Today the market of kitchen accessories is so wide that you will get a numerous variety of accessories of different range and model. Here is a list of some cute kitchen accessories.
1. Salt and pepper
These cute little monkeys shaped salt and pepper are not only funny but are also great in color. The smiling face enhances its cuteness.These monkeys salt and pepper are kept in a beautiful banana shaped canoe. Its color combination is very nice.
2. Shake-leg-salt and pepper
It's a unique salt and pepper. If you keep this on your dining table I am sure all want to hold it once and will make them smile. It is very interestingly made.
3. Ladybug 3-in-1 tableware
Just look at this cute ladybugs they are so cute and funny. The colors are so vibrant, wherever you keep them they will catch attraction. It can be put on the dining table or at the counter of your kitchen. No doubt it will add glory to your kitchen. This set consist of a teapot, salt and pepper and a cookie jar. It's made of ceramic, it's delicate, and useful. The color combination is fantastic. Their smiling face will sure make you smile too.
4. Funny cow tea-kettle
Can anybody imagine that tea-kettle can be so funny and cute.The color, the shape all are so fantastic.This cow shaped tea-kettle has a steel handle. And it is designed in such a manner that it can be held easily. Color used is also very appealing. Overall giving a very cute look.
5. Monkey peeler
Monkeys not all the time make chaos. This cute monkey helps in peeling vegetables. Just have a look at this cute monkey peeler. It will add fun to your job. Its fine blade and potato eye remover will make your work easy.
6. Airforkone
This funny fork is designed for kids. Kids are the most fussy eaters and we have to deal a lot with them. Not only food should be tempting but the crockery or the accessories used should be attractive and if they are cute and funny then our half problem is solved. So this airplane shaped fork is the best option. Kids will love to eat by this fork.
7. Tiger toothpick holder
This tiger toothpick holder will amaze your guests definitely. It's a cute, colorful, attractive toothpick case where your toothpicks are stored without being exposed. Means each and every time you get a clean toothpick. If you buy this toothpick holder for your kitchen I m sure it will add charm.
Hope these kitchen accessories add fun to your cooking.