Clean lines and an industrial seem is the trademark of a stainless steel kitchen. Such kitchens are real easy to maintain. The metal does not corrode and lasts for years. The top surfaces are treated so that they do not bear any marks or scratches. The metal does not even retain finger prints and thus looks squeaky clean all the time. Metal makes the room look spotless and gives it a fresh vibe. The light toned metal also makes these kitchens appear spacious and airy. Light gets reflected off the shiny surfaces easily making the space look luminous. Here are a few ideas to do up your kitchen in stainless steel.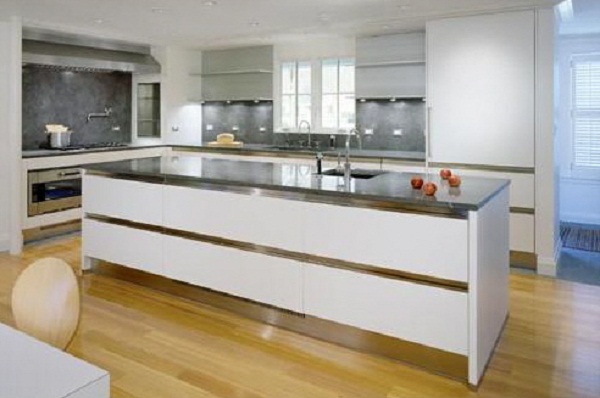 1. You can have many steel fittings, fixtures and gadgets in such a kitchen. Fit in cabinets, drawers, cooktops, ovens, countertops and any other fittings made from steel.
2. For storage, fit in steel shelves or racks.
3. White is the most popular color used in stainless steel kitchens. But apart from white and cream, you can also use many other hues in this kitchen. Try bright tints of blue, green and brown. Deep and dark shades of gray and navy also look great here.
4. A stainless steel dining table with metal chairs looks great.
5. To add to the look, buy gadgets with a steel finish. Refrigerators, microwaves, ovens, cooktops, tea kettles, etc. are all available in steel.
6. Enhance the look further by adding steel accessories and utensils. You can have a water jug made of steel or a stainless steel fruit bowl standing on the table. Crockery made of steel and glass or steel and ceramic also blends well.
7. There should be ample of lighting fixtures in such a kitchen. Suspend a few lights from the ceiling.
8. Glass works well with steel. Other materials you can use to construct these kitchens are concrete, quartz and granite. Wooden boards and planks will also go well.