Kitchen ideas and decor vary from person to person, but it is always exciting to make changes here and there to give it a new feel. Integrating wood into kitchen decor is back with much zest and in the most aesthetic way, replacing the almost stark and clinical decor of a modern kitchen. Woods come in different textures and range and can be integrated into the kitchen, to bring on the touch of warmth of the countryside, despite the size and proportion of the kitchen remaining intact. If you want to make your large kitchen appear more welcoming with a certain glow of warmth, here are a few ways that you can integrate a new look by the use of wood.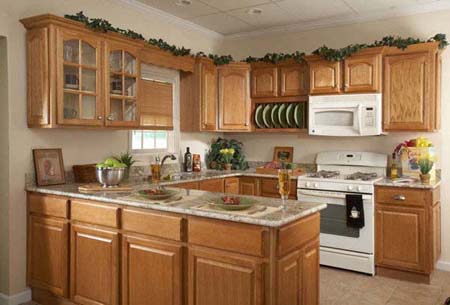 1. Integrate the classic look in wood by having wooden floor, wood paneled ceiling and easy pull out knobs in simple wrought iron. You can tone down the modern, gleaming stove with earthy hued back splash of glass front cabinets and tiles, and tucking away the fridge and other appliances behind paneled doors. You could even get the work zone counter wainscoted and colored to match with the rest of your wood decor.
2. If you would rather have a Southwestern kitchen, you can keep it unadorned and simple with the craftsmanship and wood elements to be highlighted. Here, you can have a two level island for work and sitting, where the microwave can be placed beneath its wooden shelf. The island forge can be supported on slender furniture lags which can be painted to complement the hutch. The hutch will tone down the modern, stainless steel and granite look and fit in perfectly with natural and rich birch flooring.
3. You can play with choice of bright colors here and there on otherwise traditional cabinet fixtures. You can create vibrancy and warmth by adding some colors to the paneled fixtures which can complement the wooden flooring and bring out a totally different look.