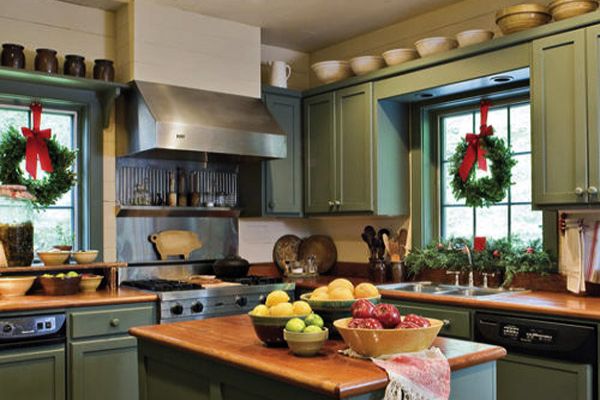 Let us start from the very beginning. What is a Southern Traditional Kitchen? These are rare kitchens (getting popular now) whose designs have been inspired by the kitchens in America (South) during the 1800s. They have a traditional and nostalgic charm and like the good old times, they are meant for large volume cooking. Usually there is a large pantry for food storage, a large food preparation counter and a traditional oven for baking breads. A door from the kitchen opens directly into the dining area so that serving becomes easy. These kitchens have become vogue again and many people are remodeling their kitchens to the Southern Traditional variety.
With the availability of some modern materials, you can have the best of both times – with the charming archaic looks being echoed in a modern, durable way. Transforming your ordinary kitchen into the Southern Traditional Kitchen is a very satisfying and gratifying effort. Here is all the information you need about this kitchen and also tips to move your kitchen Southwards!
Evolution
Trends always move in a cyclical fashion. What was considered 'in' becomes out of taste in a few years and again makes a comeback. The Southern Traditionals which were extremely popular a century ago, lost their charm because they were too big and tough to maintain. With the availability of modern steel and metal materials, this kind of kitchen is again finding favor and style for it presents an opportunity to harmoniously blend the ancient with the modern, resulting in a stunning kitchen.
Key Components
We shall consider a sample kitchen that has been transformed into a Southern Traditional one and study the key components. This is not the only way and variants can be devised. This will, however give a good idea on designing it.
The counter tops can be recreated from old, salvaged Heart-pine flooring. This soft-wood gets toughened with time and lasts for centuries. All you need to do is to get the boards remilled. Rub and polish with tong oil next and finish off by coating it with polyurethane.
While getting the cabinetry done, do not go for perfect symmetry. If you observe nature, you will see that nothing is perfectly symmetrical in t and yet there is such a beauty. That is what makes everything that is natural, also unique. Do not have the boards matching up perfectly in the corners. Leave in a few imperfections – that is how nature does things too.
Southern primitive antiques form another important component of these kitchens. The nouveau-country kitchen gets spruced up with these art displays.
A simple pine table will serve as the dining area and a pine cabinet will blend it.
The cabinet can contain the displays of artworks. Crockery made of simple brown stoneware, rows of white ironstone mixing bowls, select kerosene lamps and the like add to the charm.
Simple stools and primitive benches will complete the ambiance.
Wooden bowls for making bread are called dough bowls and they will lend a touch of authenticity to the Southern Traditional Kitchen.
A traditional oven for baking bread and a large counter are a must.
What's so great about it?
Once you have decided to go for the Southern Traditional Kitchen, there are many reasons to rejoice. Apart from having a 'classic' looking kitchen, there are some factors that make your decision a good one. Some of them are:
The counter tops thus made are completely stain free and easy to maintain. The wood material is such that you will have no durability issues.
Primitives that you require for the decoration of your kitchen are easy to find.
The primitives antiques are quite inexpensive too compared to the other antiques. This is not a reflection of their poor quality but a proof of the fact that people are ignorant of their value!
Family heirlooms can now easily find a prized place in the kitchen without spoiling the decor. In fact, they may at times become the centerpieces too!
What goes against it?
Everything in the world has its pros and cons. What matters here is what we give importance to! If the pros are important factors for us, the cons listed below will hardly matter. To complete this exercise academically, the cons have to be enlisted.
The feel of a kitchen is totally based on taste and so some guests and people may feel that it is very archaic and ancient looking.
Pine is the most common material used to make these antiques and pine is unrefined in its looks. This shows in the antiques too which are less refined compared to other high style antiques.
These vernacular pieces from the South have a pegged construction which may not be favored by some.
Things to watch out for
Monitor the carpenter or home decorator while designing this. This is a new (or rather ancient!) idea and will require some explaining.
Do not try to spruce up the kitchen with antiques in one go. Do it gradually and build your collection over months or years if necessary.
Tips
Get antiques and materials that resonate with your heirlooms or pre-existing decor.
Start small with dough bowls and the benches. Stool are available in plenty and should be easy to find and purchase.
The Heart of Country Antiques Show, when it is held, will be a good place to collect resources.
Visit the website www.heartofcountry.com for more information regarding purchase.