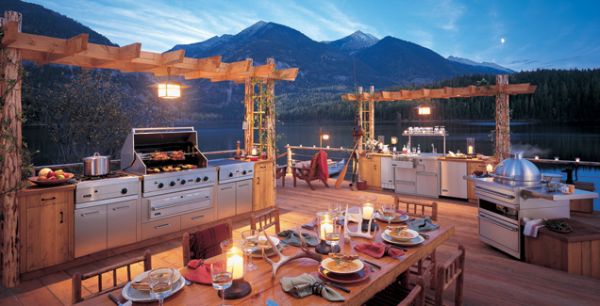 There is an increasing inclination for designing an outdoor kitchen among people. Although this concept is relatively fresh, many are adopting it with innovation. Earlier restricted to the high income groups, the outdoor kitchen can now be had even with a small budget. The industry provides diverse components to cater to the needs of all. Many do it yourself companies offer stuffs you can use effortlessly to make your own outdoor kitchen. The space in your house can be efficiently utilized to design an attractive and useful outdoor kitchen. Cooking outside can be a great fun, particularly during the summer. Adequately planning your outdoor kitchen can give you pleasantly surprising results.
While remodeling, an important consideration is the purpose of your kitchen. The options are diverse, from partying to relaxing. Or else, you may simply want to have your kitchen made outside contrary to the usual style of having an indoor kitchen. Space utilization can be done optimally when you know the purpose of designing or remodeling.
Guidelines to consider
The Plan
Give the correct direction to your kitchen. This is vital when you have an outdoor kitchen which is largely open. The Northeast is shady while the Southwest is sunny. North-facing wall of your house can be the preferred choice if the kitchen is against or near the house. The south or west is hotter. Allow your guests to have shade to enjoy the extra-ordinary cuisine delight. After figuring out where to put the kitchen, consider the outfits. Incorporate all the essentials to avoid tiring yourself running to and from the house.
You would also want to get any permit(s), in case needed.
The environment
Heat, sound and lighting within the outdoor kitchen area need particular mention. Facilitating a source of heat, whether it is an outdoor fireplace or a free standing heater, allows you to extend the advantage of your outdoor investment. It is easy to overlook the sound aspect in your kitchen. But you can add to the environment of you outdoor space with sound effects like music. There are various lighting options like the lanterns, which can enhance the impression of your space.
The equipments
Individual needs and choices differ. You can choose among the endless array of equipments. But there are some essential ones, like an efficient cooking appliance (gas grill or a wood-fired oven), some counter space and a sink, which you would like to consider. It is important to consider the durability of appliances which you wish to keep outside. Here, stainless steel appears a popular and preferred choice. It can withstand rain and sun unlike wood which absorbs moisture and may fade in the sun. Bar, breakfast table, traditional stone baked pizza oven or the fully functional ovens are in trend. You can incorporate exclusiveness to your kitchen space by wisely choosing the appliances and furnishings. Another popular choice is the wood-fired pizza oven. You can make them on-site with the help of fire-resistant brick and mortar. Another option is to use the ready-made kit.
While most of the tasks can be done on your own, you should not keep away from taking aid from experts for skilled jobs, such as hooking up gas appliances. Areas demanding special skills should be better left for the experts. You have the liberty of taking your time remodeling the area, since the kitchen is not in the inside disturbing others.
You have versatile choices to remodel your outdoor kitchen. There are competitive equipments to choose from. Since many are available at attractive bargains, getting one suited to your need and taste should not be a problem. You can spend anywhere from $2000 to $20,000 on developing your outdoor space optimally.