While preparing and cooking food is not done by majority of the population, there are people such as chefs and cooks whose whole life revolves around food and kitchen. For them kitchen has to be clean and proper. Only when the kitchen set up is according to them, they feel at ease at work. Now-a-days industrial kitchen is considered to be the best kitchen type.
In recent times industrial look in the kitchen has become a trend. This is because the kitchen is considered to be a work place. The commercial standards are also kept in mind. This is also because the cooks spend time kitchen instead to devoting time to entertainment and other things.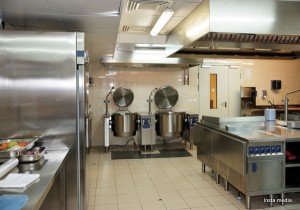 Reasons behind the comfort and convenience in industrial chic kitchens are-
The hard edged industrial chic look of the kitchen has always appeared to be intimidating to the chefs, cooks and housewives. There is a high level of comfort in the industrial looking kitchen.
The space left is optimum. There are a number of cabinets where things and other kitchen accessories as well as utensils are kept nicely.
The space in the industrial chic look kitchen provides a high level of comfort. Chefs and cooks move around very easily. This extraordinary level of comfort attracts the attention of cooks and chefs and even people who do not cook on daily basis.
Uninterrupted work and run in the kitchen allows experts to complete different dishes in lesser time. Stainless steel surface had been demanded by professional cooks. This is always provided in industrial kitchens.
The surface is extremely hard. They are heat as well as water resistant. The level of resistance is for both stains- alkaline as well as acid.
The work area in industrial kitchen include chopping board which made out of hard board, pull-out waste disposal drawers and smooth marble.
There is a free standing cooking ring in the centre from where everything can be taken easily.  The sink is also just beside the oven where one can wash fruits and vegetable. The height and distance in these industrial kitchens is calculated. This is because the wrong height and distance will cause unnecessary movements.
These professional kitchens have access to both gas and electric for cooking. This has been preferred by professionals from starting. Cooking barbecues and grill becomes easier.
Because of all these, the industrial chic kitchen are more in demand and loved by all- cooks, experts, chefs, housewives and even those who cook rarely.