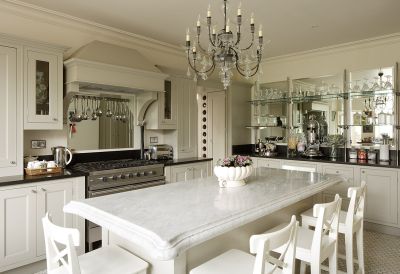 An ideal kitchen is a place which is personal, beautiful and practical. Kitchen is the main hubbub of the family in any home. Therefore, while building a new kitchen or remodeling an old one, you need to let your ideas emerge on what you need and want in terms of aesthetics and mobility. If you have problems finding the right inspiration, you can always view kitchen designs online for helping you in the planning process. This will be helpful if you are going to hire a private company to do up your kitchen. If you are planning on doing it yourself, then you could follow the step by step instructions and visual pictures to get it right.
Inspirations
You can draw inspiration for your kitchen design from some design icons who have the talent, ideas and the motivational passion to interpret any designs for a kitchen. They work in collaboration with some of the best kitchen designers to create iconic kitchens. Two such popular icons are Iconic Inspiration and the Kohler Inspiration projects.
Ideas for a dream kitchen
1. What's new in kitchens
a. Streamline surfaces
Streamline your cupboards and bench-tops without any visible joints. Run your cupboards to the ceiling level to create a classy new look.
b. Integrate appliances
By using the open plan you can hide appliances behind closed doors. Disguise your fridge and dishwasher behind doors of the same material as the cupboards.
c. Make use of space
Use old cupboards as storage for kitchen needs and build drawers even in the deepest corner of the kitchen for storing utensils.
2. What's popular in kitchens
Choose natural granite or marble for bench-tops. The right lighting is important in the work area and dimmer lighting overall to create a cozy look. Choose neutral shades for the overall kitchen with dash of colors to highlight some spots. Keep the main activity zone in such a position as to create easy accessibility.
3. Style your kitchen
Create a flair of color and texture by adding a backsplash of glass tiles in your kitchen for that wonderful splash of difference.
4. Create a 3D zone
This involves arranging the main work areas at a three sides of a triangle. In this layout you have the fridge, cooking area and the sink close to each other for easy accessibility.
Tips on maintenance
With a lot of traffic in the kitchen throughout the day, cleaning it requires extra effort. You can first assemble your cleaning equipments and detergents and apportion your cleaning to two days. Do the harder tasks which requires extra cleaning like the oven, cooking stove and fridge on the first day and clean the ceiling, walls, cabinets and mop the floors on the second day.
Keeping your kitchen clean is very important as it is the place for storing food, cooking and family activities together. Creating a schedule of cleaning your kitchen either on a weekly or quarterly basis will ensure you a clean, healthy and happy atmosphere.