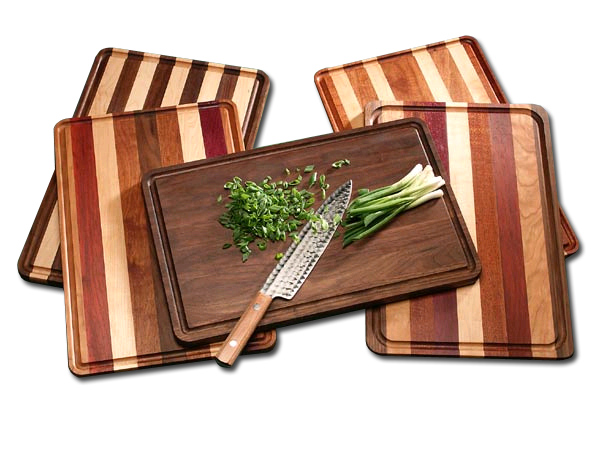 When you talk about cutting board, it is a vital tool that is used in the kitchen. Counting its importance, you need to select the best one for you. Given are some tips that you need to take care of while choosing a cutting board for your kitchen needs.
Size
If you are buying a cutting board for your daily needs, buy a big and affordable cutting board and the one which you have enough counter space. Chopping becomes far easier with abundance of room on the cutting surface. A big cutting board not only gives sufficient space for the chopped fruit and vegetables but also allows us to keep the waste scraps.
You should also get one or two smaller chopping boards. The tiny one would be great for cutting a fruit during breakfast and also lime wedges to make a drink and a medium-sized one would be used for any smaller jobs, when you won't need your larger board.
Weight
If you are thinking to buy a larger cutting board, ensure that it has a manageable weight. If you go for thick wooden boards they would be heavy, which is fine as they don't slide on the countertop, but these boards can be bulky to handle. If heavy board becomes an issue, you can very well go for a lighter and thinner one as your largest board which is made of plastic or resin-paper composite.
Extras
Today we don't just get wooden slabs as cutting boards; they come with several additional features. They can be basic ones like a canal to collect juices while you are carving a turkey or a steak or some innovative things, such as a measuring cups or in-built prep bowls. You can also get boards that fit over your sink thereby creating space in your small kitchen. These boards very often come with colanders that fit into the board.
How many?
Now the question lies is how many boards do you really need? It is great to have a larger board and two smaller ones. There are the sets of cutting boards that can be used for different types of foods that helps you avoid cross-contamination. If you the one who is very concerned about bacteria, it can be a great option for you as these boards are made of flexible plastic and are lightweight and also don't take much space. Eventually, it's you who have to decide how many boards you need and of what sixes. So, give it a thought considering the space they will take in your kitchen.
Materials
You can find cutting boards in different types of materials. Here are some tips that you need to know about each type.
Wood
Pros: Wood is a traditional material utilized to make cutting boards as they are attractive and offers a placid surface for knives. Although it is believed that wooden surfaces are unhygienic for cutting. But the research has proven that bacteria on cutting boards are easily absorbed inside the surface thereby killing it. Still it's suggested that when you switch to cut different type of food wash the board with hot water or sanitize with a mild bleach solution.
Cons: Wood distorts easily when kept in water for a long time. Also, Wood soaks up odors and can burn if you put something very hot on it. If you are looking out for a really good cutting board made of wood it can be bit expensive.
Plastic
Pros: Cutting boards made of plastic are cheap and lightweight as well. At the same time, they are dishwasher-safe mostly, which makes it easy to clean them. You can find them in variety of colors, shapes and sizes.
Cons: A study states that even though plastic cutting boards can be sanitized, the ones that have been scarred with knives can't be kept bacteria-free easily due to the minute and deep cut marks.
Glass
Pros: You can get glass chopping boards in a variety of decorative designs.
Cons: Glass boards tend to dull knives easily. They have polished surfaces that make knives slip. Hence, they are not suggested.
Bamboo
Pros: If you are an environment-friendly person, bamboo is a great option as a cutting surface as it is prepared from a sustainable resource. Bamboo doesn't soak up much moisture like wood hence, you don't have to worry about replacing it as often as wooden boards.
Cons: Bamboo being a harder surface it dulls your knives easily.
Composite
Pros: These cutting boards are made of different materials, such as wood or paper and also synthetic materials such as plastic. These boards are a gentle-on-knives and are durable cutting surface that can be washed in dishwasher as well.
Cons: Generally, composite boards are very thin hence, chances of them sliding on your work surface are slightly high.