A beautiful home is one dream that is common in everyone's eyes and they do everything they can to accomplish this dream. A house needs a lot of work so that it can be called a home. Every nook and corner of the house needs special attention in order to brighten up the space. Kitchen is probably one of the most important areas of the house which you cannot miss at any cost. When you look in the market then you will find that there are a lot of options to decorate and improve the look of the kitchen area.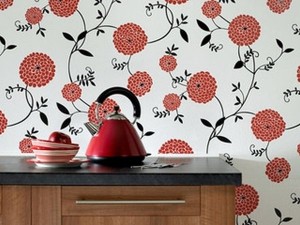 People put in a lot of planning and effort so that they can design a kitchen of their dreams. There are many things that you can do to make your kitchen look outstanding and one of them is to use wallpapers in the kitchen. Wallpapers are around for a long time and they are also used in the kitchen area but we are not here to repeat what you already know. We are here to talk about some new ways in which you can use wallpapers in the kitchen and totally transform the look of the place.
There are tons of ways in which wallpapers can be used to enhance the look of the kitchen and one of them is to use colorful or design wallpapers to complement the white kitchen cabinets. A balance is always important and if your kitchen cabinets are pure white then you can choose colorful or design wallpapers to go with them. There are kitchen wallpapers available in the market that can change the look from traditional to contemporary. What we are trying to say is that you have millions of options and that is why you need to be sure of what you want.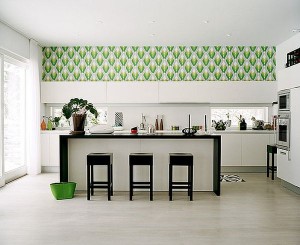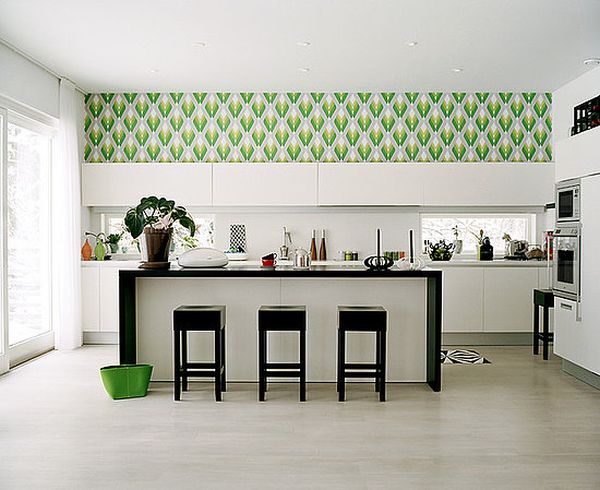 You can add class and character to the kitchen with wallpapers that have fabric designs on them. You can also match the kitchen wallpaper with the one that you have in other rooms of the house as that looks good as well. You can turn your kitchen vintage by the vintage style wallpapers and give the place an entirely new look. It is not important to put wallpaper on every wall of the kitchen as you can choose a focal point and decorate it with stylish wallpaper. This will look good and is a unique idea as well.