The modern kitchen is complete with plenty of trendy and stylish designs. The modern professional interior decorators are taking their game a notch higher each day by coming up with stylish and beautiful kitchen interior design ideas to upgrade your kitchen.
However, no matter how beautiful the designs are, it is always recommended to complete the look with a personalized touch. Given below are a few ideas to maximize space and transform your old-style kitchen into a much more modernized and convenient fashion to blend in with current trends.
Invest in a kitchen island: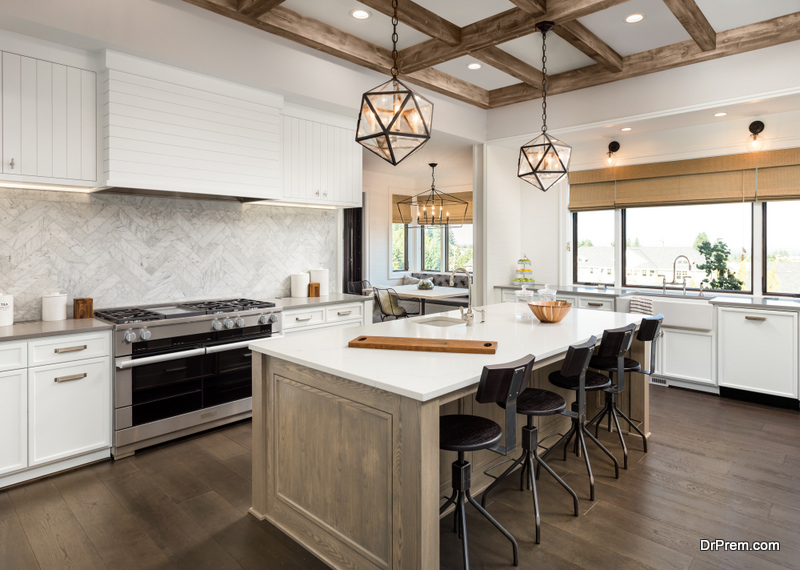 A kitchen island was never the norm before, but is considered quite a classy finish for your modern kitchen currently. A good kitchen island can add a little life to your kitchen. Use it to bring some color into it, if the rest of your kitchen does not boast of loud shades.
One of the added advantages of including a kitchen island while designing small space is that the island can also double up breakfast table, if need be. Invest in classy and stylish tables for this purpose.
Get cabinets made all over:
The best way to improve the overall look of your kitchen without compromising upon space is to add cabinets. These cabinets can steal the show with good color and stylish doors, and are one of the best kitchen interior design ideas you can implement. In addition to that, such cabinets will well hide away all your essentials serving as a trendy barrier between them and the rest of your kitchen.
The kitchen flooring: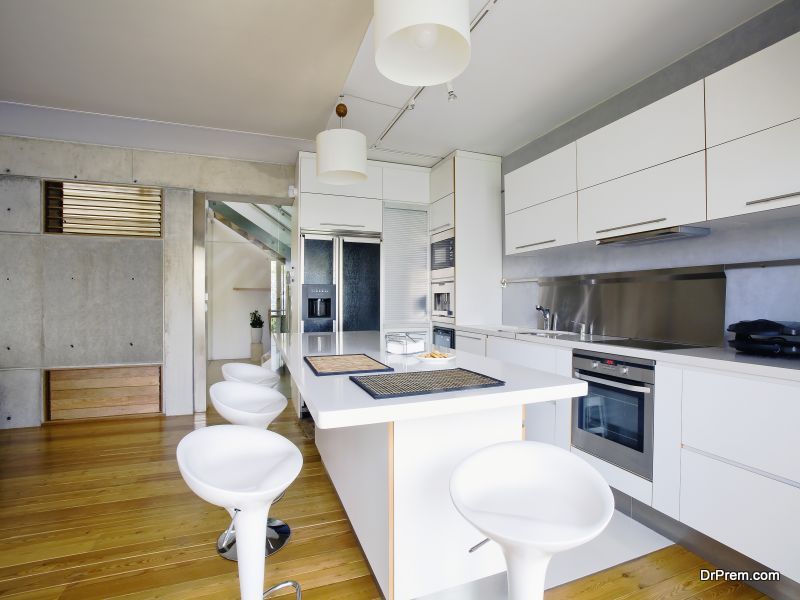 Pay attention to the flooring since it is one of the most underrated aspects of your kitchen upgrade. Invest in hardwood and ebony flooring. They easily merge into any type of decoration and appear elegant and classy as well, even on a low budget.
Although they are a little on the expensive side, they are worth the financial investment made. They are safe to walk upon and beautiful to look at. Hardwood floors seldom appear dirty and easy to clean too. That brings us to our next point.
Easy maintenance:
Kitchens are bound to get dirty. No matter how well you maintain them and the kind of material you use to build them, kitchens will get dirty when they are used frequently. Which is why, it is best to look for aspects of easy maintenance on the low budget instead of just preferring outer appearances,  especially if you have children. Ask your interior designer as to what kind of material will sit best with your kitchen style, and use it generously all over.
Play with colors: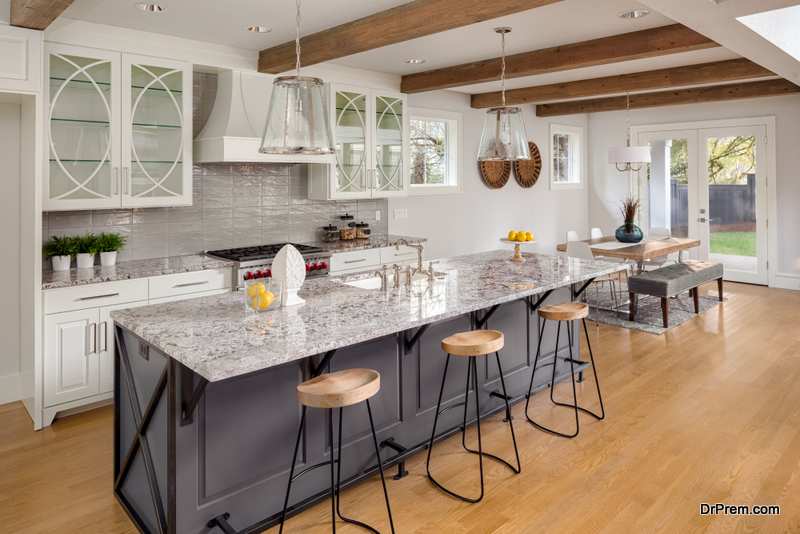 There is no hard and fast rule as far as the colors of your kitchen are concerned. You can go for any color that chooses your style and blends in well with your family's overall personality, even if it for designing small space in your kitchen.
Decide on a subtle combination of colors like a white and a pastel blue for the flooring and cabinets respective. Another alternative is to create a color splash with solid bold colors like a red or a teal green for your stove or kitchen island while the rest of your kitchen remains colored soft.
Other Kitchen interior design ideas:
Truth be told, the modern sense of interior decoration to maximize space is quite convenient. You can choose to go all aboard and beyond with fancy colors or can choose to remain soft and subtle. You can put your kitchen in plain sight or hidden away beyond walls. You can have a kitchen island or a full-blown dining-room within your kitchen. All of these alternatives work well.
Conclusion:
As mentioned before, any style you choose, depending on the style of your home, will work. However, there is one thing that you cannot compromise upon. Make sure you add a little bit of your own personality to your kitchen. You can also use refrigerator magnets and other such materials to add a bit of style to your kitchen.
Instead of opting for the readymade designs, try to move and blend it in a little bit according to your personal style. If possible, come with your own kitchen interior design ideas without a professional involvement, and you will be more than just happy with the outcome.