The festival of joy, Christmas
Christmas is the season of joy for all. It is the perfect occasion to spend quality time with families and loved ones. For some homeowners, it is the busiest time of the year for hosting parties and entertaining guests at home.
Kitchen décor during Christmas Eve
Decoration of the home is a big necessity for Christmas because this festival signifies an environment of joyousness all around. So the more cheerful the house presents, the better it is to celebrate without any sort of stress and strain.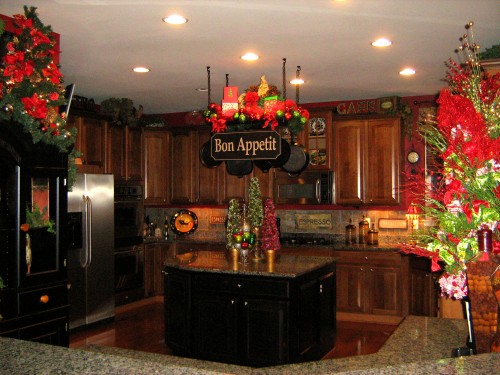 The kitchen of the house is an important place to decorate as a hustle of activities takes place there at this time of the year. Hence, the Christmas décor in the kitchen should be planned carefully and in an easy way.
12 ways to decorate the kitchen for Christmas are as follows-
Firstly, decorative items should be kept away from the stove and cooking area as safety is the main concern here. Be absolutely careful to keep a check on the items so that they do not catch fire.
A fine accent in the kitchen would be scented indoor Christmas decorations arranged properly. Natural 'food' and 'spice' scents such as gingerbread, nutmeg, cinnamon, vanilla etc must be opted for the Christmas décor which shall give a feeling of cheeriness in the air.
Natural scents are advisable to use in the kitchen rather than artificial ones. It spreads a soothing aroma in the environment. Ornaments having cinnamon sticks or natural potpourri smell better and looks beautiful than artificial fragrances.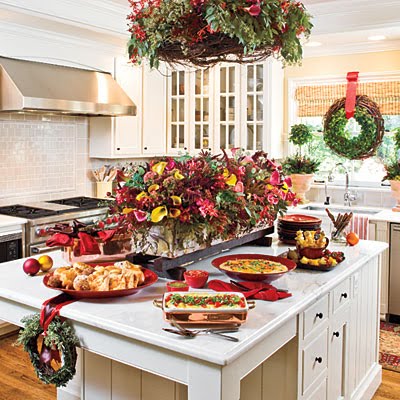 A natural scented decoration like a clove ornament might be a great idea. To cover the surface, some cloves can be added to an orange. The clove ornament can be hanged by a ribbon to dry out and fragrance the kitchen.
Christmas decorations which include food can be an interesting accent to kitchen. Gingerbread men, gold artificial fruit, etc. can be some food oriented ornaments which can spice up the kitchen.
Kitchen ingredients can also be a part of lovely Christmas decorations. Popcorn garlands, festive bowls of fruit can be added to liven up the scenario.
Special Christmas accessories like teapots pose as a fun tradition for kids.
House plants might be used as decorative items in the kitchen. Peace lilies or poinsettias are good elements to increase the Christmas spirit.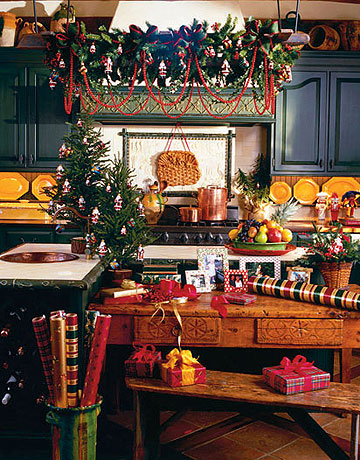 A pretty Christmas centerpiece is good idea to decorate the kitchen table.
Festival linens and towels can be replaced in place of regular table linens and tea towels.
A gallery of photos for the family is a cheerful setting and acts as a good element to celebrate Christmas with family.
Lastly, heirloom Christmas decorations should be used in other rooms with less activity since kitchen temperatures can wear out the decorations.