[box_dark]Design Ideas for Your Dream Galley Kitchen[/box_dark]
A small galley kitchen is a great idea if you want to add some interesting design elements to your home. Even though galley kitchens were deemed to be suitable for only diners and restaurants at one point of time, the small linear design is increasing becoming popular in several homes at present.
The sleek design layout is ideal for conserving space in your home. Homes with minimalist themes will prefer the galley design. There are several additional benefits to having a small galley kitchen in your home instead of a big kitchen stuffed with big accessories and appliances.
[box_dark]Benefits of Galley Kitchen[/box_dark]
Many people are able to work in the kitchen in comfort at the same time without bumping into each other.
The need to move around is decreased since all items remain within easy reach.
The risk of accidents is reduced since minimum movement is required.
The kitchen design is perfect if you enjoy cooking together.
In order to make up for the small space, you can adopt some innovative design ideas that will enable you to form the most efficient galley kitchen.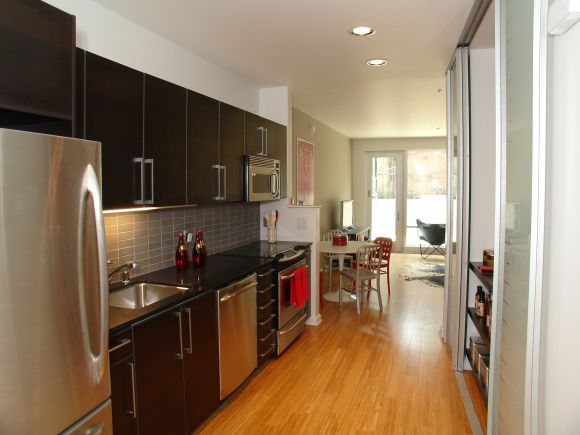 [box_dark]Looks Matter[/box_dark]
The appearance of the galley kitchen is important since you will be spending a lot of your time in the kitchen. Plus, there is the issue of aesthetic appeal. So, be sure to consider your options.
Glossy units are the best. They help form reflections that make the narrow space appear larger than it actually is. Lighter colours work best since they help enhance the effect in a north-facing, dark space.
Colour will add personality to the narrow space. Pick units with bright colours. Dark colours will make the space seem even narrower.
The benefits of co-ordination may be downplayed in some cases but for galley kitchens, co-ordination matters a lot. Try to match the units with the trims present in the blind; the colour of the wall should complement the flooring; the accessories should be subtly similar. This will impart a more streamlined look to the small kitchen and make it appear larger. Remember, white is your safest option for matching.
A simple, easy approach to décor helps your kitchen a lot. The units do not have to be white but it is better if they stick to the paler part of the spectrum. Floors, walls and even the lighting should be chosen according to this principle. Good lighting tricks the eye into seeing the room as larger. Light walls and monotone flooring options also have the same effect on your eyes. Laying the floor tiles in a diagonal manner widens the room visually.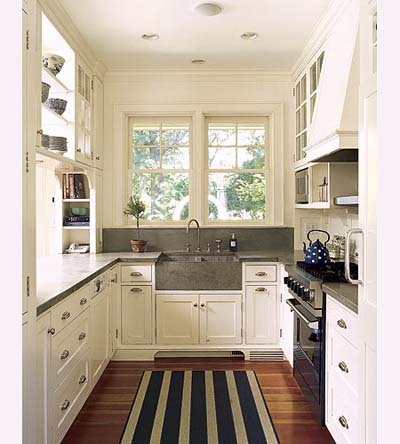 [box_dark]A Matter of Light and Dark[/box_dark]
Well-lit rooms automatically appear wider and bigger. So focus on lighting scheme that makes the most of the wall and ceiling lights.
A proper way to make a galley kitchen seem bigger is to add a view in one corner. It could be a door or window or even a large picture. In this manner, you will be able to increase the length of the room visually.
The narrowest part of the galley kitchen normally tends to suffer the most in terms of aesthetic appeal. A window with widthway striped blinds will allow you to widen the room visually. If you do not have any wall units in the kitchen, you can always install a big mirror or a collection of eye-catching pictures.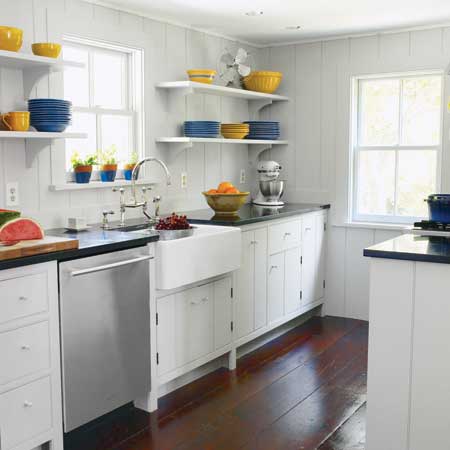 [box_dark]Cost & Space[/box_dark]
Floor to ceiling units do not normally work in a galley kitchen; they serve to make it appear even narrower.
Go all-out when buying kitchenware for your galley kitchen like taps and appliances. They will be on-show and more prominent in a small kitchen space. If your budget does not account for such structures, you can track down simple, classic pieces at stores like Ikea. But be sure never to go cheap on your work surfaces. The amount of money you spend on them is directly proportional to their looks and quality.