Laminate wood floors add class to the décor of your house. Even though they are easy to maintain and clean, still you need to take some basic precautions in order to take good care of them. Proper cleaning and maintenance is required, so that it always remain sparkling. In order to clean it properly, one needs to know the nature of laminate floor and the elements that harm it the most.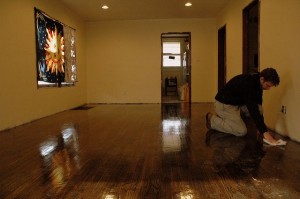 Harmful elements 
The wooden floors get damaged, if they are kept damp for a long duration. You should never use strong chemicals to clean laminated wood floors. Harsh bristles of a brush or broom can leave scratch marks on the floor.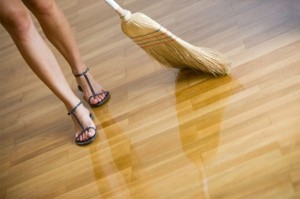 Tips to clean the laminate wood floor 
Gently sweep the floor using a very soft broom or brush. The bristles of the broom should be very delicate, as hard bristles will leave scratch marks when used over a long period. You can also vacuum clean the floor using soft brush setting.
Use a sponge or micro-fibre to mop the floor gently. Warm water can be used to mop the floor. Mild laminate floor cleaner or a mild detergent dissolved in warm water can be used to clean the floor.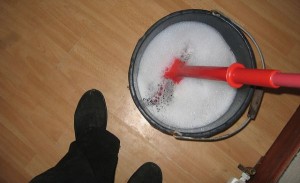 Remember not to leave the moisture on the floor for a long duration. Hence, clean small area at a time. Soak up excess liquid with a dry soft cloth or sponge. Liquid can damage the protective wear layer of the flooring if left for long time.
Soak and wring the mop in warm water and clean the floor. Water is the mildest cleaner but even water should not be allowed to rest on the floor for long duration. You can let the laminate air dry if it is only barely moist. If it is wet, wipe it dry with a clean dry micro-fibre cloth.
An effective homemade solution for cleaning the floor is to add two squirts of mild liquid detergent to a bucketful of warm water. To this, add half a cup of vinegar. This magic solution is the best to keep your floor sparkling clean.
Summary: 
Apart from regular cleaning, sometimes you may have to deal with stains on the wooden floor. Spray a small amount of window cleaner on the area of the stain and wipe it away with a damp cloth. The sooner you attend to the stain, the easier it will be to remove. Nail polish, or shoe polish mark can be removed using acetone nail polish remover. Following these simple cleaning tips, you can keep your flooring in good shape for a long time.