Breakfast bar can add a nice little corner in your kitchen, to eat breakfast as well as other casual meals. The kitchen is perhaps the place where everyone gathers and it is nice to have a space dedicated for casual dining as well as seating space.  Breakfast bars happen to be very flexible, and can fit in small as well as bigger kitchens. Here are some options that can help to select a breakfast bar for your kitchen.
How to select breakfast bar for kitchen
Whatever the size, layout or shape of your kitchen, there is a breakfast bar style for you.
1. Kitchen island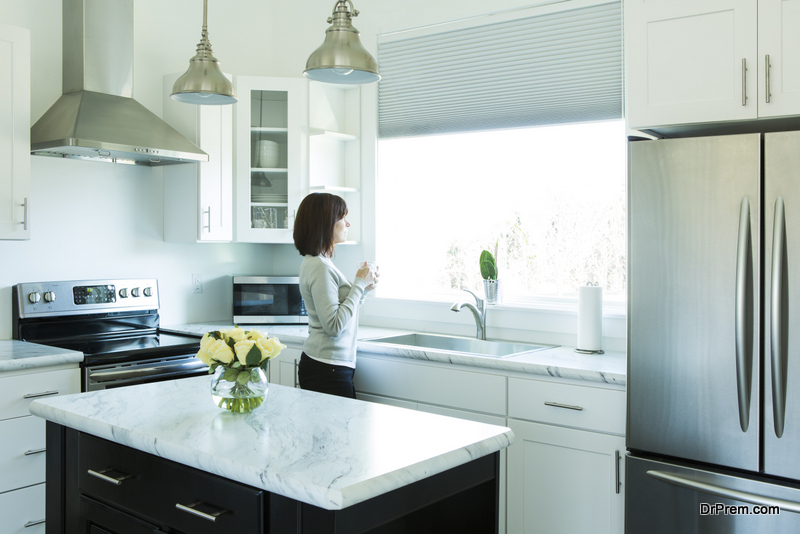 If you have a big kitchen, then you would have the space to create a nice kitchen island using the best materials you can. You would have a spacious breakfast bar with additional countertop and space for an extra cupboard. Part of the kitchen island can be your workspace and the other part could be your breakfast bar.
Another option, if you have a spacious kitchen, is to install a T shape, creating space to add stools on both sides of the island, to have a social space, rather than people sitting in one row. This is the style you can choose for your breakfast bar, if there is ample space in the kitchen.
2. Breakfast bar for U shaped kitchens
If your kitchen is u-shaped, then on the open side place some stools. This will create a breakfast bar instantly without any renovation work. If you opt for colors like pale grey and white, on the countertops and stools, then this breakfast bar will blend into the color scheme of your kitchen and home.
3. Extend a ledge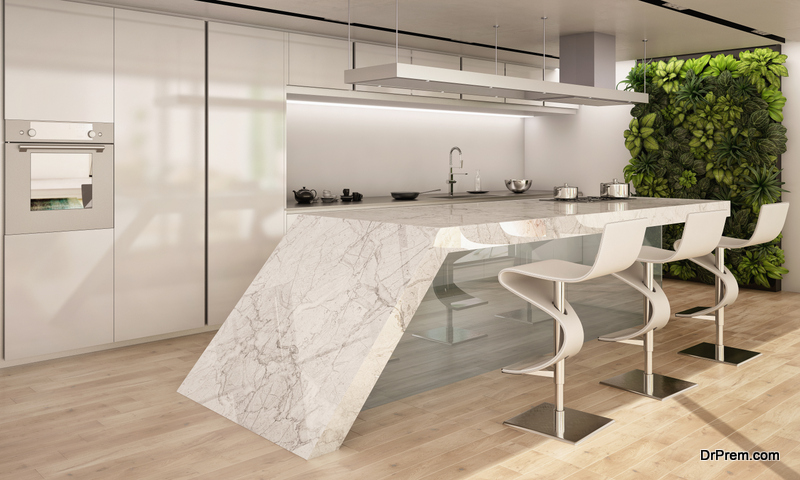 Extending a ledge at the end of your countertop would create a breakfast bar which is just enough for a small family. It is a mini peninsula which is big enough for two stools, but you can add shelves and a cabinet for storage. This is a sensible breakfast bar for your small kitchen, that would be the much needed casual yet intimate breakfast bar for two.The ledge style of breakfast bar is preferred by interior designers as well, to separate kitchen in open plan living style.
4. Bar along the walls
Another breakfast bar idea for a small kitchen is to make one on one side of the kitchen, as the other two sides can have storage. The narrow countertop could be just a wooden ledge beneath which you can squeeze in two cute bar stools. It would be a lovely space to enjoy breakfast in the morning, and have a quick bite in the evening before you have dinner or as you prep for dinner.
5. Wall mounted table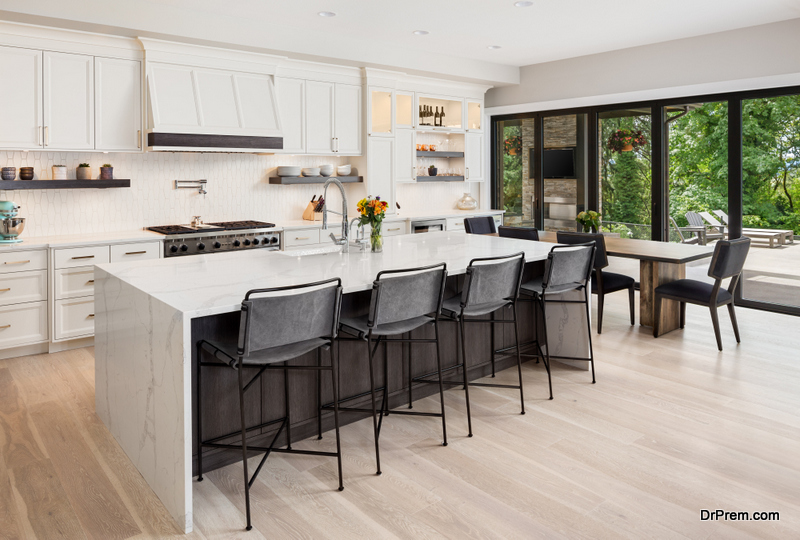 For galley kitchens, a table which can be mounted on the wall when not in use is a great idea. The wall mounted breakfast bar is best for narrow kitchens. It would provide you extra counter space when needed and can be tucked away neatly when not in use. You can choose breakfast bar styles like this one to fit in your tiny kitchen.
6. Floating bar
To retain the feeling of space in the kitchen, instead of a fixed breakfast option, you can opt for a floating peninsula which can extend from either side of the kitchen counter. The harmonious flow will not be disturbed by the breakfast bar, especially if the kitchen is close to the walkway.
Another idea for the floating bar is to construct an extended countertop to form a floating but permanent space. Not having base cabinets gives ample leg room for you to sit comfortably.
7. Going around the corner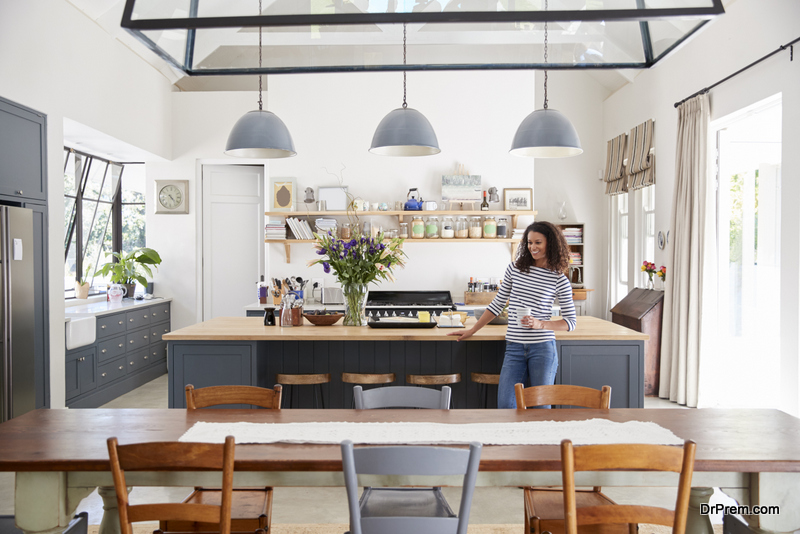 If the kitchen is in an open plan with partition wall, then building a breakfast bar that uses the running countertop is an efficient way to bring into use an unused area. There would be no superfluous kitchen furniture to bump into while you have a nice seating space which is hidden from the kitchen, but right next to it.
8. Breakfast bar counter options
Breakfast bars would be used quite often in your daily life, for various reasons. You should have a material which is attractive as well as durable and can be easily maintained. Choosing to use the same material as your countertops may be sensible, but a different material and color will make your breakfast bar a unique and outstanding part of your kitchen. This could be a statement style element in the space, by switching up the materials.
Consider using contrasting colors as well as textures to let it stand out and play with levels to differentiate it from the other parts of the worktop.
9. Laminate counters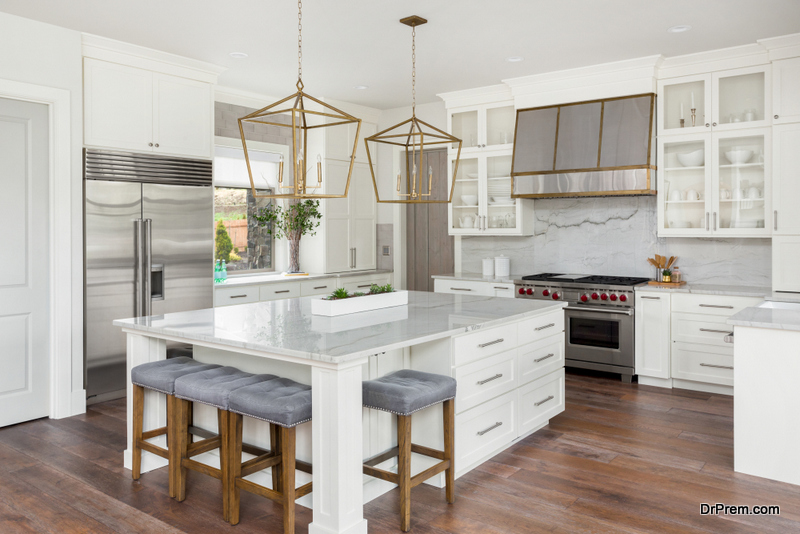 Laminate is a popular choice as its upkeep is quite easy. The look of laminates can mimic other expensive materials, that make them quite appealing. The price is low and it is available in tons of colors. You could go for a light, pastel color or opt for bright popping colors such as yellow or bright red and blue.But it can be scratched easily, or stain so use this only when the bar is away from the cooking area.
10. Quartz counters
Quartz is an upgrade from laminates with beautiful finish, solid feel and luxurious look. It is available in many colors as well as textures, and suits all types of kitchen interiors.
11. Hardwood counters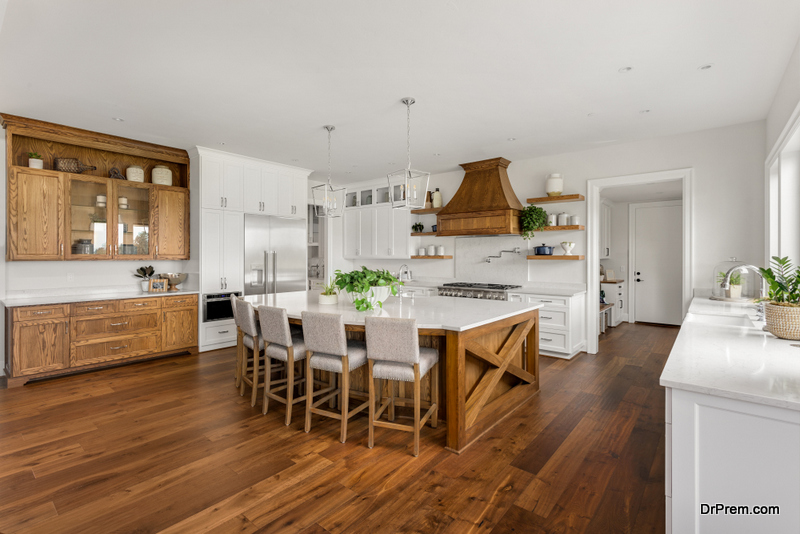 The hardwood counter for breakfast bar is perfect for contemporary as well as rustic/farmhouse style kitchens. It has warm, inviting vibe and you would love to sit and have a relaxed cuppa in the morning on the counter. Wood however, just like other kitchen furniture, does require some upkeep as you have to oil it regularly, and you'd do well to invest in coasters as well as placemats to protect the surface.
12. Breakfast Bar Height Selections
There are three standard breakfast bar height options, which are 30, 36 and 42 inches from the floor. The counter height in these options is usually staggered, so that the workspace is lower or higher than the part where you intend to sit and eat, especially if you are building a kitchen island.
The workspace height is usually 28 to 30 inches to make it easily accessible to all those who work in the kitchen, who may be of different heights.
13. 42-inch eating area and 36-inch worktop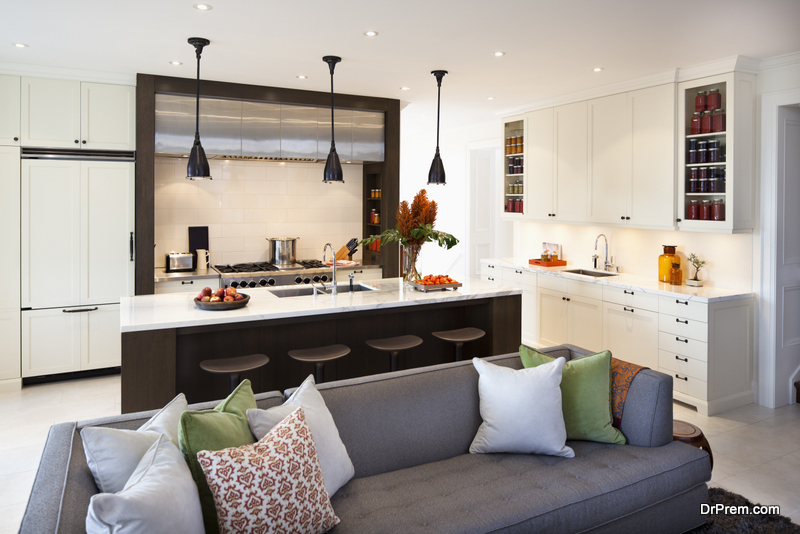 This is an option for you if you want to hide the worktop items such as prep tools, dirty dishes and so on, from the other living spaces. This is convenient when you entertain as you can use the higher part of the bar as a buffet line. One drawback with this height is that the stools have to be high too, which might be a challenge for older adults or children.
14. 30-inch eating area and 36-inch worktop
This example is the best for some people, as the 36-inch height is comfortable as worktop and the 30-inch eating area is comfortable for everyone in the family, including children and older adults. This height is perfect for those who are wheelchair bound. You also have the option to make the breakfast bar more attractive by installing decorative tiles on the space between the two heights.
15. 36 inches eating area and worktop
This is the right breakfast bar for you, if you do not want any distinction between the worktop and eating. The bar stools can be at a comfortable height too.
Light up your breakfast bar with some stylish light options such as pendant lights, spotlights and so on to differentiate that particular area from the rest of the kitchen.