Keeping your kitchen sponge clean, odor free and dry isn't rocket science and you can keep your favorite sponges spick and span using these easy methods.
---
1. Blow dry it
Keeping the sponge dry is the key to avoiding nasty odors and bacteria. The best way to completely dry out a sponge is to clean it with dish washing liquid, rinse thoroughly, wring all the water out of it and stick it in front of a blow-dryer to dry it out completely.
2. The office binder clip drying rack
If you just don't have a dry and clean space to put your kitchen sponge to dry after you rinse it, you can create a DIY sponge holder/air drying stand using an office binder clip.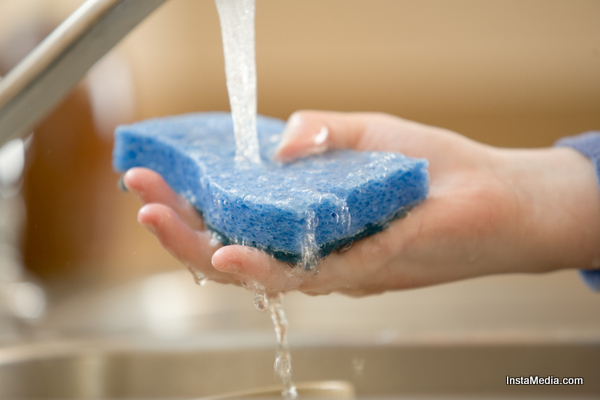 3. Deep clean and disinfect kitchen sponges every 3 days
During the rainy or winter season or at times when you can't dry out your sponge in the sun, you should simply soak it in a lemon/vinegar and water solution or 10% bleach and hot water solution for 10 minutes. Rinse under running water, wring and air/sun dry to kill all germs.
4. Microwave it
If you're using a non-metallic, non-plastic sponge, you can always try microwaving it to disinfect it thoroughly. For this method, you need to place the sponge in a dish full of water and microwave on high for 5 minutes. The hot scalding water will kill all the bacteria. Alternatively, you can also put a heavily wet sponge in the microwave for 2 minutes to kill 99% of all the living bacteria.
5. Steam/boiling water cleaning
If your kitchen sponges are made from plastic or contain metal, you should disinfect them in boiling water or in a steaming device. Wear rubber gloves when you wring them and then leave them to sun dry before using again.