Choosing color for your lovely can be really confusing sometimes. You should consider different factors while choosing colours for kitchens such as the size of your kitchen, different colours present in rooms, and the most important, your personal preference. However, there are some paint colours for interiors of the kitchen that will always remain favourites. Keep reading to know different choices available, when it comes to choosing best paint colours for kitchens.
Colour Options To Consider
Pleasing White
More than any other color, white is always a prominent choice for decorating kitchens, as per Kitchen Designers. Choosing plain white color will allow cabinetry countertops and also, flooring to stand out completely in your kitchen. It is also preferred because it offers clean look, which is exactly a perfect choice for a busy kitchen that may look dirty or dingy if painted with any other color. Other pleasing alternatives include off-white or cream colors, in case white looks too sterile to you. Pairing such white paint with warmly colored accessories will actually bring new life to your kitchen.
Stimulating Muted Reds
Red is extremely famous for its different psychological effects, this includes stimulating energy levels and appetite as well, as per facts given by experts. Although, bright red may look too overwhelming for your kitchen, but you can rely on mute shades such as cinnamon or terracotta as they will feel cosier and warmer. Muted red paint works almost for every type of kitchen, whether small or large. You can effectively pair red paint with cabinets and countertops made from neutral and natural materials.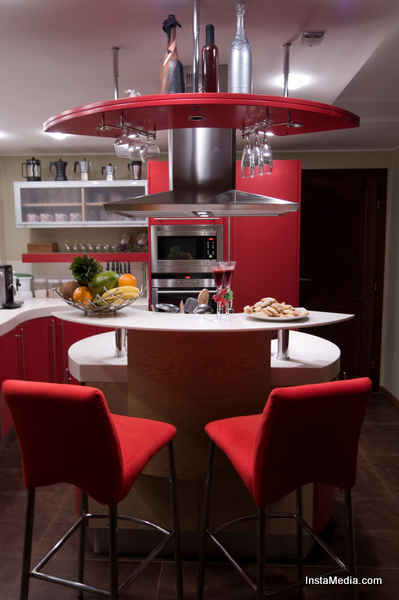 Refreshing Blue
Another prominent choice among best paint colors for kitchensis Blue. It offers cooling effect that works to perfectly balance out a much crowed kitchen or for adding contrast to kitchens with warm toned cabinetry. Many kitchen planners and decorators suggest light blue color with small amount of green shades, such as blue that features lot of gray or robin's egg shade. All these paint colors will look absolutely gorgeous in all well lit kitchens and will turn the kitchen room into a small peaceful sanctuary.
Cozy Yellow
If you prefer a cherry and cozy kitchen, then yellow will be the best choice for you. Walls with yellow color reflect light and warm colors which are found in different decorations around the room. With this type of paint, add white cabinets to get a welcoming and elegant style. Also, bright yellow colors are considered visually very overwhelming, but lighter and muted shades of yellow look pleasingly sunny without causing you a headache.