Granite with a shiny façade and smooth wash doesn't compliment all type of kitchens. Sometimes kitchens are rustic or shabby so granite doesn't blend well. Also it doesn't go with very modern or sleek industrial interiors. There are plenty of substitutes for granite countertops available nowadays. These flat surfaces fitted near cabinets have stoves, cooktops and sink fitted in – so choose them with care.
1. Soapstone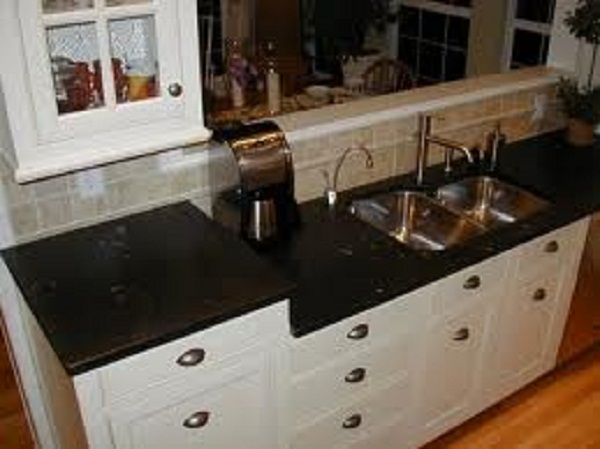 Soapstones are a natural stone with an earthy look and add a soft touch to your kitchen. They have a soft and porous exterior with a smooth polished finish. Most of them come in dark tones of black and gray. They are an excellent choice for your kitchen countertop as they are resilient and also insulate heat.
2. Stainless Steel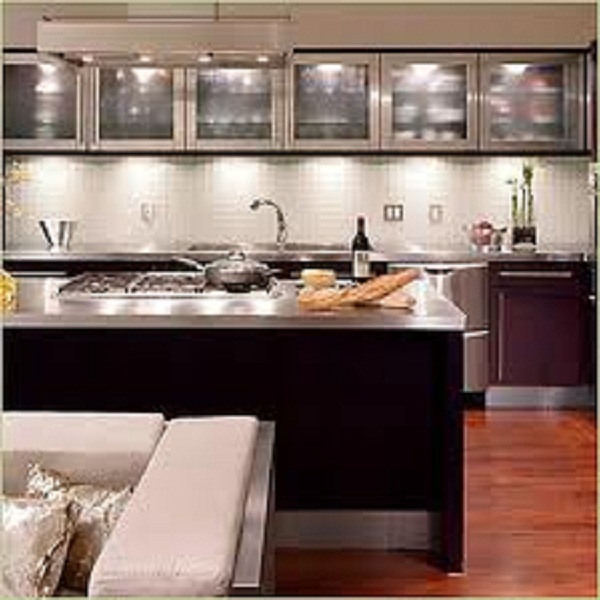 This metallic finish worktop looks good in contemporary, modern and industrial homes. They are durable as well as corrosion, crack and heat resistant. They are non porous, easy to clean and waterproof. As they reflect light, they make your kitchen interiors look spacious.
3. Wood or butcher block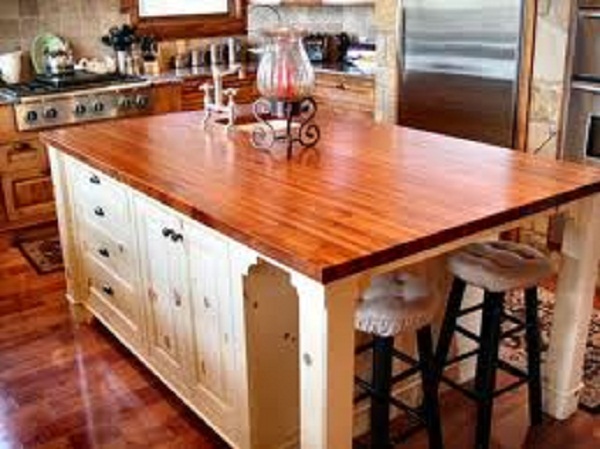 This eco friendly worktop adds warmth to your kitchen making the décor look unfussy. They are really easy to clean and also resist bacterial growth. Apart from butcher block, wooden planks can also be assembled in other designs like Single Wide Stave or Joined Planks. Oil them time to time to prevent them from drying out.
4. Laminates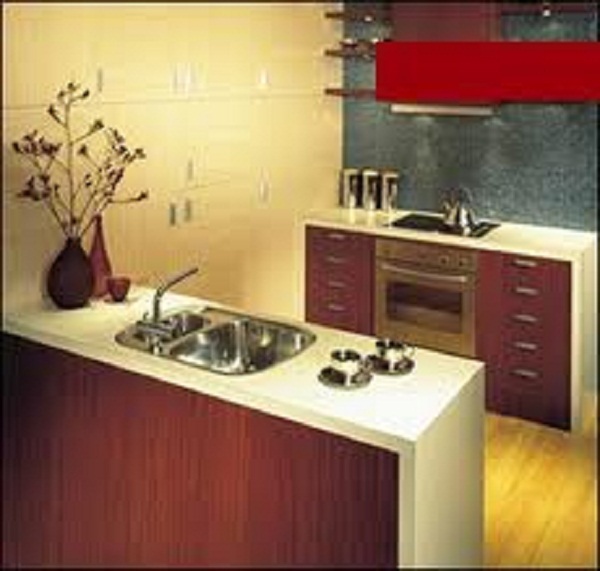 You won't burn a hole in your pocket when you fit this on your kitchen worktop and the array of colors, textures and patterns will leave you mesmerized. It is very easy to clean them up and are known for being hygienic as they stay free from bacteria, mold and other organisms. But they are prone to breaking, scratching and chipping.
5. Ceramic tile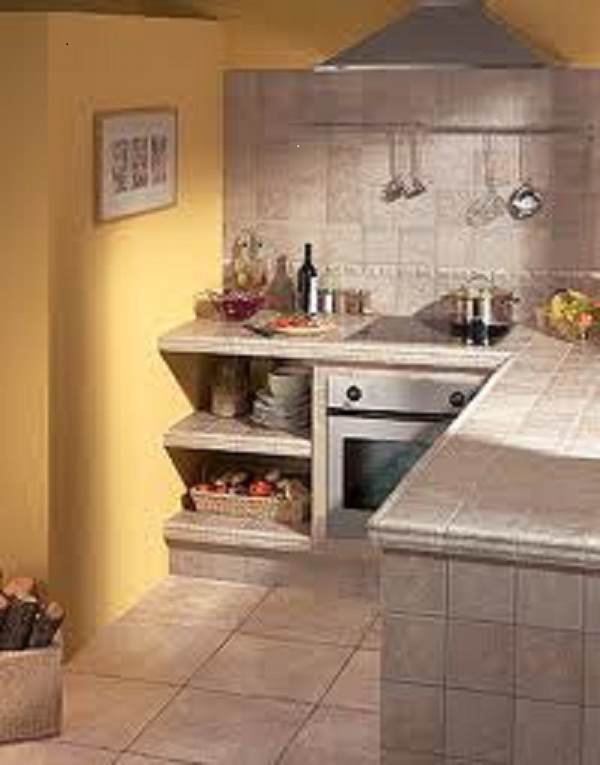 Pressed clay blazed at high temperature gives ceramic tiles their unique texture, hardness and finish. They are available in a number of colors, patterns and can have matte or glossy finish. They are affordable and can be cleaned effortlessly. Other advantages include heat resistance and durability. However, they are prone to breaking as they crack or chip under high pressure impacts.
6. Solid surface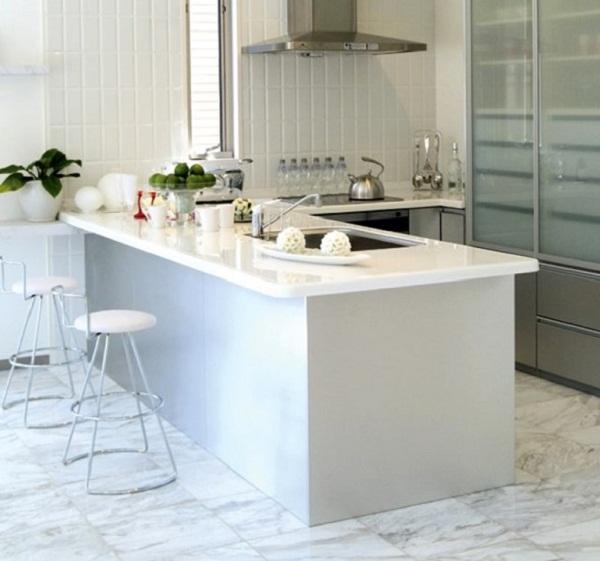 Mineral powder mixed with either polyester binders or acrylic is an excellent option. This solid surface from Corian brand is well known and available in umpteen hues and textures. Engineer them to fit into your kitchen by joining them together or giving any shape or finish. They look elegant due to their glossy polished finish and can be repaired easily.
7. Engineered stone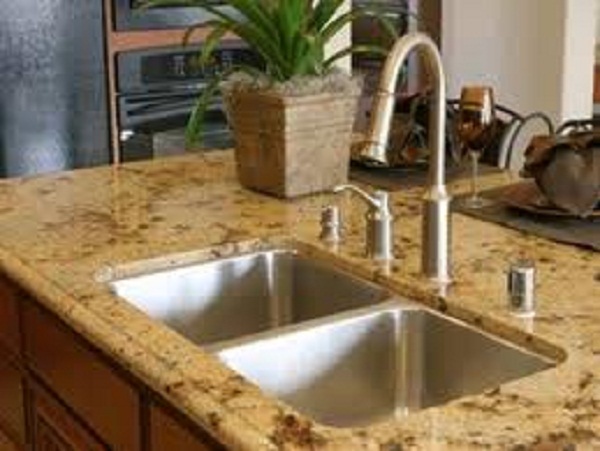 Made pre dominantly from quartz, this material also has polymer resins embedded. It has most of the properties of granite and is manufactured in a variety of colors and patterns. Due to its flexibility, it can be easily tailored to fit into your kitchen. It is durable, scratch resistant, heat resistant and can be maintained effortlessly. Due to its non porous surface, it is resistant to fungus, bacterial growth and stains.