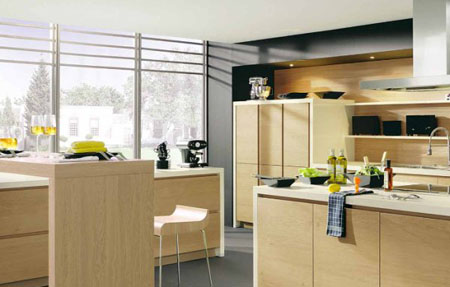 Kitchen is the central hub of the house where many good times and family bonding takes place. This is the only part of the house which is constantly in use for any impromptu occasion. This makes it essential to have a kitchen that is pleasing, workable and a warm joy for all who frequent it. A good kitchen has a proper layout where the traffic is defined and there is ample space for the cook to work in comfort.
Kitchen layout
There are usually four basic types of kitchen layout. The first is the gallery shape with two walls facing each other. The L shape is where the three elements of stove, sink and refrigerator are placed along two perpendicular walls to form a triangle. The next is the U shape with the three elements placed on three walls and the G shape, to provide more room for cabinets, appliances and counter space.
Decorating styles
1. Create a vintage feel
Without actually changing much in old kitchens of old homes, you can add cabinets, wall coverings with vintage looks and appliances. This will revamp your old kitchen into a custom vintage feel to enhance your classic home.
2. Bold colors
Play with bold colors by integrating them wisely to make a design statement.
3. Integrate wood
To give your kitchen a brighter lift, integrate it with wood finishing for cabinets, panel and doors.
4. Southwestern style
The color techniques of New Mexico's open kitchens can add a certain allure and warmth to your kitchen.
5. Casual comfort
Kitchens with a touch of warmth and coziness is always appealing for your guests as well. Create a warm look and touch to your kitchen with a few simple tricks.
6. Neat and tidy
Streamline storage spaces so your kitchen gets that spacious, clean and tidy look.
7. Appliances
Choose the stainless steel types of appliances for their classic looks as well as to add a touch of clean utility spark.
8. Restaurant setting
If you want a restaurant chic kitchen, then add some elements of contemporary sophistication to your kitchen.
9. The vintage look
If you already have a vintage kitchen or planning to create one, then use vintage style details that will transform the character of your kitchen.
10. Chef's domain
Proper storage space for every kitchen appliances and tools is a must to keep your kitchen running smoothly. Everything must have a proper place in an organized manner to make your kitchen the perfect domain.
11. Colors that please the senses.
Using the right color tone in the kitchen is necessary since this is where everyone will assemble most of the time. Choose pleasing colors that will enhance the best features in your kitchen for a great personality boost. Colors should not clash with your other furnishings in the kitchen and must always complement each other to create the balanced appeal.
With the right ideas and the motivation, you can transform any type of kitchen into the dream kitchen of your choice.