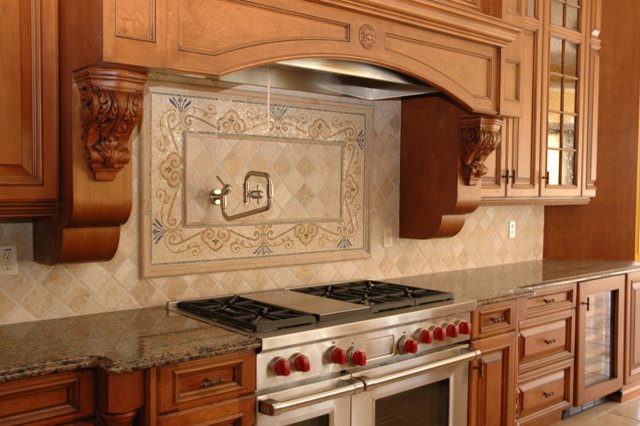 With homes getting smaller and the time available to keep them clean becoming shorter, one has to think of innovative ways to manage and maintain space, hygiene and good looks, especially in the kitchen. The reason being that it is the one area in any home that needs attention everyday and in many cases is also the one area where family members come and go often if not get together every day.
The area that is most prone to filth and sticky grime in any kitchen is the wall right behind the cooking area. Sprays from pressure cookers, steam and spattering of sauces and bits of food popping out of a pan tend to get stuck on the wall. They are difficult to clean and often leave stains and marks on what otherwise might have been a beautiful clean area.
Installing an attractive backsplash can be the answer to making it looks good and keeping it clean at the same time. A backsplash helps protect the walls from any splattering that may lead to permanent stains and accumulation of grime. They are easy to clean and add a 'fun' element to an otherwise simple kitchen.
There are various design options for behind the range backsplashes and they are also available in various materials like tiles, stainless steel, etc. A tiled backsplash can be bought or created match the color and design of a kitchen. Some designs have duo tones where one color is offset by the other bringing attention to the wall making it the focal point of the kitchen. There are other designs which can be created by repeating and existing design in the kitchen to scale like the tiles used for flooring can be scaled to make a backsplash so it gives someone entering the kitchen a feeling of an extended space. There are many types of tiles like granite, glass, marble and ceramic among others that can beautify the look of the backsplash area.
A stainless steel backsplash will give the kitchen a modern and contemporary look. It is very easy to clean and can be easily installed. These also come in designs like tiles with or without insets or like a plain slate. Glass backsplashes are also very attractive to look at and simple to maintain.
A kitchen backsplash can be made as kitsch or as simple as one likes. Insets of copper, pieces of painted glass or any other recycled material can be used while planning and making the design. These add spunk to the backsplash area and add a personal touch to it.
Paintings and other art works can adorn the backsplash high enough so that it does not get splattered but at the same time create a beautiful natural frame for the eyes within the kitchen walls and storage spaces.
Some backsplashes are designed with a small niche for storage of things likes cooking oils and spices and easy access to them. These kinds of backsplash designs add character and depth to a kitchen wall.
A well thought backsplash is important for any kitchen for all practical and aesthetic reasons.