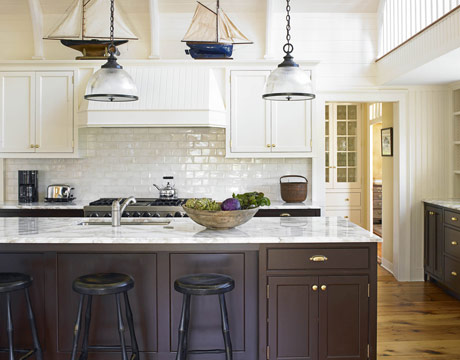 The peculiar feature of Nantucket kitchen is its simplicity. Look at this kitchen, it belonged to an old house, renovated by the architect to a Nantucket kitchen. The architecture is wonderful and there are not much accessories getting in the way.You can see the baskets which are made of oak pieces.They are very tightly woven and are very strong. They have long durability.
The curve of the wooden ceiling look like a ship. This house was very old and the ceilings are low. In order to give some relief, the ceiling was put in a cathedral pattern.It was faced in V-groove, which is a variation on bead board but with a simpler cut. Another feature Nantucket tradition is wood walls. You don't need a drywall because it soaks up moisture. You just think taking a rowboat and placing it upside down. That's what this room looks like. The veranda connects the master bedroom with the other rooms of the second floor. It would be nice to get a space like this, to be able to look down on it.
All above the counter top is given light shade and all below is given dark shade. The cabinets have that quietness and austerity. Actually the dark color is brown, not black itself, which means warmth. The dense chocolate brown color is used to ground the room and balance the ceiling.
The row of cabinets below the window is used to place phone books and keys and recipe files. If you don't allow for that desk to function in your kitchen, you can use it as a place to keep the vegetables and provisions. You can even keep a flower vase there.
To have that large surface with lots of storage underneath is fantastic for you. You can have three or four things going on at once. The mistake people often make, is putting the area and the counters too far away. What you need is space for only two people to move.
As you know, the kitchen is the hub of all houses. Doors are there on the three sides and you can create an easy movement of air. There is the resting spot in the middle, where you can get seated . You can place stove, sink, mixer grinder and refrigerator on the remaining portion of the kitchen.
The sink looks big enough though it is only ten inches, and you get it big because it's deep under-mounted. Stainless-steel sinks are preferred to porcelain sinks because they have more durability. If you drop a heavy pot or any vessel in it, the sink may hit the porcelain sink and break it. But stainless steels don't.
The windows are devoid of curtains because you don't need a lot of fabric.It is not necessary to mask the view. The woven-wood blinds do the function of curtains.They are clean and warm, because they have some texture in them.
Frequently asked questions
Is Nantucket kitchen easy to design?
Yes, it is very easy to design.All you have to do is to renovate your old kitchen.
Is it costly?
No, it is not costly as others.