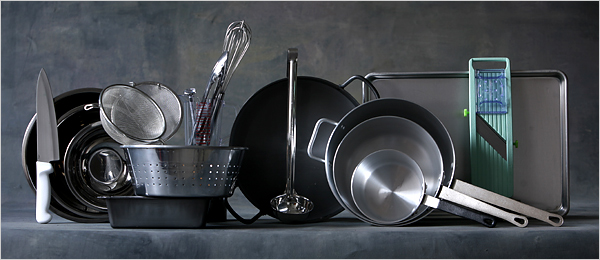 Like cookbooks, kitchen equipments are important and add charm to the kitchen. Many believe that buying expensive gadgets and equipments make them great cooks. That is not true. It is not the equipments you use but the process used to cook make you the best cook in the world. So, we will let you know about the essentials of a minimalist kitchen that doesn't have any place for hi-tech, all expensive gadgetry; rather, it replaces them all with what's required to carry out the simple kitchen activities with extreme simplicity.
You have might have seen famous chefs using gorgeous name-brand equipment to cook in your favorite cookery show. They are sponsored by manufacturers with an intention it will make you think it is essential if you see them in the hands of a well-known chef. When the best chef wants to buy equipment, he/she always go to a restaurant supply house.
Evolution
Due to these expensive gadgets and equipment which are promoted through various shows and stores, kitchen have become out of control. Our kitchen's counter-tops are occupied with these oversize appliances that eat up the space leaving us to think that we would require bigger kitchen. There is ideal proposition for everything. Having more cabinets, space between counter-tops makes it unusable and nonfunctional.
The first step for having an ideal great kitchen is not to remodel, but to clear the space from these not so useful appliances that eat up the space and storage from your kitchen. You will find your dream kitchen hidden underneath all these gadgets.
Be a bit savvy, have patience and willingness to let go that funky looking knives, copper pots and other glamorous items. Just with $200 you can equip a basic kitchen that is sufficient and with $300 can have a quite good one. The point is it needs only to be functional, not high-status, scanty or luxurious.
Key components
Here is a list of essential tools you can have in your kitchen:
1. A high-quality chef's knife. You need to be comfortable holding it in your hand.
2. A box grater, this is best ever original food processor you can have.
3. Scalloped-edge tongs, they are something which acts as extensions of your fingers. Use them flip food or to lift lids or pull pans or even to serve pasta.
4. Couple of stainless steel bowls.
5. A plastic or wooden chopping board.
6. Can opener, vegetable peeler and colander.
7. Pots and pans. Buy small, medium and large pots to cook; a medium nonstick pan (cast aluminum) and a large steep sided, heavy duty steel pan. A single lid will come handy but you can use plates that come handy.
8. A cast iron.
9. A slotted spoon and a rubber spatula (heat-resistant).
10. Sheet pan which will be useful for roasting and baking.
What's so great about it?
1. Saves storage space.
2. Saves money by avoiding purchase of non essential stuff.
3. No need to expand your kitchen.
4. Save power usage.
5. helps to 'go green' by saving energy.
What goes against it?
Cooking for number of guests? You may need to have the extra size vessels. Store couple of extra cooking pans, it will come handy when you want to cook for your friends and relatives on Thanks giving.
Tips:

1. Replace food processor

Use cheese grater for grating cheese.
Use handheld knife for chopping, slicing or dicing veggies.
Kneading bread? Do it by your hand. It is a good exercise for your hand.
2. Replace nonstick pan, grills
Prepare scrambled eggs, stir-frying/sauteing veggies, cook meat using a cast-iron skillet.
3. Replace panini maker
For grilling sandwiches use cast-iron skillets .
4. Replace deep fryer, electric roaster, slow cooker
For frying, roasting, stewing use Dutch oven
5. Replace electric juicer
Prepare juice of citrus fruits with wooden reamer.
Things to watch out for /do before your stuff your kitchen:
1. Going for shopping? Think before you buy.
2. Do not rush to buy stuff. Wait for a week, if you do not forget it to add in your shopping list or do not change your mind that means it is important to buy.
3. Reality check. Think about the hard work you did to earn the money you are about the spend to buy that thing.
4. Ask yourself: Do I have space to store it? Maintenance? Is it worth the maintenance? Will I use it? Will it last long?
5. Shop smart: Check the customer reviews, reports from internet, friends or retailer.
6. Do not stuff: clean your storage regularly. Instead of throwing away donate to people who are in need when there is left.
7. Bring in less: Use reusable replacements in place of disposables.
Fill your kitchen wisely. Discover wonderful aromas and happy people around than cluttered platforms and storage spaces.