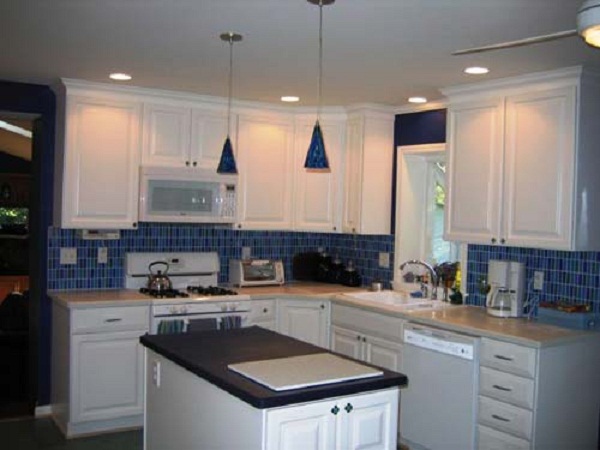 A demure white is a classic pick for your kitchen and a bright blue that pops out against this muted background makes for a charismatic combination. Pairing these two cool tones makes the kitchen look spacious and tranquil. The blue perks up your mood whenever you have to cook and white keeps the ambience peaceable also making the kitchen look spotlessly clean.
It is best to have walls painted white and then pick accessories in blue tints. Vice versa, paint walls in blue and accessorize in white for a more overwhelming façade. Walls in different shades of blue or frescos in cerulean look terrific. With whitewashed wall tiles, cabinets, shelves, and curtains in blue is an excellent idea. Tiles in blue and white geometric prints are almost a necessity while designing a blue and white kitchen space. Also, curtains with blue and white stripes blend well in such kitchens.
Tips for decorating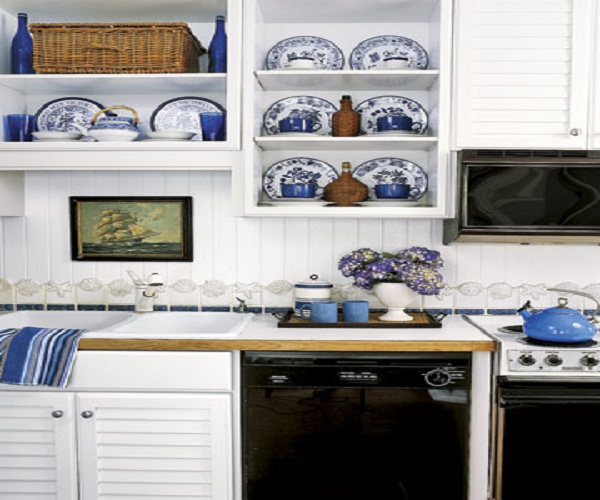 Try to pick electronic equipment in blue like refrigerator, toaster, oven, microwave, etc. with dashes of blue. Towels hanging on hooks, paintings, flower vases, etc. in shades of blue will make your kitchen look all the more dreamy. Set out blue colored crockery that you use every day on the countertop. This can be a set of blue mugs hanging from a stand, mound of blue colored bowls stacked on a shelf, azure spoon holders, or blue jars in a glass cupboard. Add more warmth by including in splashes of red and green in the interiors. But if you like rooms to look simple, fresh and airy then stick to only blue and white along with minimal furnishing pieces.
French country style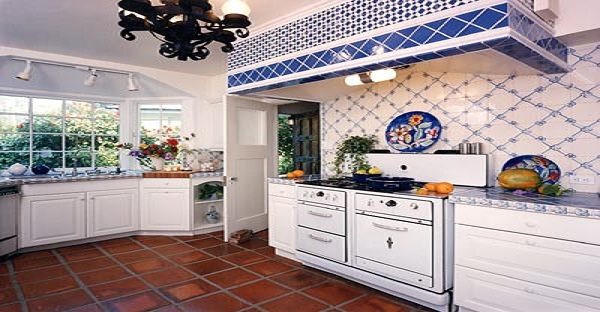 A cobalt French country style is also a good idea. Accessorize with blue colored fabrics of cotton, lace or toile. Hand painted tiles especially checkerboard blue and white designs fit in well. Stained wood cabinets, candlesticks, napkins, antique are add ons; navy dishes and ceramics are good picks. In a French theme, pick an antique blue or one with tints of gray. Also, country designs bearing fruits and flowers look good with this style.
Sleek modern appeal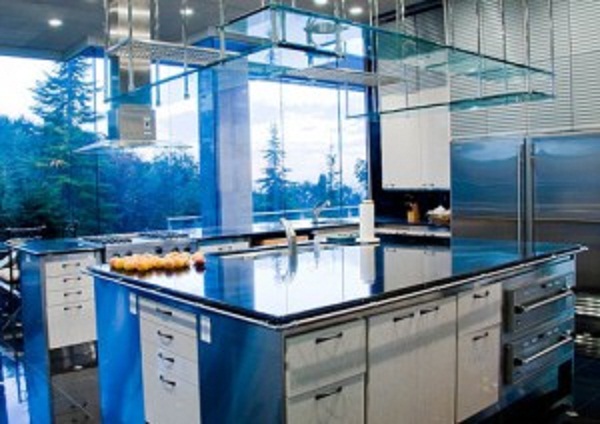 You can go for both modern as well as vintage interiors with this color scheme. Turquoise blue with metal fixtures and fittings of steel or aluminum will give it a modern seem. Match them up with laminate countertops and vinyl floors. A blue and white combination almost immediately conjures up a nautical image – just add knickknacks like seashells, conches, ship figures, paintings of the seaside scenery, lighthouse shaped jars and collectibles, etc. Curtains made from seashells will look excellent.
Go old school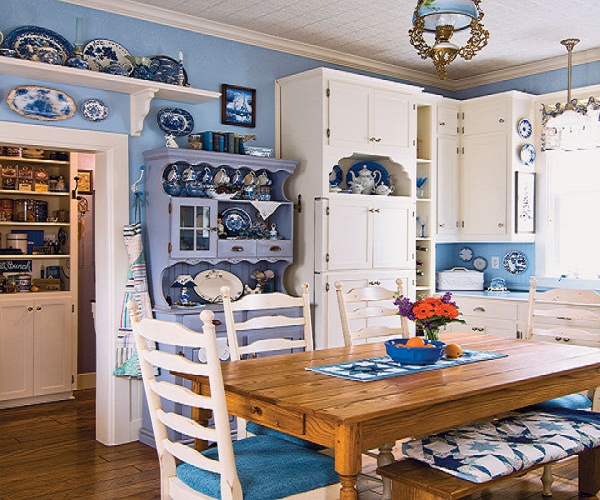 Shop at flea markets for a vintage look. Furnishing made from old woods like a blue dining table that is set with silverware and napkins is a good choice. In a country style décor fuse in reds, greens and sunny yellow along with bumpy unfinished furniture made from wood and stone. With this style, cram in loads of accessories like woven baskets, showpieces, lamps set on tables or suspended from the ceiling, pot and pans dangling on walls, etc.