Reducing the cooking time drastically, pressure cookers are a handy addition in any kitchen. With so many styles of cookers available, picking the right one for your home can become tough.To facilitate cooking, different cookers have different kinds of features and you can always buy additional accessories depending on what you plan to cook in it. As food gets cooked by action of steam generated, always remember one thing about pressure cookers that with the increase in pressure, the internal temperature becomes high, reducing the cooking time considerably. If you are looking to buy one, here are a few tips to help you out with your purchase.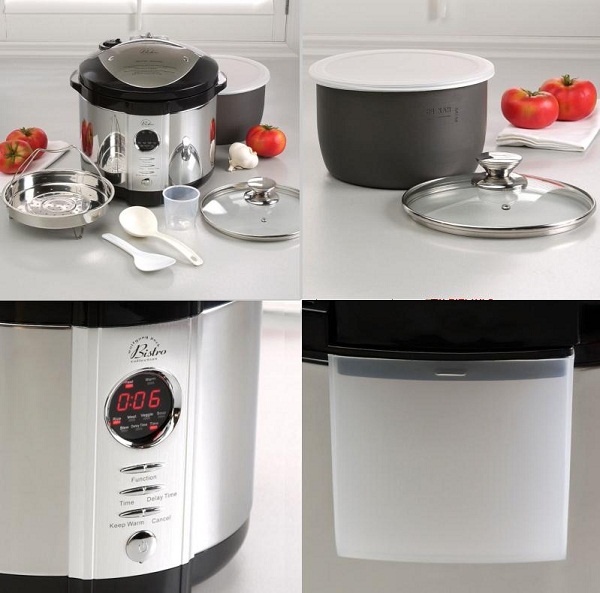 1. Size
Choose the size of the cooker depending on the quantity of food you are going to cook in it. While using it, fill up food only in two-thirds of the cooker, leaving one-third of the space inside empty and if food being cooked forms froth, then only one-half of the cooker should be filled with victuals. Singles or couples should go for a 4 quart cooker, families of two to five should buy a 6 quart one, while the 8 quart cooker is good for large families.
2. Basics
The indicator should be easy to read and it is important that the safety valve of the cooker oozes out steam automatically. Another useful feature is the detachable pressure regulator using which you can regulate the pressure to low, medium or high. Always remember that as you increase the pressure, the internal temperature rises, reducing the cooking time.
3. Steel
Good quality and heavyweight steel is very important so that the pressure cooker lasts for long. Heavy and porous, steel diffuses heat effortlessly. Cookers made from 18/10 stainless steel are the best, while ones that have chromium as well as nickel can resist corrosion, stains and also gives a luster to the cooker.
4. Aluminum
There are a number of aluminum cookers in the market but these can get stained quickly. However, they heat food inside uniformly. These do not weigh much and are also quite affordable.
5. Vital accessories
A lid that locks tightly with a heat resistant handle to move the cooker easily are quite helpful. Timers help immensely, especially if you are not a seasoned cook. The heat diffuser is also extremely purposeful when you are cooking pasta, rice or beans as it does not allow the flames to make contact with the bottom of the cooker.
6. Valve
There are many different types of valves available with cookers. Spring valves go off when the pressure is high and the jiggle top weighted valves dangle when the pressure soars. You will have to clean out the jiggle top valves as they can get clogged with food easily. The modified weighted valves, jet out spouts of steam. You will have to time your cooking, just as they begin to let out the steam.
7. Cooking your favorite grub
A steaming basket helps weight watchers while racks or trivets also facilitate cooking. If you like to whisk up desserts, then buy a springform pan for cheesecakes, ramekins to dish up puddings, while the soufflé dishes will also come handy.