Kitchen is the heart of the house. It is a place where food is cooked and served for all the family members. Colors influence our thoughts and mood, hence, while choosing the color combinations for your kitchen it becomes necessary to keep certain things in mind. Kitchen is the key point of a happy household therefore it is essential to choose vibrant colors for it. Colors like crimson red, purple, saffron, yellow, blue are bold colors which can be used in the kitchen to make it more vibrant and lively.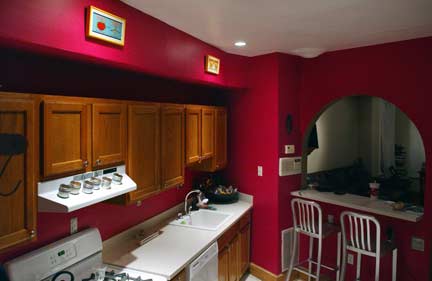 1. Use of bold colors: A kitchen contains cabinets, electronic appliances, sink table and chairs. It is very important to choose the right and perfect color for the kitchen. Appliances are mainly steel or black in color, but now days kitchen appliances also come in bright colors like red, pink, blue. These appliances can be used to redesign a kitchen with the use of bold colors.
2. Cabinet colors: Glass front can be used in cabinets. Cabinets can be of wood which are hard and give a neat, attractive and bold look to the kitchen. Kitchen surfaces and table tops can be of granite as they are durable and easy to clean. Multiple colors can also be used for kitchen cabinets like red, blue, green, and yellow. These colors are very cheerful and add life to kitchen. Two bold colors on the kitchen wall can compliment with the kitchen cabinetry kitchen appliances.
3. Stainless steal look: Stainless steel appliances are widely used in every kitchen household. Bold colors can also be used in kitchen with stainless steel appliances. Cabinets can be bright red and the wall can be painted with orange. The counter tops can be black. Stainless steel appliances reflect a lot of light and give the kitchen a bold look.
It is important to have ample amount of light in the kitchen, while using bold colors. Kitchen doors and windows should be big so that natural light comes in. Bold colors tend to absorb light, so glass can be used for doors and windows. Choosing the right color for a kitchen is important. Bright colors add life to kitchen and create happiness.