When it comes to interior design of a house, many people give first preference to the interiors of the kitchen. No longer people compromise with the looks and functionality of their kitchens. Kitchen is one of the most utilitarian places in the house. It is extremely essential that it is done up to the modern day standards and is user friendly. The futuristic kitchen designs are attracting people who wish to have a modern kitchen full of all sorts of appliances and fittings. The modern fittings include faucets dispensing all types of water, computer like smart appliances and many others. When it comes to kitchen interiors the list of options is simply endless. Some like to opt for a fusion of modern with the old whereas there are others who want an extremely mode kitchen which looks extremely modern and chic. Besides being a treat to the eyes, the modern kitchen is highly utilitarian and extremely user friendly. The following are some tips which can help you transform your kitchen into a high utility and modern looking place.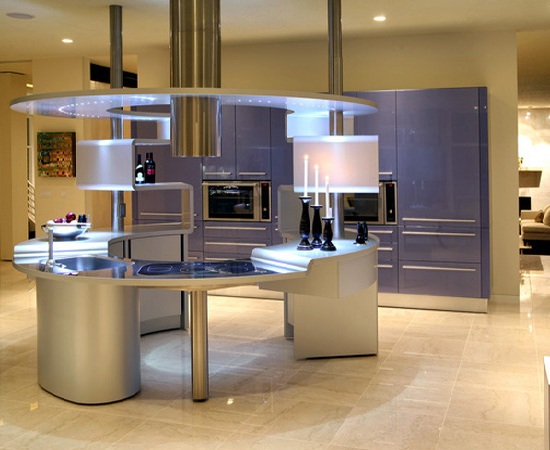 1. It must be highly efficient
The first and foremost thing that one must ensure when it comes to kitchen interiors is to ensure high efficiency. It is extremely important to do away with the kitchen clutter and the kitchen should offer good storage options to the house owners. You can opt for drawers which open from both sides or button operated cabinets. This can help you store everything inside and keep the shelf clear.
2. Opt for stunningly ornamented hoods
Introduce your kitchen with unmatched class which not only looks amazing but also provides good ventilation. Cutting edge design combined with modern technology can transform your kitchen into an amazing place to cook food in. Halogen illuminated glass and stainless steel hoods add to the grace of the kitchen and keep it properly ventilated. One can opt for hoods in unique colors and finishes that compliment the color scheme of the kitchen.
3. Rediscover usage of copper
Copper used to be a common metal used in kitchen in old times. Eventually its usage in kitchen diminished. Off late kitchen firms have rediscovered usage of copper in kitchen. The main reasons for this are some incredible qualities of copper like Malleability, eco-friendly nature and anti-bacterial qualities. You can get copper sinks and cookware installed in your kitchen.
4. Opt for grey color
Bid your old favorites for kitchen like black and white a goodbye. Instead opt for neutral color like grey which is available in amazing glossy finish or even shade options. The best quality of grey color is that it goes well with all other color tones. You could opt for grey color on walls, on floor or on cabinets.
5. Balance modern with old
You do not have to do away with old trends to have an ultra modern kitchen. A hint of old trends is perfect to give your kitchen a unique feel. Combine contemporary designs with latest technology.
6. Light the kitchen properly
Light plays a very significant role in kitchen. You can give your kitchen a new life by installing crystal light fixtures which not only look great but also illuminate the kitchen perfectly.