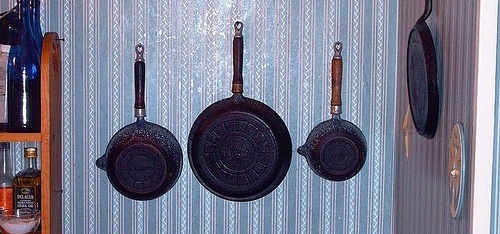 Basic kitchen gadgets are a part of every kitchen. Seen as a basic need, we easily loosen our pockets for these multitasking kitchen gadgets which eventually don't last for a very long period. How about reusing the stuff which is otherwise complete junk. We all come across a number of things in the kitchen which are completely of no use anymore. Here are some amazing tricks that can help you makeup something useful out of that pile of wastes you were planning to throw out.
1. Best use of plastic bottles
You can use those plastic squeeze bottles such as the ketchup bottles for other purposes. These bottles are easy for pouring purpose can be used as high volume dispensers. Try using them as pancake batter dispensers. They can serve the purpose perfectly. Another benefit is that you hardly have to put in any effort to clean it. Just pour in some soapy water and shake well. So here you have a perfect pancake dispenser, easy to use and free of cost.
2. Universal knife block made with bamboo skewers
You can make a knife block that can fit all your knives of any size and brand. This universal knife block is very is to make and extremely low on cost. You just need some bamboo skewers available at any store at a very low price and a long can or container you can easily find at home. So the next time you step out to get that expensive knife block, think again.
3. Cook pizza in a cast iron skillet
Well seasoned skillet is an amazing tool. Though it works great for scrambles and stir fries, there is a lot more to it. Think about using it to cook pizza. Yes, you can make a perfect pizza on a well seasoned skillet. So before stepping out for a pizza stone try using a well seasoned cast iron skillet which is to our benefit a versatile kitchen equipment.. You will definitely love it as it is bound to be fresher since you are the one who'll put if off the heat once you're ready to eat.
4. Trap fruit flies with a soda bottle
Once you've consumed the soda from the soda bottle, the bottle obviously becomes useless and is just thrown away. Instead of throwing them away, here is what you can do with it. You can make a fruit fly trap out of the soda bottle. Simply cut out the 1 liter bottle into a fly trap and pour some attractive liquid on it.
5. Manage pot lids with vertical files and curtain rods
Upgrade your kitchen's storage efficiency. You can create vertical oriented storage for storing the vertical lids and sheets you have. With the help of some cheap tools like vertical file holders and curtain rods you can make this possible. So you don't need to worry about how to store the outsized lids or cookie sheets.
6. Steam scramble eggs with an espresso machine
You can you your espresso machine to make some amazingly fluffy eggs. All you need to do is beat the eggs, salt and butter in a firm jar and then hold it under the steamer wand on your espresso machine. Turn on the steamer and swirl until the eggs are soft. That's it, your fluffy scramble eggs are ready.
7. Roast coffee with a popcorn popper
You can convert your popcorn popper into coffee roaster and experience fresh roasted coffee. Though not as controlled as a heat gun, it is a lot simpler and easier way to have the freshest coffee possible in about 10 minutes.