Kitchen, in the modern times has become multi-dimensional area of the house. It is not just a place where you cook food; it has in a way become the social hub of the house. No wonder, that open kitchens are gaining so much popularity. One you can socialize while cooking, secondly a small space looks much more open and vast if open. Though the most important thing to be kept in mind while designing a kitchen is functionality, style is also something not to be ignored. So a modern kitchen has to be a perfect blend of both functionality and style.
Nowadays, L shaped kitchens have become quite popular. L shape kitchens very well blend both in an open floor plan or a separate room style kitchen. These kitchens are both practical and functional by their basic structure.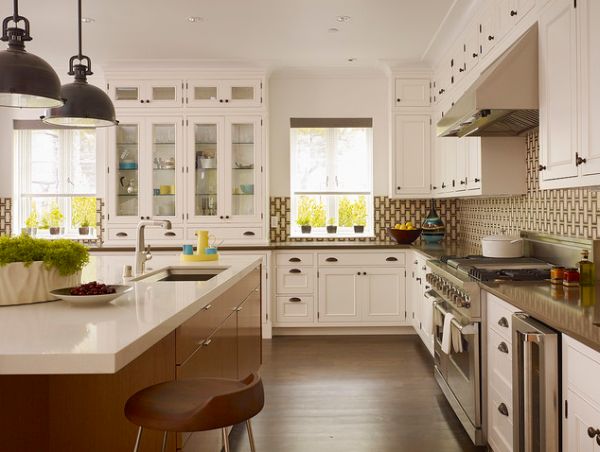 A kitchen island, a concept growing very popular these days is possible to incorporate in an L shaped kitchen.
It is also possible to have your dining area as a part of kitchen area in an open plan L shaped kitchen. In a room style kitchen there is ample storage space in an L-shaped kitchen.
The interiors can very well be experimented with L-shape kitchens. Any kind of colour palette, contemporary, traditional, modern or even Mediterranean and Asian themes go very well this kind of a layout.
Lighting can be used effectively to add to the aesthetic appeal of these kitchens. Incase of an open plan, an L-shape kitchen can be easily blended with your living room.
L shape kitchens already have the basic background to include plenty of storage space for all the tools, supplies and groceries needed on a day to day basis in the kitchen. This really is a very big advantage; ever imagined bumping into something or the other due to lack of storage can be so annoying.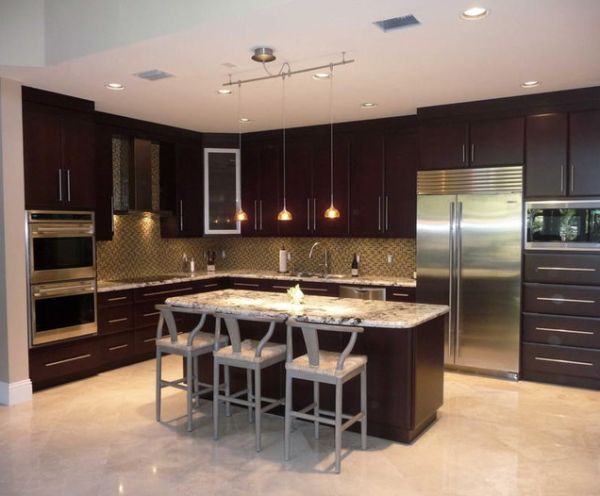 Though the options of decorating a L shaped kitchen are limited but there is nothing more practical than an L shaped layout for your kitchen. Agreed the scope of creativity is quite limited, but there are a lot of colour combinations, concepts and materials that can be used to adorn your L shaped culinary heaven. The pictures below are really unique ideas to deck up your L shaped kitchens. Anything from contemporary, traditional, modern, Asian, Mediterranean, colourful, neutral, steel, wood, accent lighting go well with this kind of layout. These L shaped kitchens can inspire anyone for a kitchen makeover.