[box_dark]Outdoor Kitchen- The Next Best Thing[/box_dark]
If you like entertaining or even if you simply like living it big and stylish, an outdoor kitchen should definitely be the next thing on your agenda to be added. While indoors are great for the purposes of entertainment and a petite modular kitchen, which stores everything, is all you need for indoors to get popular, being outdoors can be of such much fun. The whole thing ticks rather hardly when its summer and being indoors seem a tad boring.
However, the idea of a full blown kitchen should not be thought of as just a barbecue machine and a portable icebox for storing your beers. Careful planning has made it possible to invest in a lavish kitchen out of doors which will give you not just some great barbecue, but also some good ribs and great pizza. In fact, the new custom made models for an outdoor kitchen has been created in such a manner that it includes wet bars, warming drawers, smokers, roasting spits, fireplaces, pizza ovens and even side burners.
[box_dark]What has to be checked while investing?[/box_dark]
Whatever you do, the grill is always going to be of supreme importance while opting for an outdoor kitchen. The very first thing you have to pay attention to is where you would like to place this outdoor kitchen. If you have a pool, there will be nothing like placing such a magnificent kitchen and getting thoroughly entertained while cooking.
However, the functional area should have enough ventilation as well. Relaxation while placing one should also be of concern. Of course, placing it close to the main area of your home is duly advised. You might not realize it, but entertainment always comes with a bit of panic. Plus, there will be something or the other which you or somebody else will need to bring to dump. The question is to choose a place which will be on the empty space and yet be carefully secluded, but not enough to cut the person who is cooking away from the main action.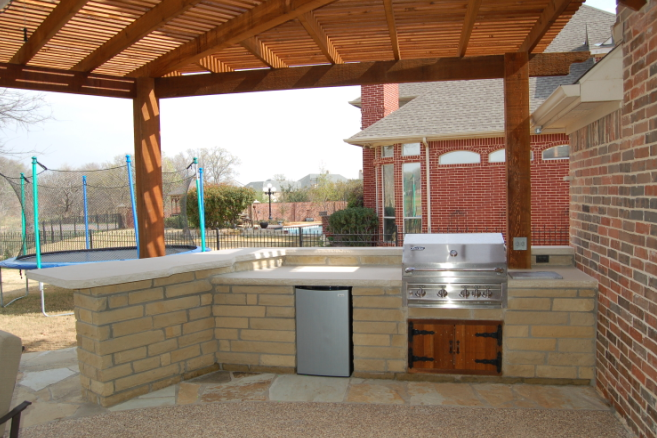 [box_dark]Other Valued Concerns[/box_dark]
Apart from the basic functionality of cooking and eating, this much prided kitchen will of course be used to entertain serious guests. In that case, a fire lounge area, a dining space, complete with a table and seats close to the bar and the television should definitely be on your agenda. However the choice of proper seats and other pieces of furniture may turn out to be pretty tricky.
This is why, flexibility while choosing options for the same should be kept in mind. Do not overcrowd the area as people while socializing may like to be on the move more than just idly sitting down. Keep a provision for speakers as there is a good chance some amount of dancing and other activities will entail.
At any rate, whatever is your design, make sure that there is a covering above and in some of the sides, while also having ventilation, just to be safe. Adding lights to the thing is also advised. Don't make it too glittery. Just make it sober and yet beautiful in order to click. This will further ensure safety and keep everything well lit as well.
Keep plenty of counter space in your set up as you will certainly need it. Choose materials which are not eyesores, but are easy to maintain, withstands heat and changing weather conditions.