The idea of the outdoor kitchen has taken the people by storm. People like the idea to set their kitchen space in the exterior of the house. These kitchen ideas offer many fun and new ways to explore. The outdoor kitchen gives you many practical possibilities which you restrict with your indoor kitchen. In terms of design, layout, features and many more things. Why not try this idea in your home too. There are endless, innovative outdoor kitchen ideas to try this season.
The advantage of an outdoor kitchen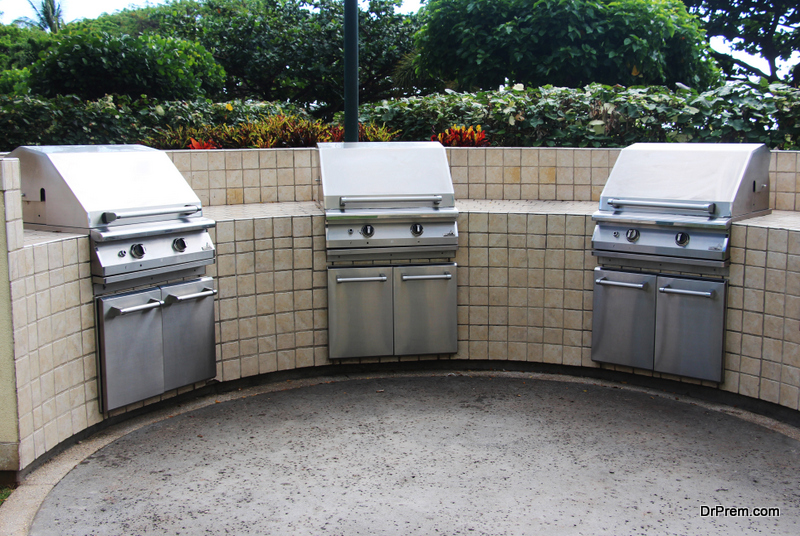 Before we move ahead, let's throw lights on some of the advantages of having an outdoor kitchen. This will help you think about having one or your home too.
Space for Entertaining:- The most important aspect of having an outdoor kitchen is it brings scope for entertainment. While making daily dishes, you can easily utilize the space for grill food at your space. Because of enough space, you and your guest can have a chit-chat while you make delicious grill food for them.
Saves on Utility Bill:- If you cook outside, automatically your cooking and grilling cost will decrease. You don't need an air conditioner in those summer weather.
Keeps Cooking smells outside: – The most beneficial advantage of an outdoor kitchen is it keeps the cooking smells away which spread throughout your house. Fried food smell and smells of sink and fabric will also be away from your house.
Ways to decorate: – Outdoor kitchen ideas work best with patio. Add in patio heaters in chilling weather. Add some cozy furniture to make the place more comfortable and style with string lights and lamps.
Saves money on eating out at restaurants: – With the outdoor kitchen, you can get chances to make your own tiny restaurant at your patio. With open air and nice atmosphere, makes the place a nice space to dine with your family. It saves you money from frequent eating outside and you will love to eat at your own restaurant.
Expands Your Home's Living Space: – With the kitchen shifting outside, it will make a scope for more space for your home. You can utilize and create the space for kitchen into a whole new room without any effort.
1.     Kitchen Island Designs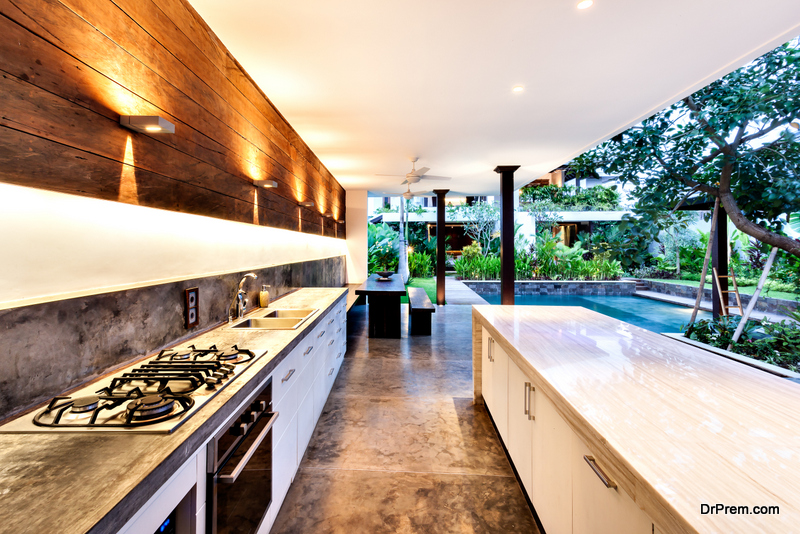 Island design kitchen is the most famous and common nowadays. This kitchen design ideas are very cost effective and work well for entertainment also. Here the grills and other cooking appliances are fixed at the central area. One side of the countertops is raised in order to separate the area from one another. It makes your cooking spaces different from the social areas. This kitchen idea works for entertaining as well.
2.     Minimalist outdoor kitchen
Outdoor kitchen ideas for small spaces are many when you want a low but high style kitchen. Small spaces don't mean you have to compromise on anything. However, a minimalist kitchen can be made to give a classy effect. You can have smoker style grill, a transparent water dispenser can be the highlight of this kitchen. Keep the other things minimal in order to highlight grill and water dispenser which can give a nice décor to your kitchen.
3.     Kitchen with Bar, Sink, and Mini-Fridge
Give your kitchen a nice setup with these creative outdoor kitchen ideas. Set up with full-scale outdoor sinning space. Make use of deep countertops for both preparation and serving individually. There is a whole lot of scope for the guest to sit with the cook as they prepare the food. Use the countertops with formal granite style counter with some stonework which gives the look aged look and classy look.
4.     Patio Kitchen and Living Room
Outdoor living rooms are the best place for the summer days and nights. A giant pergola helps to cover your living room and makes it look a real outdoor room. To make this living room a part of your outdoor kitchen area, add outdoor seating plans. A creative outdoor kitchen idea is to include Couch and coffee table across from the grill so that it looks like a part of the kitchen and you can get space for your gathering. Make the place cozier by putting a small fireplace which will add the final touch with comfort.
5.     Food Prep Station with Pergola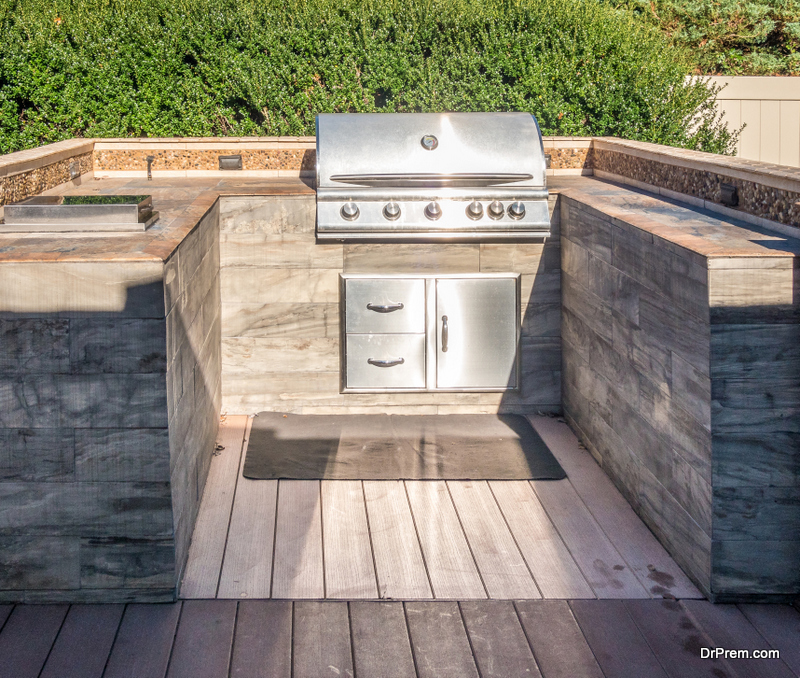 Pergola style kitchen is everyone's favorite. It kind of encloses your outdoor kitchen and gives it a formal feel. Pergola made of light wood beams adds natural texture to your kitchen setup and natural complement to your plain countertops and base. Pergola highlights your kitchen with a warm and different feel. If you planning to fix pergola in your outdoor kitchen, go for steel appliances which are a perfect addition to your kitchen area.