Halloween is that time of the year where you have all the fun, enjoy get together and get to wear gorgeous dresses. The spookiest night is around the corners. People are planning the ways to decorate their homes with Halloween theme ideas. So why not decorate your kitchens with some exciting décor and ideas. Why leave your kitchen areas alone this time of the year? Let's see some of the Halloween kitchen decoration ideas to consider this season.
Spooky dining tables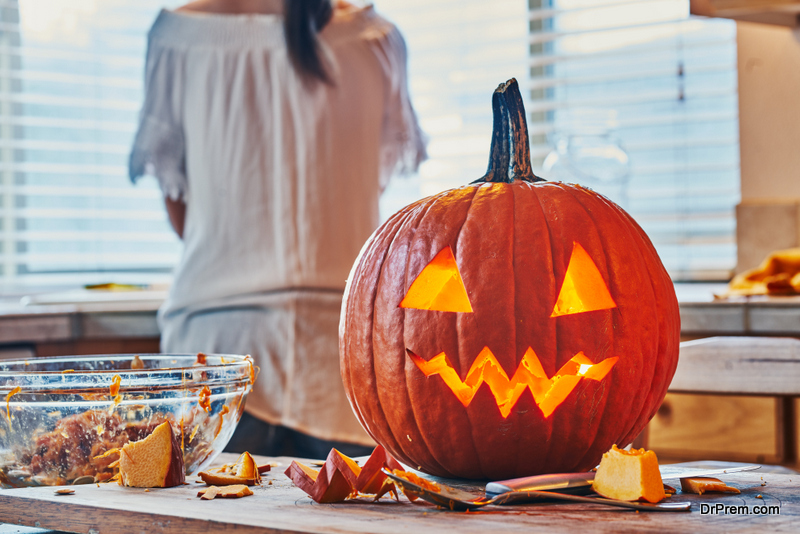 Kitchen tables or adjoining dining rooms can be made really spooky. Use creative Halloween kitchen décor tips and ideas to decorate the entire table area. Start with some unusual elements to add in your kitchen and dining area. Start with a black napkin to cover the area to create a spooky base. Decorate 5, 6 small and big pumpkin with different colors like white, black, and rusty silver. Carve BOO in some of the pumpkins to give the effect.
With some DIY black paint the spider webs to place on the tables. Arrange this pumpkin at the center of the table and arrange the small one at all around the bigger one. Place the spider on the pumpkin so it looks like crawling on the pumpkin. Spooky, right? that's not all, use your old candle stand and give it a rustic look by some black and brown point and place orange and black candles on it and your spooky tablescape is ready to give a Halloween effect.
Decorate kitchen window
Creative ways to decorate your kitchen for Halloween is decorating kitchen window; it gives a whole Halloween look to your kitchen as it's the easiest place to use your craft ideas on it. Make the bare place utilized by some spooky decorate ideas without any a headache. Arrange small spider webs, pumpkins, and mini Halloween figures to create an instant spooky effect. Place them into your window for an effortless effect.
One of the easiest DIY ideas is to create a hanging ghost is the use of the small stick. Take a stick, and wrap the white cloth around it to make a shape of candy.  Make a spooky little face on that candy with marker and hang them into your window shield with the help of a string. This looks like a hanging ghost into your window. You can also DIY hanging easy creepy crawlies spider crawling on the window panel. It will give a spooky effect.
Swap in Halloween accessories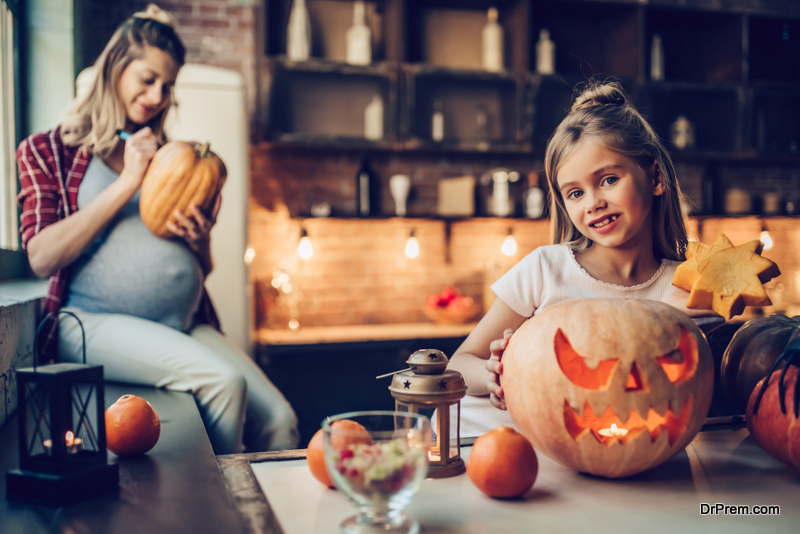 Now comes the accessories part of the kitchen which will give your guest a Goosebumps when they arrive for the dinner. Turn your kitchen into a haunted destination with spooky crockery all around the kitchen. Use ghostly shapes cookie cutter to give your cookies ghostly shapes.
Stick around some plastic bugs and spiders in your kitchen accessories like freeze, dishwasher, and ovens to keep the theme. Decorate the plate and saucer with creepy Halloween pictures and figures in it. Use cauldron and ladle instead of using soup serving bowls. Exchange the glasses with Halloween patterns and posters. Use small stickers into the drinking glasses or you can also use glow in the dark stickers to give the effect as you have the meal together.
Ghostly Décor
Why not give your bar counter or wine bottles make and look like a monster. Unused empty bottles can be utilized to give a lighting effect to your Halloween décor. You just need a spray paint to paint the bottles and jars. Create an eerie effect with paint and make features with the help of a marker. Put some small string light into it to lighten up the place with the haunted effect. This can make your kitchen and dining area bright with Halloween decoration.
Pumpkin effect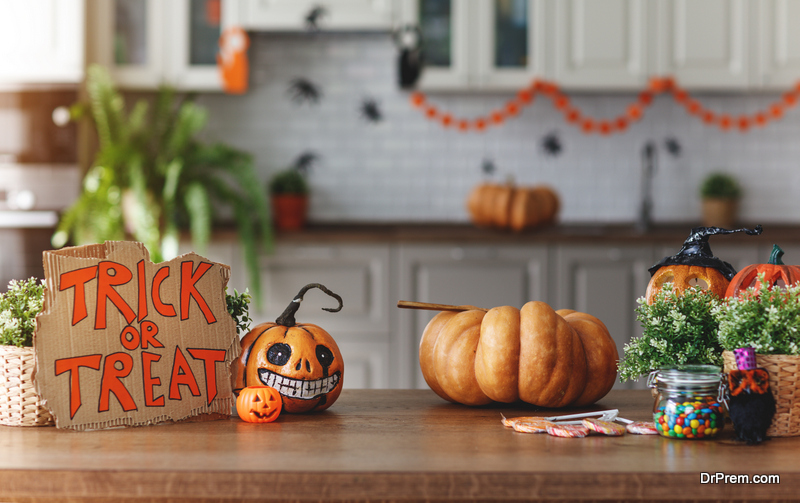 The most important Halloween decorations for the kitchen has to be pumpkin, it has to be there in your Halloween decoration. This décor is very easy and most prominent on this theme décor. You just need to paint the pumpkin with some eye-catching bright colors like silver, Orange and metallic shade. DIY decorate the pumpkin with different rhinestone and different accessories. Use your old unused laces to wrap around the pumpkin to decorate. Add some bling effect with some glitters; it will give a nice décor effect.